It goes without saying that you have to make an SEO Report for a client on a regular basis. It has always been an essential part of search engine optimization and will always be.
A quality SEO report is compulsory to guarantee that you or your clients can easily compare the ROI from their online marketing with the previous reports. That is one way to know how your funds are getting utilized or not.
The ideal time to get a report is on a monthly basis because SEO takes time to show the effects. If you generate an SEO report for the client more frequently then you will be just wasting your time. If it is less frequent then you won't stay on track so a month's time is apt.
SEO report is a detailed summary of the performance based on a number of KPIs that we will be discussing later.
The growing trend of voice search, the addition of featured snippets, the rise of zero-click searches and the significance of a better UX all add to how you present the SEO report to your clients.
One thing that everyone should keep in mind is just because there has been an addition in the metrics, the old ones still continue to be as important as ever!
Just because zero-click search is a thing now, that doesn't mean that content isn't as important as it used to be.
Prepare the SEO Report for your Clients in these Simple Steps
You might have years of knowledge and expertise when it comes to SEO services but your clients might not be well versed with the jargon.
Don't prepare a confusing report that will take hours to decode. Always try to keep it as simple and as clear as possible because just like honesty, clarity is the best policy too!
The report must be relevant and engaging or else all your efforts are going to go in vain. You can follow these tips to have an SEO report that is not only easy to understand but your clients will love too.
1. Explain the KPIs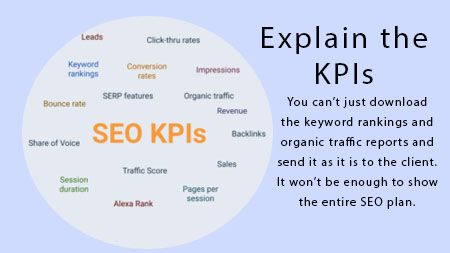 You can't just download the keyword rankings and organic traffic reports and send it as it is to the client. It won't be enough to show the entire SEO plan.
It is suggested to have a discussion with your clients about their goals so you know what all has to be there in the report.
You need to explain the key performance indicators (KPIs) and the ways in which you plan to accomplish them. It will give them a better idea as to what you are doing to move in the forward direction with the help of the data that is going to be a part of the report.
Consider these top 10 SEO KPIs to Drive Better Results and Track your SEO Performance
2. Make a site health report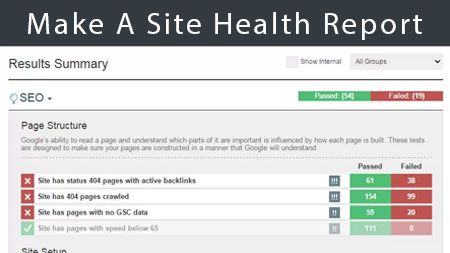 The overall health of the website has a great effect on SEO. A website's health must be checked before you start working on it to see what all areas require special attention.
Some metrics that have an impact on the ranking of the website are:
Broken links
Page loading time
Bounce rate
Session duration
These metrics MUST be a part of your site health report:
AMP elements
Site speed
Schema Markup
Indexed pages
Server response time
Broken links
Page crawled per day
Missing meta tags
Crawl errors
Time spent to download the pages
Security issues
Bad redirects
URL structure
Domain authority and Page authority
You can check the health of your website with the help of tools like Ubersuggest, Woorank and SEO Site Checkup.
3. Generate an organic traffic and engagement report
Don't forget to mention the state of the website when you got the project and the current state. It shows your performance and progress that you have made till date.
The metrics that must be a part of your report are:
Pageviews
Organic CTR
Bounce rate
New vs. returning visitors
Pages per session
Scroll depth
Frequency of return users
Organic channel report
Exit rate and top exit pages
Number of shares/comments
Time spent on page and average session duration
Organic visits by location and device
New subscribers
Goal conversion and event tracking
4. Organic conversion report
You would like to communicate to the client how their site was doing before and what is the current status. This will help you to show the improvements in organic conversions over the months or the defined time period.
The metrics to be included are:
Organic sales
The number of form fills and calls
New visitor conversion rate
Returning visitor conversion rate
Cart abandonment rate
Cost per conversion
Top/lowest converting landing pages
Conversion by device and location
Customer lifetime value
You can also track the organic conversion rates by generating a custom report with the help of Google Analytics.
5. Backlink analysis report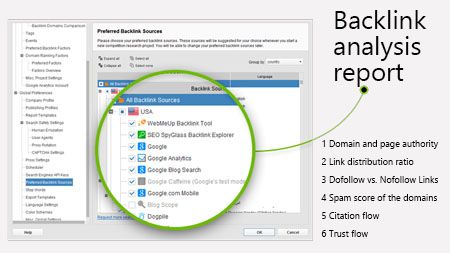 This is where you have to mention the number of backlinks the site has and how many links did the site get recently. It will assist in highlighting the effectiveness of the link acquisition strategy. Inclusions of your backlink analysis report is:
Domain and page authority
Link distribution ratio
Dofollow vs. Nofollow Links
Branded vs. non-branded anchor text
The number of links acquired in the past month
The ratio of the backlink to referring domains
Spam score of the domains
Citation flow
Trust flow
Percentage of exact match anchor text
6. Make a Ranking report
When you are working on the ranking report, state how many keywords the client's website is ranking for and how these keywords are doing when it comes to engagement.
You should highlight all the new keywords that you have included or excluded in the recent quarter.
7. Featured snippet/ Voice search report
Most of the searches are picking up the voice search trend therefore it is vital to prepare a voice search report. When you make this report, you need to highlight the keyword for which the client has started to rank for a featured snippet as it will help in the voice SEO.
Even though Google Search Console doesn't have the provision for voice search reports, you can still find out the voice queries. They are longer, have a conversational tone, and are in a question format.
You can also get the schema markup report in the Google search console. All you need to do is click on 'Search Appearance' and then go to 'Structured Data'. It will help you to find out and fix the errors in the site's schema.
You can highlight the number of keywords that are ranking as featured snippets track the difference in ranking, the number of new keywords that have started to rank, the volume of traffic they were able to create, and the influence it had on conversions. You can also talk about any new links that you might have developed because of the page ranking higher in the SERPs as a featured snippet.
8. Site content report
You might have a well thought out content strategy but it can always be improved. This report will help you in deciding what content is most popular amongst the audience.
When you prepare the site content report, highlight the best and the worst performing content and the techniques you are using to improve the performance of the content.
The inclusions of your site content report should be:
Reach
New visits
Comments
Inbound links
Social shares
The percentage of repeat customers
Churn rate
Average read depth
If you make the SEO report for client by keeping these points in mind then they are not only going to find it easier to understand but they will also appreciate it.