When it comes to blogs and articles, what do you think gets attention easily with longer content or the short ones? Well, it's not that easy to tell because for decades marketing media has been living in the convention that the longer the content the better it is. And it is not even wrong in a technical way because longer articles rank higher on Google and get you more website visits. However, a recent survey by a content marketing platform, Contently, has disclosed that people prefer to read articles that are below 1000 words.
Now it is necessary to give the readers what they want along with getting a better ranking on Google. That is where Microblogging comes into play.
Microblog: Introduction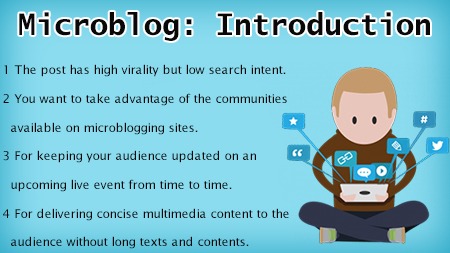 Microblogging is a specific form of blogging that focuses on short audience interactions.  Unlike traditional blogs, Microblogs are short and concise and also include media like audio, video, images, and even links. These content are often posted on the common microblogging platforms like LinkedIn, Twitter, Instagram, Tumblr, etc.
Microblogging is best used in the given cases:
The post has high virality but low search intent.
You want to take advantage of the communities available on microblogging sites.
For keeping your audience updated on an upcoming live event from time to time.
For delivering concise multimedia content to the audience without long texts and contents.
Now that you know the very uses of Microblogging, the next question is how to create Microblogs without actually hurting your site, as Google considers the sites with thin content as low value. The answer is to make use of platforms that are specifically designed for such a purpose i.e. microblogging.
Difference Between Microblogging and Traditional Blogging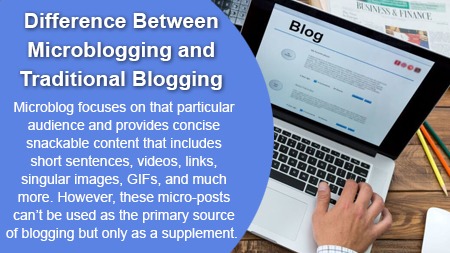 The main difference between Micro Blogs and Traditional blogs is their size. Microblogs are usually smaller in actual as well as file size as compared to traditional blogs that go from 300-400 words to 3000 words according to the topic. There are many people out there who either don't find reading blogs interesting or who would rather watch a small video instead.
Microblog focuses on that particular audience and provides concise snackable content that includes short sentences, videos, links, singular images, GIFs, and much more. However, these micro-posts can't be used as the primary source of blogging but only as a supplement. That being said, Microblogging can benefit your business to a great extent only if done correctly.
The microblogs usually less than 200 words must be meaningful and contain all the necessary keywords. It should be well optimized with accurate keywords in the content.
Microblogging is usually done on simple topics like Where You are Right Now or What You are Doing. The focus here is to engage the audience and keep them updated about your business, sell your product, create brand awareness, and attract traffic to your website. The goal of such posts is to let your potential audience know more about your business such as what's going on when, the newly launched products, events, and much more. The advantages of microblog could be selling products and even get feedback from your customers, employees, etc. The followers of your Microblog should include your existing customer as well as potential customers.ore about these Microblogging sites.
Common Microblogging Platforms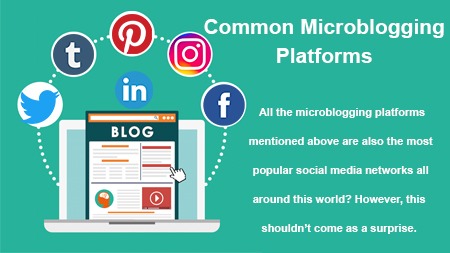 1. Twitter
The God of microblogging platforms, Twitter is not only amongst the most popular social media platforms but also one of the most acknowledged Microblogging sites to date. You can also call it the original gangster of Microblogging. To start Microblogging on Twitter, you need to create a Twitter account first and then you can share posts, tweet, or go live. You can include text, links, and media like photos, videos, audio, GIFs, and more in your Tweets here. Your tweets can contain up to 280 characters. Additionally, here you can retweet, share, and reply to other users' Tweets. To promote your business through Twitter and to engage in active microblogging, you can get our Twitter marketing services and let us do it all for you.
2. Tumblr
When it comes to Microblogging platforms, Tumblr has got to be on the top. Tumblr has over 496 million blogs posted on its suite to date and is also known as a bustling hub of short content. On Tumblr, you can include not only links, photos, texts, videos, and GIFs but also MP3 and Spotify tracks and much more. When you follow a blog on Tumblr, it shows on your dashboard. The platform also allows you to comment on other blogs as well as reblog other blog posts on your own blog.
3. Pinterest
Unlike other Microblogging sites, Pinterest is focused on visual content. You can create your profile on Pinterest and then create Boards that are collections of pictures related to a particular topic. Then you can also post PIN on the pictures that you like the most or are your favorites. Another thing that you can do on Pinterest is adding Tries that are notes and pictures of ideas and new things that you tried like some new recipes or the new places you went recently. Here you can follow other famous Boards and profiles of your interest and keep yourself updated.
4. Instagram
Like Pinterest, Instagram is mostly visual, just the difference that you can add up to 2,200 character long captions below your posts, image, or video whatever it is. With time passing by and digital marketing taking various turns, many media outlets have started using Instagram for crafting visually appealing articles bringing a new phase of journalism.
Instagram allows you to follow other hashtags and profiles, comments on the posts, tag others on your posts, and even text the person directly. Know more about our Instagram Marketing Services and learn how we can help you grow your business through microblogging on Instagram.
5. Facebook
Who doesn't know Facebook, and who is not on Facebook? Besides being the most popular social platform all around the world, Facebook is also one of the most robust microblogging networks to date.
Facebook, as you must know, allows you to share text-based posts, images, videos, GIFs, emojis, your current activities, and even your current location. Here you can follow helpful pages and profiles, tag your friends on your posts, post-Facebook stories, and also go live.
Not only that, it can do a lot of other things like creating a poll, show your support and donate to help them, create groups, events, sell and purchase products, play games, and whatnot. The thing about Facebook is that it is not limited in any way, you can post and watch long-form videos here and post blogs and contents without worrying about word limits.
6. LinkedIn
Linlinked is a platform that connects job seekers to companies all around the world. Although it is mainly focused on employment-oriented online services, it has a powerful microblogging arm too. Besides, posting jobs it also allows you to post articles and even status updates that can be well utilized for posting microblogs. It allows you to share photos, videos, links, events, and even long-form blogs and articles. All your posts and shares show up in the Activity section in your profile.
Did You Notice, All the microblogging platforms mentioned above are also the most popular social media networks all around this world? However, this shouldn't come as a surprise. People love scrolling down on social media sites as they can consume a bucket of snackable content in just a few minutes. Every marketer should make the best of this opportunity and take their business to another level.
Don't have enough time to do all this on your own? Let PNJ Sharptech help you with your microblogging campaign. Learn more about our Social Media Services.
Creating Micro Blogs And Posts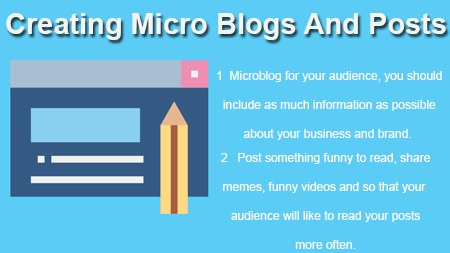 When creating a Microblog for your audience, you should include as much information as possible about your business and brand. The reason behind this strategy is to allow the readers to find you, your business, and the products or services you are offering. This will also allow you to connect with your audience by allowing them to give feedback about your services and products. You can encourage the clients to follow your content or even re-blog on your posts that will eventually help you prompt your business. That being said, microblogging is all about being social, so you can follow the users and pages that blog on similar topics.
If you are thinking of getting a lot of followers just by sitting back and relaxing then you are wrong. You will have to get engaged with your audience and blogging community. For example, if you are microblogging on Twitter, then tweet back to your audience whenever they ask a question or have a doubt. Engage as much as possible and that's the only way you are going to get noticed and break the deal.
When selecting a topic for your microblog, remember that people don't want to be "sold" all the time. Yes, the reason you are here is to promote your business and sell yourself but in order to maintain the interest of your audience, it is okay to give your fans some break from the boredom. Post something funny to read, share memes, funny videos and so that your audience will like to read your posts more often. Whenever sharing a photo on videos, do include tags and captions to make the post show up on the search engine results.
Tips For Successful Microblogging
Keep your personal Microblog separated from your business microblog.
Always make use of keywords in your micro posts to make them searchable.
Keep it short and concise. Remember it's Microblogging.
Add hashtags in the Caption along with the keywords that explain what your post is about.
Be regular with your posts, try to post daily if possible.
When creating your micro account, choose a meaningful username.
Your posts should be relevant to your area of expertise and your business.
PNJ Sharptech is an SEO Services company that can help you reach your set goal through Microblogging on various social media sites. Want to learn more? Hear from our SEO experts, talk about your business goals, and learn how you can take it to the next height.