If you have always dreamt of owning an online store then you must try out Shopify and give your dream a chance to come true. It is one of the most famous e-commerce platforms that offer everything you need for your digital store.
This platform has empowered over 10 lakh businesses that have been selling products online all over the world. It comes with a number of features that make your store even more effective and raises it to a whole new level.
It has an amazing tool kit that allows you to set up the website easily and sell your products anywhere that too without worrying about the business size or product type. Shopify development will set up the product prices, payment methods, taxes and even customize the design of the store- just the way you like it.
If you want to do something of your own then it is time to give Shopify a thought and we are here to make things easier for you. We will be sharing a few things that you must know about Shopify, the benefits of using it, and the shortcomings as well.
Know How Shopify Works
It is a hosted solution which means that it has its own servers and you don't have to purchase web hosting or install some additional software. You don't own a copy of the product as you have to pay a fee on a monthly basis to use it. It has a benefit because as long as you have an active internet connection, you will be able to manage the store from anywhere. You will be given all the essential items that are required to build your store; be it a payment gateway, templates, a blog or an email marketing tool.
You can also try out custom coding and make your store more upbeat and personalised as per your audience and requirement.
Different Shopify Plans
The $29+ Shopify plans come with core e-commerce functionality. In this plan, you can select a template, upload a catalog with your products, accept credit card payments, sell gift cards and get access to a wide range of third-party apps.
Some other things that you must keep in mind before choosing the right Shopify plans are:
Staff accounts– The number you get fluctuates as per the plan
Reporting– The option of professional reporting is only available when you buy the $79+ plans
Third party real time carrier shipping– You can get this with the most expensive 'Advanced Shopify' plan. However, other plans do let you avail the option of real-time carrier shipping, but only with Shopify's chosen providers
Inventory locations- You can allot inventory to retail stores, warehouses, pop-ups etc. on any plan but the number of locations you can use differ
Transaction / credit card fees- These get lower as you go up the pricing tree
Shipping discounts- The more expensive the plan, the more generous these are but again, it depends on the location
Shopify Plus comes with an additional functionality aimed at big corporations that includes:
Definite server uptime
API support
'White glove' level of support through a devoted 'Merchant Success Manager'
Devoted SSL / IP address
Radical safety features
Extensive options for selling in multiple currencies
Sales automation tools
Top 10 Benefits of Using Shopify
There are a number of pros of using Shopify. They are:
Stress Free to Set Up & Use
Shopify gives an easy way to rapidly launch an online store without the concern over servers and development costs that can be experienced with self-hosted platforms. The admin edge is fresh and user-friendly and kind of instinctive because all the features are rationally organized. You can also find widespread documentation and video guides on the Shopify site. All you need is a product to sell and Shopify will handle other things for you
Not Tech Savvy? No Problem!
You don't need any technical proficiency to launch a basic Shopify store as all software and hosting are delivered by Shopify. Apart from making it easier to get going and running, it is also likely that Shopify's hosting will be faster and more secure than you could achieve alone. Apart from this, it will easily house any spikes in traffic that you might obtain. Shopify also handles all the software updates so you can emphasize all your efforts on selling and not worry about technical issues even for a minute.
Top Notch Security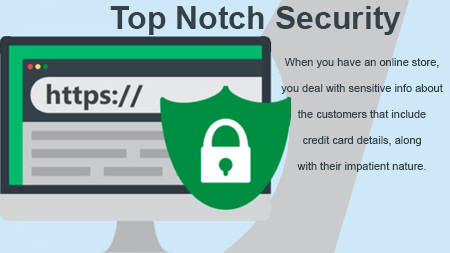 When you have an online store, you deal with sensitive info about the customers that include credit card details, along with their impatient nature. This means that your site needs to be fast, secure and always in a running state. One of the biggest rewards of a hosted solution is the dependability it offers. Shopify will take care of all server maintenance and upgrades to keep your store and shopping cart available at all times and make sure that pages load in no time.
SSL certificates can be allowed for your store to encrypt all data and pass it through a secure connection and apart from that, Shopify takes care of PCI compliance for you which is needed when you deal with credit cards.
Round the Clock Customer Support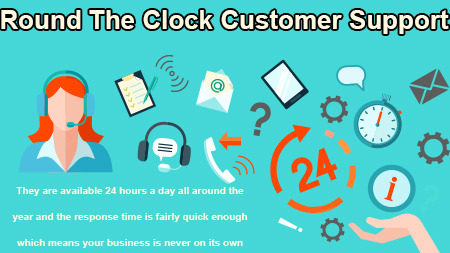 Shopify really do make a big deal when it comes to customer support. They are available 24 hours a day all around the year and the response time is fairly quick enough which means your business is never on its own. You can get in touch with the help of phone, email or web chat. Apart from that, there are a number of community forums, broad documentation in the Shopify Help Centre and a range of advanced Shopify University guides.
Mobile friendly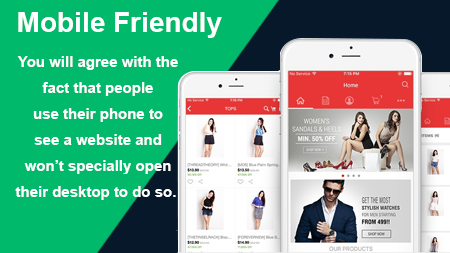 You will agree with the fact that people use their phone to see a website and won't specially open their desktop to do so. Therefore, it is like an obligation to have your website mobile friendly if you don't want to lose on customers. Shopify is smart enough to know this therefore the themes are mobile responsive and the platform consists of a free built in mobile commerce cart for shopping. It means that your store will look pretty no matter which device the person use to buy your products.
Apart from this, there are free iPhone and Android apps that allows you to manage your store on the go.
Great Scope Of Customization
There are about 160 themes that you can select from which are both free and paid in the Shopify Theme Store. The best part is that they are all mobile responsive plus you get more on sites like ThemeForest. Each theme is also completely customisable by editing the code. Creating a beautiful and unique online shop that fits with your brand identity has never been easier.
App For This, App For That
Shopify's app store is a like a treasure of functionality that you can add to your shop for that extra oomph. You can add reviews, loyalty programmes, and customer wish lists. You can also get in-depth analytics, print labels and packing slips, assimilate with accounting software, shipping programs and social media sites. Just name it and there are all the marketing apps available. From over 1,500 to select from, whatever you want to do there will be an app for it. Do keep it in mind that although many are free, over half are charged for.
SEO & Marketing Tools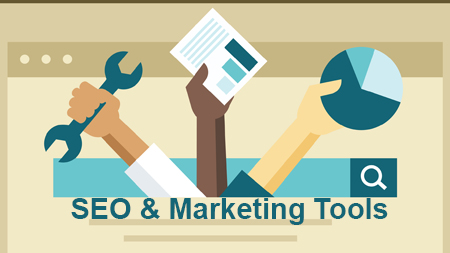 It's all well and good to have a beautiful online shop but if no-one visits then you will be pulling down the virtual shutters right away. Another USP that you can consider is Shopify's influential Search Engine Optimization (SEO) option that will help your website rank higher in search results so customers can find you easily. You also have admission to progressive analytics to tell you where your customers are coming from so you can modify your marketing accordingly. You can also consider hiring a digital marketing company to take care of all this on your behalf.
The app store will give you an access to a vast range of marketing tools which includes social media incorporation, product reviews and email marketing. As a default, Shopify allows you to generate discount codes. Gift vouchers are available when you level up next. Social media icons are encompassed in all themes. It also has a Shopify Kit that has been designed to help. It performances like a simulated employee, endorsing and implementing marketing tasks based on your products, audience and store presentation.
Cart Recovery
You know what happens if a visitor to your store adds a product in their shopping cart but leaves without buying it? According to stats, over two thirds of potential customers are bound to do this. Shopify bids an abandoned checkout cart recovery service which mechanically tracks and emails. These potential customers to remind them to complete their purchase which is an easy way to possibly produce more revenue.
Own Payment Gateway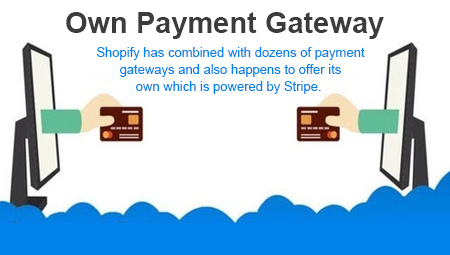 Shopify has combined with dozens of payment gateways and also happens to offer its own which is powered by Stripe. If you select to use this then you will not experience any transaction fees plus you will profit from lower credit card fees. It also doesn't need a merchant account to use.
Downside of using Shopify
In order to make a well informed decision, it is very important to know both the pros and cons of something. Even though Shopify is amazing, it has some cons too and you must know about it. They are:
Even though you can create upto 100 variants of a product, these can only involve up to 3 product options
Key functionality which you might expect to be provided out of the box often comes when you install an app
Professional reporting functionality is only provided on when  you get an expensive plans
The built in payment processor- Shopify Payments, only lets you sell from specific countries
You can't get away with the transaction fees if you use a third-party payment gateway
Product images have to be uploaded with the same aspect ratio to be displayed appropriately
The abandoned cart saver only allows you to send one computerized follow-up email
When you use a drop shipping app, it's hard to be self-assured that the goods you are selling are ethically produced.
Getting your site to be GDPR compliant where cookies are related will include a use of a third party cookie banner app
Although workarounds happen to make Shopify and Mailchimp work together, there is no longer an official Shopify-Mailchimp combination available.
If you are not using 'Shopify Shipping' to offer real-time carrier quotations to your customers. Where it's not available then this functionality can work out to be kind of expensive
The email marketing functionality is currently quite basic.
We hope that we were able to give you an overall picture of Shopify. Now you will be able to make an informed decision. If there is something else that you would us to help you with then do get in touch with us.