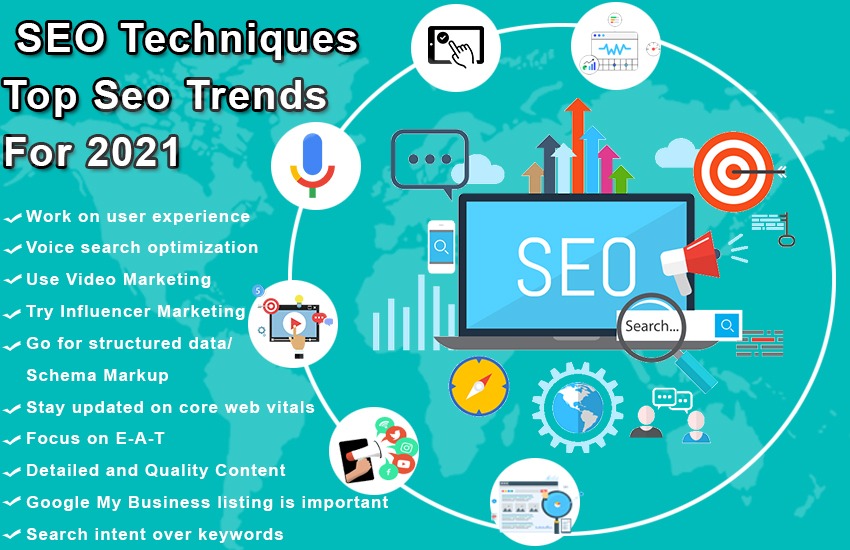 When it comes to SEO, there are a number of things that matters for the ranking of the website. There is no set of rules that will definitely get you on the top but there are a few SEO trends or techniques that can act as a catalyst. We have researched and found a few SEO trends which can help you out. It is true that SEO Services take time but if it is done properly then the results stay for a long time.
The components that mattered 2 years ago might not even be relevant this year. Google rolls out its guidelines which must be adhered to if you want to get noticed or be on the right track but that doesn't guarantee success as well. One wrong move or just a foul practice and it won't turn out to be in your favor for sure.
It is always important to step up the game and keep up with the trend to accomplish better things. We will be sharing these top SEO trends which you must swear by if you want to make a mark.
Top 10 SEO trends to Keep Up Within 2021
The top 10 SEO Trends are given below-
1. Work on user experience
If you have even a month's experience in digital marketing, you would already know that it is always going to be a trend no matter what year it is. User experience was always given priority and it is never going to lose its importance no matter what.
It is quite a popular fact that your website must be optimized to provide a great experience to users and not to the crawlers. If you get an audience for your website, it is pretty natural that bots are going to follow.
Even the updates that have been announced for 2021 focus on the swiftness of the site and assessing features like First Input Delay (FID) and Cumulative Layout Shift (CLS).
FID gives us an idea of the time duration that a user spends on a page for interaction after they have opened it. CLS shows the visual stability of the page. If all the elements on your page change their spot while the page is loading then it's a high CLS. A high CLS is negative and is related to a bad user experience.
Make it a point to pay keen attention to content and content experiences that prove to be beneficial for users and influence your business metrics directly. It is possible that your pages rank well but now you must audit them from a UX point of few to ensure that you are giving the best possible experience.
Some tips could be to make your website's loading time as less as possible, cut down on those irritating pop-ups (users hate it), and make it responsive across all devices.
It gets us to the conclusion that fast hosting, caching, and optimized on-page content will be some of the biggest factors in 2021.
2. Voice search optimization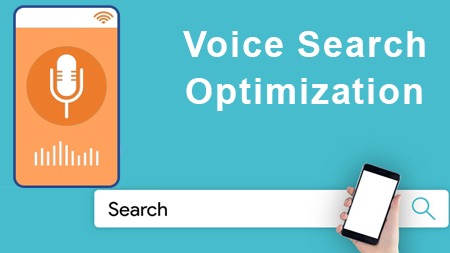 The way that people search online is changing. Rather than typing the whole thing, people use voice search these days. This is one of the reasons why the popularity and sales of devices like Alexa and Google home have touched the sky.
All people do is activate the voice search by saying 'Hey Siri' or 'Ok Google' followed by what they are looking for which makes it a highly valuable SEO trends to look out for if you want to succeed.
Make your content voice search-friendly by starting it with questions like 'Why', 'What', 'When', and others. Put yourself in your client's shoes and think about the niches where voice search can be used the most. As a tip, people use Google Assistant or Siri when they are looking forward to buying something or when they want information on something like recipes, dieting tips, and different tutorials, to name a few.
Not everyone owns Alexa or Google home but everyone has a smartphone therefore give a great deal of importance to the mobile optimization of your website if you haven't already.
3. Use Video Marketing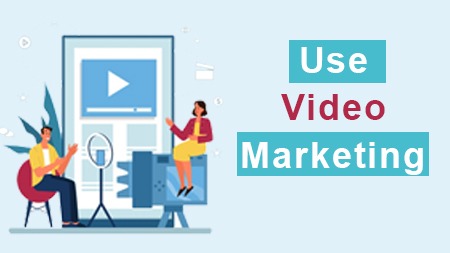 If you are thinking that content works in your favor then why spend more on Video Marketing? Let me answer that with a situation. When you feel like making pasta at home and have no clue how then you obviously turn to Google to help you out.
When you search 'how to make pasta', you will see some recipes with just words and you will see a tutorial video. I don't know you but what I know is that you are surely going to click on the video's link simply because it is better when it is represented visually.
It is just not you, it is everyone. The fact says that '54% of consumers want to see more video content from a brand or business they support.
Not only this, there are 87% of digital marketers have realized the potential of video marketing and they make it a part of their strategies. They are known to get 66% more genuine leads with the help of videos which has significantly increased their ROI.
There is no denying the fact that people spend more time on YouTube just because videos are more entertaining or educating and add that 'fun' element which positively impacts the reach and engagement factor.
A person might not read lengthy content but they will be willing to see a video, therefore if you want yourself in the race you must see through and blend it with your strategies.
4. Try Influencer Marketing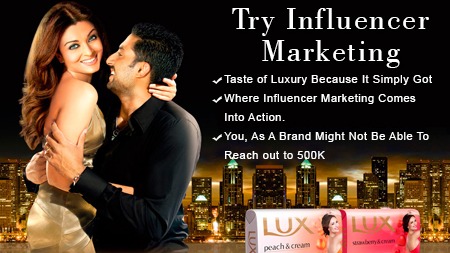 There was a time when we were blinded by the superficial beauty standards set by Bollywood stars. We all thought that using 'Fair and Handsome' will make us like Shah Rukh Khan or using Lux will make us feel like Aishwarya Rai.
People tried them all just to get a taste of luxury because it simply got them closer to their favorite stars in a way.
However, people have now realized that it is of no use and they tend to go by the word of 'real people with whom they feel more connected to. That is where Influencer Marketing comes into action.
It basically means having bloggers share reviews about your products or services on social media, where we all spend most of our time. You, as a brand might not be able to reach out to 500K people but if you get 5 influencers with 100k followers each to promote your brand on their social media handles then you get yourself an ocean to swim in!
Influencer marketing is a collaboration between content marketing and social media marketing. We all know the power of social media and how it can make something go viral overnight. Unless you don't stay under a rock, you will know how 'rasode mai kaun tha', 'Binod' and 'Baba ka dhaba' became a viral sensation overnight getting up to 2M+ views.
When people see the influencers use your product, they immediately want to try it too and that is how you get more and more clients for yourself. The idea is to pick the right influencer as per your product and create a post that the users will find relatable.
5. Go for structured data/ Schema Markup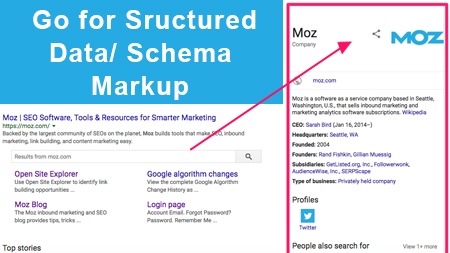 Structured data helps Google in understanding what your web page is about and what information are you sharing at a glance. It is like giving a glimpse of what a person is about to get out of the whole content.
Structured data can be used in various ways like using Open Graph markup to specify a Facebook title and description or using SQL to question an interactive database.
In the context of SEO trends, 'structured data' usually points to executing some type of markup on a webpage in order to provide further detail around the page's content. This aids the understanding of the search engine of that content which helps with relevant indications and also enables a site to benefit from enhanced results in SERPs.
You might think, what is better than coming in the first position on Google? Well, it is coming on zero position. If you have a featured snippet, you might have a better chance of getting more clicks because Google has come up with a feature where a user can the snippet of content on the search page itself.
If you want to get to position zero, simply add some details and headings that will help the users.
6. Stay updated on core web vitals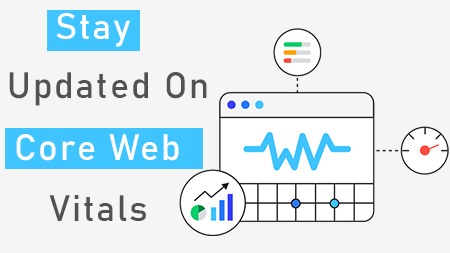 Google made an announcement in May 2020 that they are going to revamp their search algorithm which will focus on 'Core Web Vitals'. This includes metrics such as page loading time and how mobile-friendly the website is.
If it meets the metrics and offers a great user experience then Google will reward the website with a better organic ranking. This has been considered really huge as it will have a massive impact on websites across the globe. The websites which are technically sound and offer a great experience are going to profit from this for sure.
The good news is that there is a specific Core Web Vitals report that you have access to on the Google Search Console to get clarity as to what you are doing wrong which is interfering with your ranking and get suggestions to work on it. It will be really nice to check your website across various platforms to see which pages are loading slowly or how many pop-ups you have and fix it.
7. Focus on E-A-T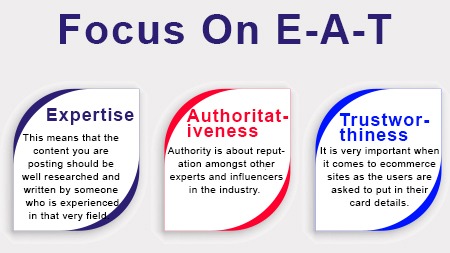 Google pays close attention to the overall image and E-A-T (Expertise, Authoritativeness, and Trustworthiness) of a firm and the individuals who are responsible for publishing content. To break it to you, EAT means:
Expertise –
This means that the content you are posting should be well researched and written by someone who is experienced in that very field. It is an important component of SEO services and it is not that primary when it comes to entertainment websites but plays a vital role in terms of medical, legal, or financial websites. It's a bonus that any site can boast expertise if the content is useful for the users.
Authoritativeness–
Authority is about reputation amongst other experts and influencers in the industry. In simple terms, if your website is considered the go-to source of information about any topic then it accounts for authority. To evaluate authority, professionals search the web for insights into the reputation of the website or individual. Reviews play an important role in order to increase the authority of a website.
Trustworthiness –
It is very important to gain your visitor's trust. The traffic will only increase if the user is assured that it is safe for them to spend time on your website. It is very important when it comes to e-commerce sites as the users are asked to put in their card details. For starters, you should immediately implement an SSL certificate on your site as at least 70% of first page results are using SSL.
If your content is highly plagiarised without any validation then you should surely work on it.
8. Detailed and Quality Content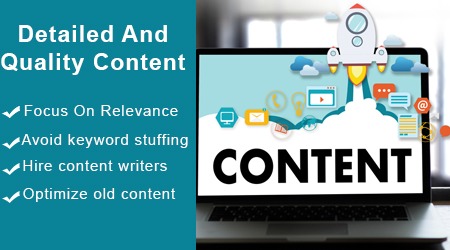 We all know that content is never going to lose its prominence no matter. However, it is very important to create quality and detailed content which results in customer satisfaction have positively impacted your ranking as well.
Google looks for the most relevant content that goes best with the customer's search query.
When it comes to content, there are a few things to keep in mind to make it rankable:
Focus on relevance–
Before writing the content or finalizing a topic, ask yourself is it going to benefit my audience in any way? Will it solve a query or educate them? If the answer is NO then you might want to reconsider the topic. If it doesn't appeal to your target audience then no matter how good it is, it won't be of any use. Make sure that what you publish is relevant to your industry and makes sense to the audience or else scratch it.
Avoid keyword stuffing–
Keyword placement is a tricky part and not everyone gets it right. There is no use in using the keyword in every second sentence as the inappropriate placement of content can annoy the reader and result in a high bounce rate. Use the keywords where they are required and actually blend in.
Hire content writers–
It is very important to have someone who understands your niche and can deliver the apt content. There are various things that have to be kept in mind when it comes to giving SEO-friendly content and there is no harm in hiring a professional for the same.
Optimize old content–
It is a myth that only the latest content ranks. Often, you might search for something and see content from 2017 on the first page. That is because the content has been optimized and updated with the latest information. Find something that you have written in the past and update it and you might ignite the fire all over again too without working too much on it.
9. Google My Business listing is important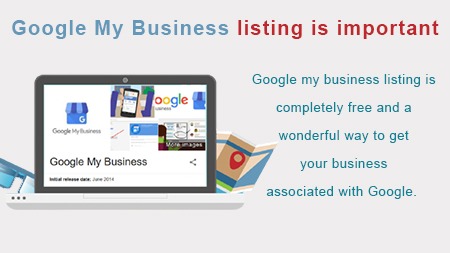 From the perspective of local SEO trends, Google my business listing is way too significant to be ignored. However, there are people who are unaware of this hidden gem.
According to a survey, there are only 45% of the people have claimed their listings and optimized it as per their preference.
Make sure you claim your Google my business listing and then even optimize it by adding a description, images, and other details.
10. Search intent over keywords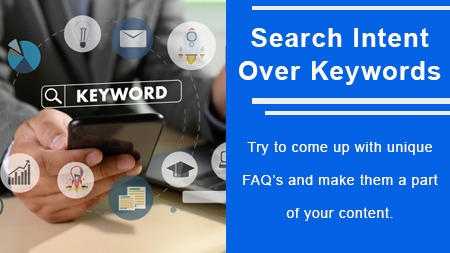 If you want to rank, make sure that you focus on the search intent rather than just keywords. It is less about the keywords and more about long tail phrases therefore we need to publish content that actually matches our customer's thought processes.
Focusing on the search intent will bring a difference altogether. Even Google says "Stop marketing to the average: Be useful. People respond to brands that understand their needs. So, it's important to optimize your media for both relevances to the consumer and lifetime value for the brand."
Make sure your content is understandable. Forget about sounding fancy and like Shakespeare's first cousin. No one likes to read something where they have to refer to a dictionary from time to time. Try to come up with unique FAQs and make them a part of your content.
By taking care of these SEO trends, you will surely be able to make a mark or do even better. Just remember that it is all about the users and making things simpler for them. Is your website design user-friendly? Is the content apt? Make sure you ask such questions before working. A positive answer to them blended with these top SEO trends in 2021 will help you out in ways you would have not even imagined.