Media, these days is buzzing about scandalous privacy and security settings of a widely popular messaging app- Whatsapp. The recent update in Whatsapp privacy policies and their request to users to read their policies (accept or decline) made them doubtful about Whatsapp security. As a result, several users lost their faith in the popular messaging app, giving an opportunity to other mobile app development companies to come up in front with a better messaging app.
On one hand, the commotion affected the acceptability of Whatsapp significantly, but on the other, it has also been advantageous to several messaging apps like Signal, Threema, Telegram, Wire, and Sandes app India as they are the next best alternate messaging mobile apps that are secure. As most of the users started scouring the web for a better and easily adaptable option, Sandes is the next promising app users found on the internet which is reliable.
Let's understand what Sandes Mobile App is all about.
What is Sandes App India all about?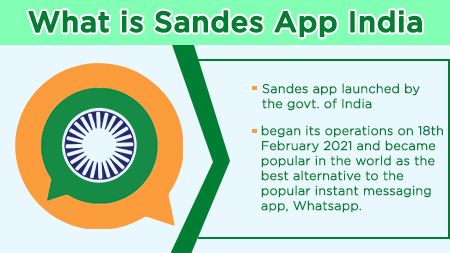 Sandes app launched by the govt. of India, began its operations on 18th February 2021 and became popular in the world as the best alternative to the popular instant messaging app, Whatsapp. It is also launched by the same company that earlier launched GIMS (Government Instant Messaging System) to provide a Whatsapp-like communication system exclusively for Government officials of India but the app was not available for the citizens in general. The new version of the mobile app was named 'Sandes' and made available for the common man as well.
Sandes App Downloading Steps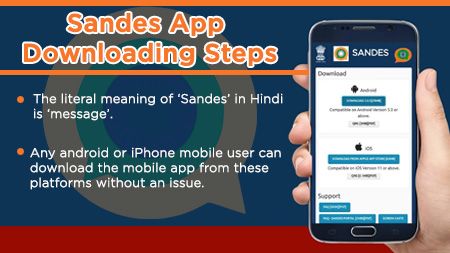 The literal meaning of 'Sandes' in Hindi is 'message'. Therefore, the company named the app 'Sandes' and uploaded it on Google play store and App Store for users. Any android or iPhone mobile user can download the mobile app from these platforms without an issue.
Another way to perform Sandes App download is to visit https://www.gims.gov.in/dash/dlink and click on the type of mobile you re using.
Features of Sandes App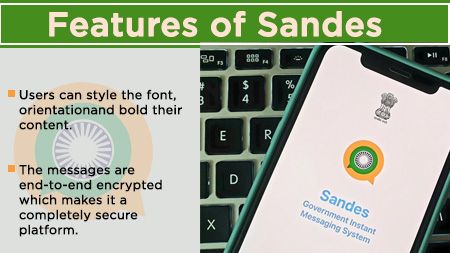 If asked about Sandes mobile app's interface, we can say its comfortable. Its interface is very similar to WhatsApp which makes it easily adaptable for users. Sharing of messages and files like images, video, audio, documents, etc., is not complex with Sandes app India. Just like WhatsApp, users can also create groups and the messenger also allows contact sharing, tagging of messages, broadcast messages and phonebook synchronization to name a few.
Users can style the font, orientation and bold their content.
The messages are end-to-end encrypted which makes it a completely secure platform.
Sandes is better than Whatsapp because
Increased security as users can log in to Sandes messaging app using their registered email account whereas, in case of Whatsapp, it can be done only using a mobile number which is also verified once while logging in to the account only.
Distinct visibility of verified accounts on Sandes to provide users peace of mind, unlike Whatsapp which is a complete mystery.
When Whatsapp came, it made sharing of big files earlier but restricted the limit to 100 MB and up to 16 MB for videos, this changes in Sandes app. It allows users to send and receive videos and images up to 500MB which is more than enough for a normal user.
In comparison to Whatsapp, Sandes allows users to store a backup of chat on external devices. However, WhatsApp only allows data storage on Google Drive or iCloud.
In addition to all the basic functionalities, Sandes app also provides climate updates.
Sandes users can also set priorities for their messages and mark them as important.
Conclusion:
Despite many drawbacks, Sandes came to the rescue of Indian citizens and also promotes our PM's vision of AatmaNirbhar Bharat-  a self-reliant nation. It is also a safe and sound option in terms of the privacy policy as it promotes transparency and security of data. Sandes app India is the next most preferred alternative provided to users to have a secure messaging platform.