People often tend to get confused between blogging and Vlogging and if you are one of them then you are at the right place. We are here to clear the air and share the concept of blogs and vlogs in detail. Both of them sound similar but they happen to be different from each other.
All about Blogging
What is a blog?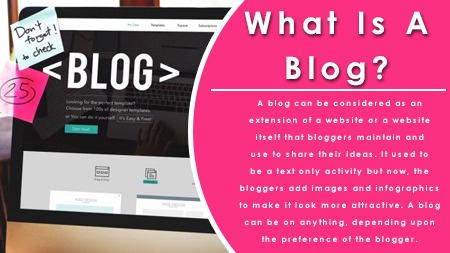 A blog can be considered as an extension of a website or a website itself that bloggers maintain and use to share their ideas. It used to be a text only activity but now, the bloggers add images and infographics to make it look more attractive. A blog can be on anything, depending upon the preference of the blogger.
Types of Blogs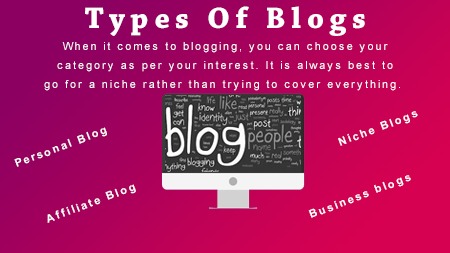 When it comes to blogging, you can choose your category as per your interest. It is always best to go for a niche rather than trying to cover everything. Blogs can be put under the following categories and you can pick what suits you the best:
Personal Blog
You can see it as the modern 'dear diary version'. People turned to the internet to share their daily journals which included their thoughts, feelings as well as experiences. The beauty of having a personal blog is that you don't have to play by the rules as you can write whatever you want.
You can share reviews, post about your life experiences, or whatever comes to your mind. If you want to succeed at personal blogging then try to make connections in the community with people who have a similar interest. You can start by commenting on their blogs and following them on social media. It is the best way to engage with people and grow your visibility.
Niche blogs
If you have a specific idea in mind then you can pick a niche. It includes all those popular blogs that you come across on Instagram like food blogging, fitness blogging, fashion blogging, and quote pages to name a few. It helps you to focus on a specific topic and have an audience with a similar taste. You can go as specific as you like and write on one topic like pasta or just the color blue! When you get into niche blogging, it gets easier to concentrate as all of your research is directed in one direction. Some popular niche blogs are:
Lifestyle blog
Health and wellness blog
Home décor blog
Parenting blog
Couple blog
Food blog
There is an ocean of options to select from till you are willing to take a dive and explore the opportunities.
Affiliate blog
Affiliate bloggers are those that blog in order to make affiliate marketing commissions. Instead of having content around their own products, they write blog posts that include reviews of other products. The objective is to inspire visitors to purchase those products by clicking on the blogger's affiliate link that allows the blogger to earn a commission as stated by the product creator.
An affiliate blogger usually writes review posts on affiliate products. Some will write a number of reviews on one website while others will create websites devoted to promoting one specific affiliate product.
Business blogs
Business bloggers are those who blog on topics related to their business. It could be a business they own or the company they work for. The goal of the blogger is to gain more exposure, traffic, and eventually customers for their business. Their content is focused on the business and the blogger will write on topics that will appeal to their ideal customers. For instance, a digital marketing company will write on content that will not only educate the audience but will promote their services as well.
Mistakes to avoid while blogging
If you are starting with blogging or have been in the race for a long time but wondering where you are going wrong then you must avoid these mistakes at all costs to have better results:
Conceptualizing content as per your preference only
It is your blog and your field to play but you can't just focus on a sport that you like when you have a stadium filled with an audience. You have to take your viewer's choice into consideration as well. When you put your words and thoughts out there, you will get reviews and comments which you can't just neglect. The ideas might hit you randomly but they can't just be anything that you choose to act upon. Just because it seems good to you doesn't mean it has the potential to be published therefore give it a thought before finalizing.
Your agenda takes a backseat
Your content should be focused on the agenda that you have in mind be it lead generation, better conversion, or more traffic. Your content should be compelling enough for the audience to take any action that you want them to take.
Diverting from the topic
No matter what, you should never divert from the niche. If you are into food blogging then there is no sense in writing about the outfit of the day out of the blue. This tends to confuse the followers and it might result in a drop-in the number of your audience. Do what you do best that too without losing the direction.
Less of a blog, more of an ad
If you are into affiliate blogging but it seems to be like you are trying too hard to sell something then is going to put people off in no time. Everyone wants to read genuine reviews and not something that makes it look like you are hell-bent on promoting the products like your life depends on it.
Not being consistent
This is one of the most common mistakes that people make. They might start off in a very enthusiastic manner but that energy fades off slowly. If you are someone that used to post regularly but now posts once a week then you really need to consider being more active. You can't post in an inconsistent way and expect to grow.
Now that you have got an overview of blogging, we will be giving you an the idea of the Vlogging.
All about Vlogging
What is a vlog?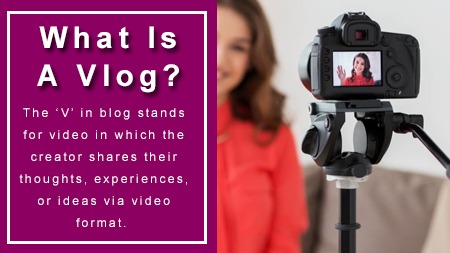 The 'V' in blog stands for video in which the creator shares their thoughts, experiences, or ideas via video format. Vlogging is basically sharing your experience with the people in the form of videos that the audience gets without doing it by themselves. It can be seen as a television present on the web. They can upload the video on either their own website or other platforms like YouTube, Instagram, or Vimeo. Instagram marketing reels are emerging as the latest trend in Vlogging and gaining popularity at the blink of the eye.
Types of Vlogs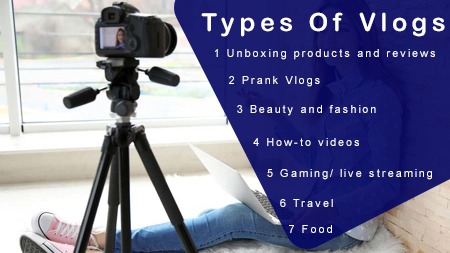 Just like blogs, vlogs can also be categorized. Vlogs can be of the following types:
Unboxing products and reviews
People want to know about the product even before buying it and they turn to YouTube for research purposes. Unboxing videos are very popular and when they sound genuine then nothing like it. If people find it informative then they will share it with their peers as well which will get you more views and their buying decision will be based on your review.
Prank Vlogs
If you watch content on YouTube then you are no stranger to prank videos. However, there is a lot of back work that you need to do to create a prank or a comedy video, and keep various things in mind as well. You have to see that others are not getting offended or your pranks are not backfiring. But they are worth the effort and have the potential to go viral as well.
Beauty and fashion
You must have seen videos like 'how to wear a scarf in 10 ways' or 'how to use a single lipstick for full-face makeup'. These videos happen to have a wide audience base as everyone wants to keep up with the trend. If you share some useful tips with the viewers then you will automatically gain more Instagram followers and be on the road to success.
How-to videos
'How to' is one of the most searched keywords on Google and people usually prefer to watch a video regarding the same. You can make a video while doing different things and if it is useful then it will eventually get views as well. Even educational videos are watched over and over again by different age groups which mean more audience for you!
Gaming/ live streaming
This might come as a surprise to you but gaming platform is a huge market that you can tap into. You can start by streaming online or by going live and getting into the practice of super chat. The channels have their focus on gaming tricks, cheat codes, lifestyle, and culture. The gaming videos consist of the walkthrough, let's play, reviews of new games, and updates. There is a lot of competition in this segment therefore you will have to bring a USP to your channel if you want views and followers.
Travel
Travel Vlogging has gained a lot of popularity in recent times. People who travel frequently log their experience and share it with the viewers and people love to watch it. It gives them a sense of satisfaction that even if they are unable to travel; they are at least able to enjoy the destination by staying at their homes on their phones or laptops.
Food
People try different cuisines at different places and share their expressions and impressions in the form of a video. This lets people know whether the place or a dish is worth the hype or not that too without visiting the place. It can also consist of a recipe video which can be a conventional one or a relevantly new one.
Advantages of Vlogging
More audience
Gone are the days when people used to watch the TV for hours. Everyone prefers content online and YouTube is a major source of entertainment and information. The content is from real people and when people find it relatable then they tend to become a loyal audience and share it with their friends and family as well.
Personal touch
People find it more meaningful when you talk to them even when it is through a video. When you share a vlog, you share your life experiences with people and they get to see how is it to have a life that they don't have and what are the possibilities. It gets easier to connect with people when they can relate to what you share and this touch comes when you sound real to them.
Voice your opinion
Your vlog is your territory to rule and you have the right to talk about anything and everything. You can share your opinion on different topics with the people and you might inspire someone in one way or the other. One such instance is body positivity. When vloggers talk about it and share it with their followers then people think that it is ok to not fit in the conventional beauty standards laid by society and accept yourself.
Videos have more potential to go viral than just texts. You might have seen how people with a nominal amount of followers uploaded something online and then became an internet sensation over the night. Yes, it is possible and it does happen on a regular basis. Keep on creating quality content and who knows, you might be the next big thing on the internet.
Revenue
Last but not the least, if you were not convinced already then you must know that after a number of views and followers, your channel gets monetized. YouTubers and vloggers tend to earn so much more than a regular person who works from 9-5. They also earn via affiliate marketing, sponsorships, and ads.
Top Vlogging tips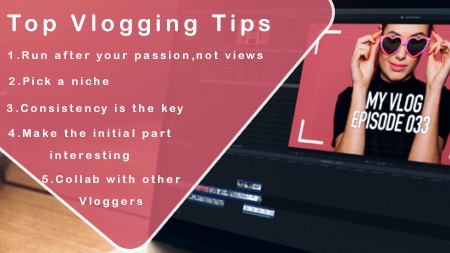 If you want to have a successful Vlogging career then there are few tips that you must keep in mind. They are:
Run after your passion, not views
People are creating vlogs based on what they think will get more views. This is an enormous mistake that won't let you become a popular vlogger! You can try to fake interest at first but after a few vlogs, your viewers will see that you don't really like what you are showing out there. It will also become different gradually to get yourself encouraged to vlog if you have to talk about things you don't relish talking about!
Pick a niche
You should do what you like the most and then work on it by putting it into a niche. It is a vast choice out there and you really need to decide which audience you want to engage. Don't try to become master of all as you might fail at it. Therefore, take a niche and focus on that only.
Consistency is the key
Being popular is tough but not impossible and you can achieve a milestone by being consistent. Upload regularly at particular timings no matter what if you want to have a steady foot in the industry. When you do this, people actually wait and look forward to your content at that time and if you miss posting then it will obviously put them off which is not going to be a nice situation for you to be in.
Make the initial part interesting
The attention span of people is getting shorter by the second. If you want people to continue watching the vlog then make sure that the initial bit is interesting enough to keep them engaged. If they close the video in the starting then no matter how fun the rest of the video is, it won't matter because they won't stick to know!
Collab with other Vloggers
Once you have built an audience, you can also collaborate with other YouTubers to cross-promote each other and benefit from each other's following. This can do wonders when you collaborate with YouTubers with a similar size and type of audience. You can also go live with them and have an entertaining session which will increase the engagement for both of you.
Which is the one for you? 
Now that you know how both Blogging and Vlogging works, you should see which one works the best for you? You can choose it as per your interest and the topic that you want to share with the digital world.
If you have a flair for writing and find yourself more expressive with the words then you should surely go for blogging.
If you feel that the camera is your friend and talking to it comes naturally to you then you should go for vlogging or can contact youtube video marketing agency. You can have great communication with people and you are more expressive and vocal then this is for you.
No matter what you choose, it is always commendable to follow your passion so go and create that website/channel right away!