YouTube is growing massively, with approx 600,000 hours of videos uploaded every single day. It has gained maximum outreach than any other online platform. That's the reason everybody wants to be on YouTube and gain popularity.
Often, creators keep asking about how to rank YouTube videos and what's the special ingredient to touch millions of views and get enormous subscribers. However, the truth is, it won't happen overnight.
Everybody has to start from 0 views and 0 subscribers. Some of them reach millions or billions of subscribers/views, while a few of them can barely touch twenty-thirty people. One thing or strategy which makes the winner different from strugglers is YouTube SEO.
Yes, with YouTube SEO tips, you can optimize your videos and appear on the first page for relevant keywords. The best part – we have got you covered with 10 powerful hacks to help you rank on YouTube search results.
Let's dive in to get more insights.
Wanna increase traffic n leads on your business website, let's show you how?

SEO – Drives organic traffic on your website.

Content Marketing – Shares valuable free content to attract customers.

Pay Per Click – Google paid marketing strategy with a clear ROI.

1. Research keyword for YouTube video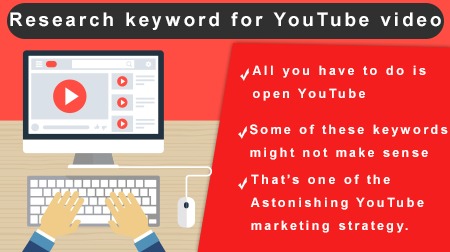 The top priority is to research the keywords that people are looking for. It simply means that before jumping in to launch your videos on YouTube, you must find the right keywords.
It all starts with creating a list of keyword ideas.
No worries! You don't have to brainstorm about the keywords; instead, you can simply use the YouTube search suggest feature.
Here is how to do that.
All you have to do is open YouTube, type a few words (relevant to your video), and YouTube will display a list of related keywords.
Some of these keywords might not make sense, but that's how people search on YouTube.
Another powerful way in keyword research is to copy the keywords of a popular video in your niche and use those keywords in yours. That's one of the astonishing YouTube marketing strategy.
For that, sort the YouTube videos by most popular,  pick the video that has garnered huge views, check its title, tags, description, and leverage them to optimize your videos.
Additionally, you can also use the traffic source report for YouTube search to find some of the best keyboards that generate high traffic.
In all these ways, you can enrich your keyword list so as to avoid the witch hunt.
After creating the keywords list, it's time to identify the best one
To choose the best keyword, you should always focus on low competition keywords, and it becomes more critical when you don't own too many subscribers. If you try to rank for highly competitive keywords, you will most likely lack in the search results. So, how to find low competition keywords? The answer is Google. Here is how to do it.
Open google, search for your keyword (add YouTube after that), and look at About results.
Here you will see a number, maybe in thousands or millions, that indicates the number of videos on YouTube about that particular keyword.
If you found that number to be in millions, that shows it is highly competitive, and ranking for that particular keyword might take a long time.
On the other hand, if you found that number to be in thousands or tens of thousands, that means it is less competitive keywords.
So, that's how you can headhunt for the keyword and find the one that suits you the best.
2. Use well-optimized Video Descriptions and Title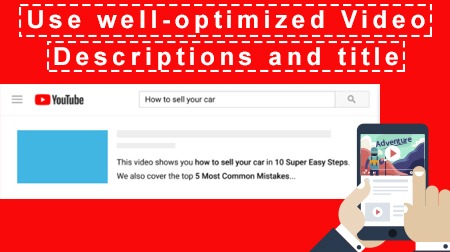 Obtaining the right set of keywords is one part and optimizing it on your videos is another. In this YouTube marketing strategy, you will need to use the keyword in title and description creatively. Also, it should have an appeal to attract the viewers and compel them to watch it.
Always think like an audience, that if you would have been at their place, which video title appealed to you the most. Other aspects to consider while choosing the right title and description – Are you making a video to teach your views on a specific topic? Or are you making it to entertain your viewers? Your video title and description should have a feel for your content's theme.
3. Don't Forget to Include the Right Tags
Keyboard research is done, title and description optimization are also complete, now comes the use of the right tags. It is one of the most underrated tools for YouTube SEO. Tags are basically for the YouTube reference only, and the visitors have nothing to do with them. You can add as many keyword variations in tags as you want. You will have to brainstorm on different ideas while finding the right tags for your YouTube videos.
4. Create high-retention videos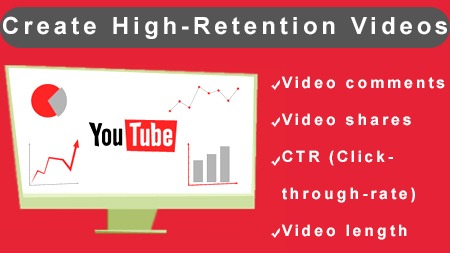 Audience retention is another crucial factor to rank on YouTube. YouTube wants people to keep coming or stick to watch videos, and the creator who supports YouTube in that venture is promoted. The retention rate is the amount of time people are watching your video. You should always aim to achieve a hundred percent attention rate so that you can frequently appear on the search results on YouTube.
YouTube is not equipped with features like adding backlinks, which Google has, and that's the reason it relies heavily on audience retention as a ranking factor. All you have to do is create a highly informative video that adds value to the visitor. Does that mean you will need costly equipment? The answer is no; instead, the quality content will work wonders. Here are four essential factors to pump up your ranking on YouTube.
Video comments: A good number of comments on your video indicate highly informative or engaging content. You should always encourage your visitors to comment on your video, and you must be prompt to reply to those messages.
Video shares: The more the video is shared on social media platforms, the more organic visitors you will get. So, think about creating highly informative and value-adding content.
CTR (Click-through-rate): CTR also directly impacts your YouTube ranking. The more the number of people clicks on your videos when it appears on search results, the more is the CTR. Higher CTR will make YouTube display your video on search suggestions for relevant keywords. Creating compelling thumbnails will help you increase the CTR.
Video length: As per research, the long videos rank better as compared to the short ones. However, you need not stretch the video unnecessarily. Strike off the right balance between video length and video content.
5. Encourage Engagement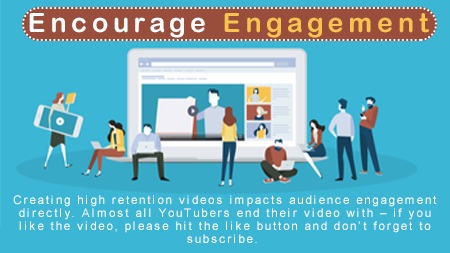 Creating high retention videos impacts audience engagement directly. Almost all YouTubers end their video with – if you like the video, please hit the like button and don't forget to subscribe. The reason is pretty simple; whenever someone hits like or puts a comment on your video, it sends a strong signal to YouTube, suggesting that the audience is enjoying the content. In that way, YouTube will evaluate your video's performance and frequently appear on the suggestions list.
6. Be Creative with Your Video Script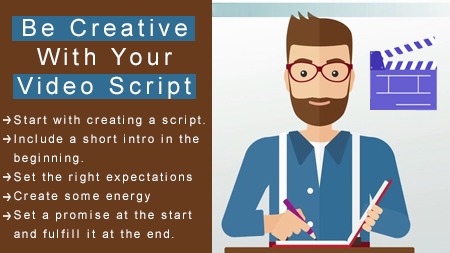 Creativity is always treasured, and the same goes for YouTube also. A few creators do not prefer to follow the basics of YouTube etiquette, and that's where their videos get buried down the search results. The overall objective is to look natural and be spontaneous with your script, which is most preferred by YouTube and visitors. As per a recent study, YouTube marketers or creators get 10 to 15 seconds to impress the audience and engage them to watch the video till the end.
Practice your script before appearing in front of the camera and publishing the video. It will help you eliminate the minor hiccups that might arise when you do it in real-time. Also, do not afraid of editing the video to make it professionally appealing. If you engage your audiences for the first 30 seconds, you will most likely retain 33% of them until the video ends. Here is the pro tip:
Start with creating a script.
Include a short intro in the beginning, to inform viewers about the content of your video.
Set the right expectations in the beginning of your video.
Create some energy and passion for higher audience engagement.
Set a promise at the start and fulfill it at the end.
After considering all these factors, the next step is to optimize your YouTube videos. The following section explains this in a better way.
7. Optimize Your Videos with Keywords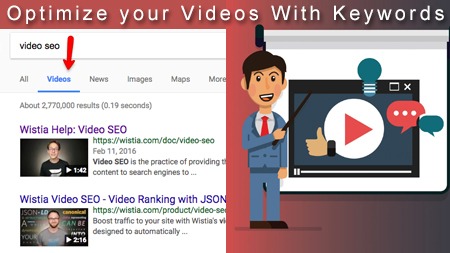 Different ways you can optimize your YouTube videos with keywords.
Include the keyword in your video content by saying the target keyword.
That will help YouTube to learn about your video.
Your video title should be 5 words long, inclusive of the target keyword.
Help YouTube in understanding the context of your video by adding a video description. Here is a cheat code – the video description should be 250 words long, include the keyword in the first 25 words, repeat the keyword 3-4 times.
There is a universal YouTube marketing practice to use the same title tags as your high ranking competitors.
8. Add Attractive and Interesting Thumbnails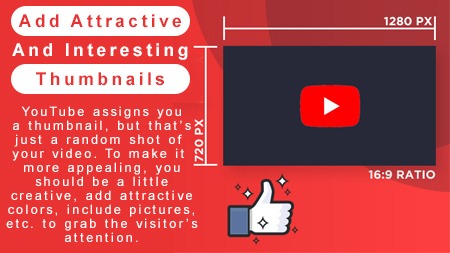 Thumbnail is the face of your videos, and the more attractive you make it, the more will be you CTR. The user sees two things before clicking the video, the first is the thumbnail, and the second is the video title.
Although YouTube assigns you a thumbnail, but that's just a random shot of your video. To make it more appealing, you should be a little creative, add attractive colors, include pictures, etc. to grab the visitor's attention.
Taking thumbnail seriously will really strengthen your ranking performance on YouTube. Once you are done with keyword research, creating high-retention videos, and optimizing your videos with keywords, now it's time to start promoting.
9. Promote The Video to Grab Views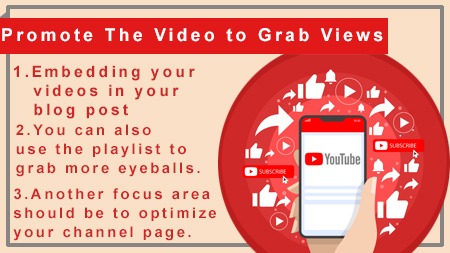 Video promotion is the first step towards generating views for your videos and attracting traffic. However, it has to be done strategically by leveraging popular forums like Quora and other such sites. Imagine you get access to a website where people are looking for relevant information. If your website can handle those queries, it will be an instant hit and shared automatically on social media handles. Here are some of the powerful YouTube SEO tips to help you promote your videos.
Embedding your videos in your blog post is one of the most powerful tools of promotion. Whenever you write a blog post, create a video along with embedding it in the blog.
You can also use the playlist to grab more eyeballs. The benefit of a playlist is, your next video plays automatically when one video ends. If a visitor finds the next video interesting, then your retention rate increases automatically.
Another focus area should be to optimize your channel page. You can do it by adding the relevant keywords to the channel description. A professional and nice-looking channel page is more appealing to YouTube and also to visitors. Don't know how? YouTube marketing services can help you it with ease.
10. Be Socially Active
Being socially active is another way to promote your YouTube channel. It's all about looking for an opportunity to share a word about your videos. Whether you do it offline or online, both ways work well if managed effectively. Whenever you create a new video, make a post describing a small summary about the content and share it on your social media account. Also, encourage your friends to share in their social media account as well. You can also enhance your network by frequently visiting social gatherings. By increasing your social circle, you get an opportunity to improve the subscriber count and target audience reach.
The Bottom Line
Although YouTube is highly competitive, but it offers a great platform to showcase your skills. Using these YouTube SEO tips will help you reach every corner of the world if appropriately managed. However, you will have to strategize from a short term perspective rather than thinking about the long term. Start small, take baby steps, use these tools, and get your dreams real.