Just a few days are left to enter 2020. As the New Year is about to start, then you should take it as a fresh and great opportunity to elevate your online business. For attracting customers via your website, the very first thing that your website should have is clarity. An uncluttered & clear website design attracts the customers, bring the traffic on the website and grow your overall online business.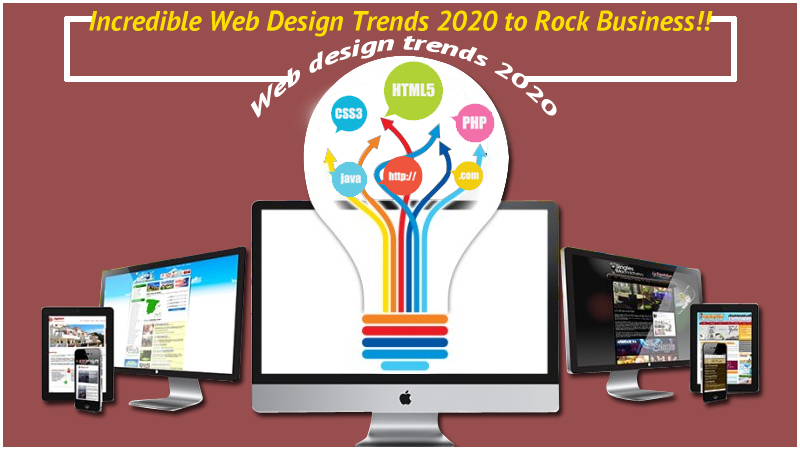 Today's let's discuss some incredible web design trends 2020 that would aid to make your website more striking and help to elevate your business. Let's talk in detail about these trends that would surely make your business rock if followed properly. Have a look at the important trends-
Oversized & bold element
Full-screen forms
Customer images & split content
Voice user interface
Animation and 3D design
Tailored illustrations and Solid color blocks
Oversized & bold elements
Oversize type is getting more attention from the visitors of the websites. For catching the attention of the customers about the main elements of the websites such as menu icons, heading, taglines and other things on a web page that require customers' attention. The reason for it is simple because customers remember the highlight things for more time. That's why it is crucial to include this point into your website if you want to rock your website in 2020.
Bold typography is gaining high appreciation from the people. It is ideal for drawing the attention of the customers towards the business objective, name of the brand and other important things. The whole purpose of including oversize & bold elements in the websites is just to grab the attention of customers. And, this is one of the biggest web design trends which are expected to grow more in 2020.
Full-screen forms
For providing a better user experience, one thing that is tried by almost every famous website is the full-screen forms. Including the full-screen forms at the home page of the website is good from the point of view of the customers. It provides good customers' experience because they can submit the forms easily.
From Google and other search engines to the website's owner, everybody gives preference to customer experience. So, get ready to beat the competition in the digital marketing field by offering great customer experience on your website. If you don't have the full screen form at the home page, then include this one. It is an expected web design trend in 2020.
Custom image & split content
The custom image would be the best option to be included in your website design because it is ideal to attract the customers and increase the traffic on your website. This is another important web trend 2020 which would be perfect for enhancing the conversion rate. Let's add some eye-catchy images to your website that blow the mind of the customers and they become curious to know more about your products/services.
In addition to this, if you include the split content along with the customer image, then it would be a highly effective technique to make your website unique and likable. The split content technique is great to add to the website because with the aid of it you can reflect the more than one important message on the single page of your website. These two trends of web design are expected to be used for than ever in the upcoming year. So, be prepared to make the changes in your website and add these two features in that if you want to stand tall in front of the high competition in the field of digital marketing.
Voice user interface
There are so many people in the world with physical disabilities, so especially for them, this feature on your website helps a lot. It is effective for every customer because the trend of the voice search is expected to increase in the upcoming years. In today's time, no one wants to type long queries. They prefer the voice search because it is easy for them.
So, let's get ready and add the voice user interface on your website and make sure it is accessible for all pages of the website. This is an amazing feature that would elevate your business in 2020 by driving more traffic on your website.
Animation and 3D design
In 2020, one another thing that would be seen on the websites in a high percentage i.e. animated and 3D design. The animation is an amazing feature that helps a user to stay for the long on a website. It holds the users' interest and they stay for a long time. Animated websites are going to increase in 2020.
For providing a more realized view to the customers, websites' owners are using the animation and 3D elements on their websites. 3D is another popular web design trend that is going to rock in the upcoming year. You should also try this feature because it is perfect for attracting and engaging the customers.
Tailored illustrations and Solid color blocks
Tailored illustrations and Solid color blocks are two features that would surely enhance the overall design of a website. These are perfect to make customers curious to stay on your website and explore it. So, try to add these features and let more people visit your website. Tailored illustrations and Solid color blocks are expected to be included in more websites in the year 2020.
Now you would be well aware of most expected web design trends for 2020. So, try to use all the above-suggested features on your website so that it is ready to beat the high competition in the digital marketing field. In addition to this, you can include other impressive features in your website design so that it offers a pleasing experience to the customers. This step of yours would surely help to grow your business like never before. And, it would provide the long term benefit to your business. Hope you would like this read and it would be extremely beneficial for your online business.