Are you planning to develop an application for your business, but not decided where to launch yet? Well, you must know that there are two primary platforms to launch any app- Google Play or App Store. You also must be aware of the fact that Google Play is used by Android users and App Store is used by iOS devices users.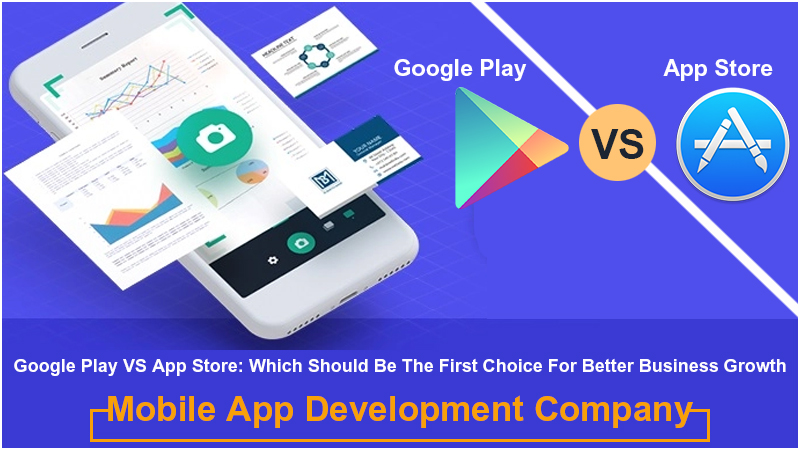 However, before you land on any decision, you will face a never-ending controversy in the head about- which platform to use. This may snatch your some nights and useful morning hours. Both the platforms are amazing, they both have their advantages, but again the question comes- which platform to choose to land your first app in 2020?
No matter how amazing you're your app development idea, what services you are going to provide with the app or what features your application includes. The thing that matters is- choosing the right platform that can take you to success and can bring some breathtaking leads for your business with the help of the app.
Remember, whether you choose to develop your app for Android or iOS, the success of your app depends on the number of downloads. With less number of downloads, even the best app if this planet seems to fail. If your mind playing see-saw between the two ideas, you can take the help of experts in the Mobile App Development Company. As the professionals in the industry know the market and also the audience well. Hence, they can help you in understanding and analyzing a few things, and then the outcome will let you decide which platform you should choose.
Hey, but hold on for a second! Before you decide without any analysis, here are a few factors you should know before choosing Google Play or App Store.
So, let us talk about those important factors.
Important Factors That Depends on Your App Launch
Understanding Audience
Whether you are generating the content, making a website, or even if launching the app, understanding the audience comes first in each case. Because in online marketing, you are here for your audience first and then for earning money, growing your business and so on. If you work according to your audience, you will get your chance soon to become part of their lives.
We understand that hunting for the right kind of content, engaging content is what you cry for. But have you ever thought, are you really on the right track? Don't you think, searching for a particular kind of content you should choose what kind of audience you want and then create the content for them?
Decide you want to target a global audience or over a particular area. If your target is a global audience, then clearly Google Play is the best option. However, if you are targeting the U.S area, like- North America, then App Store is the best choice.
Consider the gender factor as well. If your app mainly focuses on ladies, then the App  Store would be a great idea. Since the iOS app interface is quite more comfortable and faster than Android, and it is mostly preferred by the females.
Feature Set
This factor directly related to the functionality of the application.
While Apple is restricted to a closed-ecosystem, it means a developer has written code for a device-specific application by adhering the Apple's ecosystem. Android provides complete freedom and it is an open-source ecosystem, where developers get complete freedom to customize their app with the features that their customers want. Hence, to know what will suits best to your app, you can contact app web design services to guide you.
Being the open-source platform, Google Play Store gives you more flexibility to customize and modify the app according to your choice as well as according to the users' demand. Still, the enclosed ecosystem of iOS has more security and stability.
App Monetization
Who doesn't want money? Well, this is the main reason why everyone starts a business and takes further steps to grow their business.
The records till the date say that Android users are less willing to pay for the applications that iOS users. Therefore, it means that you can consider launching your app on Google Store with in-app ads to monetize it. Whereas iOS App users are likely to give money for the apps.
No matter whether you are trying to monetize your app with subscriptions, in-app purchases or with in-app ads, no platform can defeat the Apple app store in this factor.
The complexity of the App
Building up an application for Android is more intertwined than iOS as developers need to ensure they are good with the platform you choose. And there should not be any bug and crash issues while running even on an older operating system.
Did you know why Apple clients like to spend a high sum on applications and gadgets than Android gadgets? Truly, they just need to get to the most recent rendition of the product to appreciate bother free client experience. Whereas, Android users are slower to receive the most recent updates on their OS. Indeed, even half of the Android clients are running working frameworks which are around two years of age.
The Popularity of the OS
No one can deny the fact that both the operating system have different markets and popularity. While Apple devices are known for their high performing apps, and security. Therefore iOS apps have become the first choice of the corporate sector.
Whereas, the Android Apps are free to install and they are easy as well to use. Users can use the apps on different devices, therefore, they dominate the global market share.
So depending on the popularity of the operating system, you have to decide which platform you will be choosing after analyzing which market place going to use your app the most.
Now it's upon you…
We have done our work, we have given you complete information and told you how to judge and analyze. Now it is your turn to see and choose which platform is going to be the best for your business growth.
However, if you feel confused, then our device will be- seek out for the service of Mobile App Development Company to design an app that can help you in reaching your right audience and you will get a higher number of downloads.