If you are thinking to include email marketing strategies for your business promotion, then you definitely need to know all about it before applying it. It is true that no marketing tactics would work until it applies correctly. This is important to the understanding of the pitfalls that lowering down others and avoiding them in your marketing would lead your business to the road of success.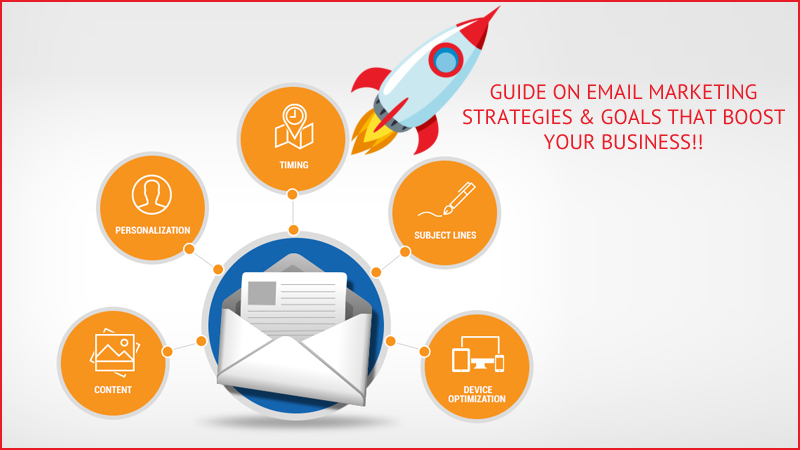 Today in this read unveils the right email marketing strategies along with the proper plans and goals a businessman should set if you want success from this marketing method. It is true that in this digital world, web design company and SEO services agency is high in demand. An online business can't get success in a day or a single thing. It is the result of so many things and a long process. In modern times, email marketing is something that is contributing the most to the success of a business and taking the business to the next level.
Now move forward to dig deep and understand this marketing procedure in detail. Let's first talk about the Email marketing goals which would surely give the boost to your online business.
Automated campaigns are great
Automated email campaigns play a great role in bringing the right customers on your website and generate more traffic on the website. It is the ideal way of connecting with the customers and making them aware of your particular brand. So, your goal should be to make effective automated email marketing campaigns because it would surely give a boost to your business.
Create points to make a connection with subscribers
Another email marketing goal that would help to uplift the business is how you create points for making a connection with the subscribers. It is a highly significant thing that would help you to earn more customers for your business.
Flawless accessing your emails
Your email should be easily accessible to the customers. Keep in mind that all the images, files, and other things should be flawlessly accessible.
Optimize for mobile users
Your email should be optimized in such a way that it is smooth on mobile phones. People mostly open the email on their phones. With the mobile-friendly email optimization, you can gain immense benefits to your business. It is a great email marketing goal that every businessman should follow in this modern time.
Enhance click rate
One of the other important goal that you keep in your mind is to enhance the click rate. This is the essential thing that helps to boost business via email marketing.
Setting up a membership program
Setting up the membership program for your business is a must if you want the quick success of your email marketing. This email marketing program helps to boost business growth and enhance the users' engagement with your brands.
Now have a look at the effective email marketing strategies which would help to make your email marketing campaign successful and drive the huge benefits for your business.
Proper planning for email strategy
Set up a clear objective
Multiple channel approach
Personalized your email
Testing everything in an email before sending to customers
If all the above-suggested goals and strategies are followed perfectly, then your email marketing would surely take your business a wonderful boost.