You might not have a physical store but if you have an online presence and a mobile app then it works the same for you. There is not one but many reasons that will make you believe how it can work in your favour.
Reasons To Go For A Mobile App For Your eCommerce Business
Allows A Great Level Of Personalization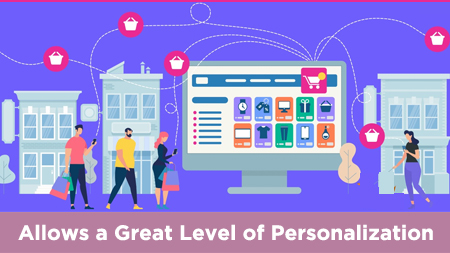 Every customer wants you to make them feel special and not like just another client. This is where the mobile app can work like a charm. It not only enhances the shopping experience but it also makes them feel involved in the whole process. It allows a great deal of personalization as compared to a website or a mobile version of ecommerce website.
The key to ecommerce success is engagement which can only be achieved via customization. Apps can alter the browsing, shopping and checkout experience effortlessly. They do it by keeping the user's needs, preferences likes and dislikes in mind.
To understand this point better, you can take the example of Amazon in consideration. When you open the app, you are welcomed with a "homepage" setting that change animatedly on the basis of your preferences, past purchases and browsing behaviors. You are only shown products that are likely to be of interest to you and prove to be beneficial. You don't need to go through infinite unrelated and useless product pages until you find what you need.
Mobile apps also offer the option of geotargeting in an efficient way. You can target the users based on their location on a hyper local level with the help of the inbuilt GPS function. This is something that's not possible with the websites. You can target users who are in the district of one of your physical stores with push notifications and other alerts. You can also show them relevant ads and product recommendations.
Fashion retailers are trying out the personalization element of their mobile apps to great possibilities. They offer custom avatars for each user with their measurements and an improved reality selection. It helps them to try on the clothes so that they know exactly what they will look like when they collect it at the doorstep. This is only the beginning of retail companies unlocking the power of mobile and as technology further evolved and advances, we're going to see even more advanced features that will change online shopping forever.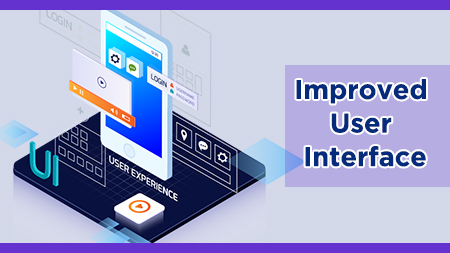 Mobile apps offer a much better user atmosphere that bids a more instinctive and efficient user experience. As developers have to work with limited space in mind in terms of mobile phone screens as compared to a full-scale desktop website, they need to make the top use of space that they have.
Mobile apps offer customers a much more convenient way to browse, shop as well as interact with the brand. All the information and customizable options are just a touch away and the mobile user journey is much shorter as compared to a website.
It will be true to say that the users feel that it's easier to shop using a mobile app. It is so because everything is neatly ordered and easy to find. They don't need to waste time to find what they're in search of and you can always deliver valuable and supportive tips through tooltips and smart wizards.
Helps With The Brand Awareness And Brand Loyalty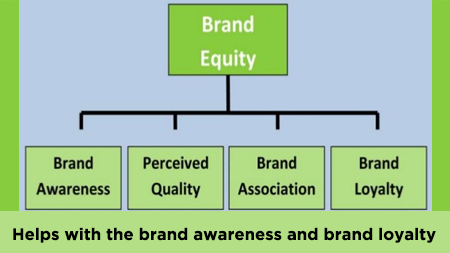 As we have mentioned this earlier as well, smartphones have entered into our daily life and become a significant part of it. A mobile app delivers an environment where your current and prospective customers can communicate with your brand which in turn will lead to brand loyalty and trust.
A mobile app will also place your brand in front of the eyes of the users every time they unlock their phones and look through the app menu. The more often they use their phones, the more your brand colours and logo get stuck in their brains and the mere app icon functions as a free ad for your business.
Mobile apps through personalization also provide the ideal ground to endorse and boost brand loyalty with your audience. It gives a level of value that they can't find anywhere else via modified offers, bonus rewards and custom-made deals to inspire the customers to return and pick up from where they left off.
Customers Like To Use The Mobile Apps
As a customer, we might not like to open a browser and visit a website but we don't mind using the apps at all. We all are constantly on our phones- going from one app to another. This might have not worked in your favour if you are a brand with just a website and not an app. You are smart enough to understand how you will lose on your potential clients without the presence of a mobile app.
However, you must have a mobile friendly website irrespective or the fact whether you have a mobile app or not. The website must load fast or else you will experience a high bounce rate which I am sure no one would want.
In a survey, it was also said that 80% of the customers prefer to use a mobile app as compared to a website.
Just imagine the numbers that you will be missing out on if you don't have a mobile app. You must be thinking that why does an app matter to a customer? Well, it is because of the convenience and speed. In general, mobile apps just happen to provide a better shopping experience.
No matter how fast or receptive a mobile website might be, an app will always deliver a more enhanced user experience.
Therefore, if your eCommerce site doesn't have a mobile app, you're overlooking the majority of the market while giving a less than an optimum experience for your present customers.
Integrate Third Party Apps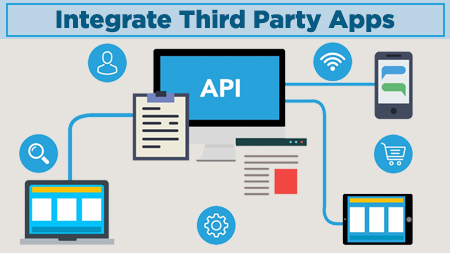 Another bonus of having mobile apps is the software's engagement with the mobile device's integral features. Tools like GPS, camera, and microphone lets you upsurge the app's usability, improve customer engagement, and additionally shorten the navigation process.
Moreover, you take benefit of the social media amalgamation to ease access to your app. Not only that, but you can also make them a part of your marketing strategy to advance brand visibility and curate the content as per the preference of the customer. In short, apps are open for association with other features to craft a better customer experience.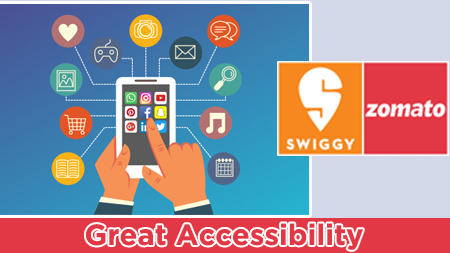 When you have a great design, you are able to offer great accessibility as well. People relate colours to the app and that is how you know the importance of design, color and other UX elements. We all know that a red app is Zomato and orange 'S' on our phones is Swiggy. This is where the power to connect the dots and associate with them comes into place. If you want your app to be accessible then you must be very careful in picking up what matters the most.
Contactless Payment Option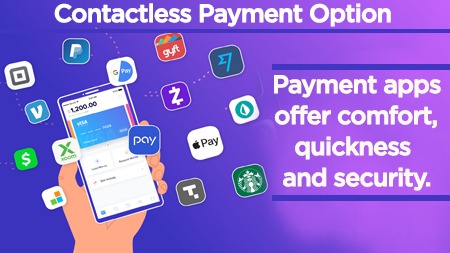 We all know how this is the time to follow social distancing and avoid personal contact. This is where the mobile app works like a charm with its number of online payment options.
Individual smartphones have replaced cash and credit cards because of the development of mobile contactless payments expertise. Payment apps offer comfort, quickness and security. At the checkout, you don't need to get a wallet from your bag to take out money or cards. All you need to do is put the phone to the payment terminal and you are all set!
The details are entered beforehand and all you need to do is enter the CVV code and you will receive an OTP which will be detected on its own. It does not even take a second to do and make the purchase.
These are just a few points that state why it is important to have a mobile app for your online business. If there is anything else that you would like to know then you can connect with us and we will help you out.