In today's time, there are numerous opportunities open for a businessman to advertise their business on the web – multiple social channels – trillions of websites – even Google itself can be used for promoting a business targeting millions of prospects. It's up to you and your marketing strategies that how much profit your business can make with online advertising. Out of the countless options you have, being the top SEO agency, we realize that Facebook alone can help in creating a full-funnel advertising strategy that increases your sales because of the wide variety of options it provides.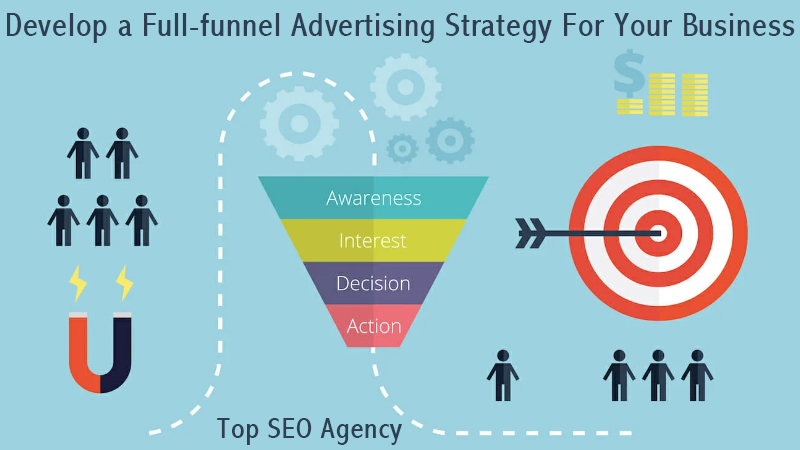 Why a Top SEO Agency Develop Advertising Strategies Via Facebook?
According to a reliable source, "Facebook becomes the strongest social media network with over 2.6 million active users in the first quarter of 2020", which means a wide network of prospects available on a single platform. Also, businessmen mostly consider numbers, so, as we compare the CPC of Google AdWords is somewhere around $2 relatively much higher than the CPC on advertising on FB which comes around $0.6 and can be reduced using full-funnel advertising strategy created by a top SEO agency.
How Facebook helps a Top SEO agency with the marketing objective?
Facebook divides the marketing objective into three sub-categories- on the basis of awareness, consideration and conversion. So for each level in the marketing funnel, you can design a new campaign. The images below show different marketing goals you can choose from. 
Older and most used version:
What is Facebook Sales Funnel?
Sales funnel is a projection of steps or the state on the mind of a customer that he may undergo during the buying cycle. There are all the phases starting from Cold to Hot, Cold when the customer is not aware of your product or services to Hot when the customer is sure about your product/services as displayed in the image below.
Steps opted by Top SEO agency to bring customers down the Funnel 
Follow the steps given below to create a perfect Facebook sales funnel like a pro.
Step 1: Create comprehensive content
Marketing requires a variety of content for different times based on the audience you have. It can be in the form of informative blogs, catchy videos, appealing infographics, slideshows and webinars. Make sure the content you are sharing adds value to your audience. It must be relevant and specific to your product or services.
Present your content step by step to your audience. For instance, for audiences with no idea about your product/ services, introductory content can do the best. Whereas, in case of a warm audience, you should share content that excites them and help in decision making in your favour, bringing them down in sales funnel.
Having a variety of audiences calls for a variety of content. Not everything works for everyone. So, content is the best way to bring them to your sales funnel.
It's important that every necessary content is available on your website. This might help in remarketing and bring more audience down the funnel.
Step 2: Tie up your "warm audience" with content
The warm audience is exposed to your brand, products or services at some level and is interested to know more. It is easy to convert into sales.  They have expressed their interest in your business and are willing to discover more. This audience is generally connected with your Facebook page or you can create a custom audience using the visitors who visited your website.
You must analyse what type of content works for your warm audience through your Facebook page. Keep an eye on the engagement level and use a similar type of content for remarketing.
In most of the cases, content that appeals to your warm audience will probably appeal to your cold audience as well.
Step 3: Target lookalikes of your customers
Facebook has a special way of targeting customers with interest, behaviours similar to your current customer base known as the 'lookalike audience'. You can create a lookalike audience on the basis of your page followers, website visitors, Facebook pixel data, demographics etc.
This will help you in creating a list of the cold audience which is easier to bring to the sales funnel.
Step 4: Make Effective remarketing strategy
Not everyone remembers what they see once. Facebook brings your brand in front of 1000s of consumers every day, it's important that your brand leaves an impression on their minds. With an effective remarketing strategy, you can target that audience again and again via various techniques with your valuable content.
By this time, your audience will convert into a warm audience ready to move down the funnel.
Step 5: Track with Facebook pixel
One of the best thing that Facebook offers is its own tool for analytics. Top SEO agency recommends using Facebook pixel for maximum conversion rate. Facebook pixel is a shortcode that has to be added to your website's code to track the activities of visitors visiting your website. 
It helps you find the sequence of navigation, button clicks, page views, section views. Thus, informing us about the behaviour of your visitors and their actions.
This tool can help in bringing the visitors back to the website who left the website without making a purchase by remarketing.
Step 6: Remarketing while making a connection
Try and connect with your warm audience through other platforms as well like emails or calls. This will show if they are truly interested or not. 
Ask them to take a trial of your product or services, getting an opportunity to bring them closer to your brand. As long as you are offering them something irresistible, this technique will bring maximum conversion.
It gives you time to interact with them easily and eventually help in conversion.
Step 7: Establish Credibility
Getting your audience in your email list is the best way to prove your credibility. Prove to them how your services have been beneficial for your previous clients, case studies, and testimonials, building your audience's trust towards your brand.
Step 8: Closing the deal
By this stage of the funnel, you have a filtered list of customers who have shown interest in your product, have taken free demo or trial and somehow not completed the purchase.
It's time for a personalised sales pitch. Share a few personalised messages stating, how glad you are to have them as your client and what they are missing by not completing the purchase.
This will give them a push to close the deal for good. Top SEO agency practice to get immediate feedback after closing the deal so they can create a word of mouth around it.