Artificial intelligence is a science that has brings revolutionary wanes in the field of digital marketing field. Even though, the impact of AI can be seen in every area of life. But it is immensely and positively changing the way of doing business digitally. There are so many businessmen who avail the web design services and put in other efforts just to speed up the growth of their business.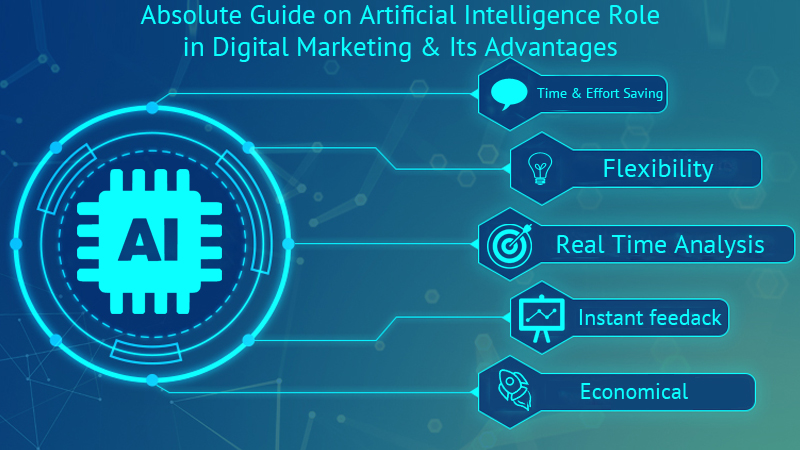 But the revolutionary changes AI has brought to digital marketing are surely appreciable. Let dive into the detail and see the role of AI in digital marketing. Here are some benefits and applications of digital marketing that are mentioned here that would make it clear to you how much effective AI is for a business.
Applications of AI in Digital marketing
AI generate Content
What? Yes, we understand this will be your first impression if you are hearing about the artificial intelligence special content writing feature. Well, still it is not possible to write the political opinion, creative blogs, articles, and others on its own. But with the aid of the AI, you can write the content based on the facts, reports and other information. It is an ideal tool for saving lots of time in writing the informational based content. Apart from this, it is observed that content written via AI attracts the readers' attention.
Email Marketing via AI
With the help of tools such as Persado, Boomtrain, and Phrases, Artificial intelligence is highly admired among the people for effective email marketing. Yes, for the personalized email marketing campaigns, AI is the best. It analyzes a huge amount of the data and determines which would be the best timing for sending the emails to the customers. And, it is also able to determine which email headlines as well as content is clicked & linked by the customers and would attract them. There are so many brands which are effectively using the AI for email marketing purpose.
Aid in Searches
Now the time has completely changed and so the pattern of online searches has been. Now people just press a button and speak what they want to search. Yes, we are talking about the voice search. It is all possible with the help of artificial intelligence.
Chatbots
Chatbots are in trends and most of the brands use them just to prmost ovide the fastest and satisfying answers to their customers' queries. These chatbots are powered by artificial intelligence it's use natural learning processing. Chatbots offer various advantages in the digital marketing field. The main benefit of chatbots is that they are available 24*7 to answer customers' queries. They are user-friendly and easy to chat with. And, it all becomes possible with the use of artificial intelligence. This is true to say that AI contributes much to the growth of digital marketing.
Forecast analysis
Another big advantage of digital marketing gets by AI is that it helps to predict the possibility of the future. With the use of data history, it is possible to forecast something related to digital marketing. You can make so many decisions on the basis of data history via the AI that would help you to uplift your marketing. It is a main and big advantage that artificial intelligence offers to the digital marketing world.
Benefits of AI for digital marketing
There are various benefits of Artificial intelligence for digital marketing or online business. Let's have the major benefits that are offered by the AI for business.
It helps to hyper-personalized the user's experience.
Artificial intelligence also helps in enhancing the production of a particular type of format of content.
It also helps the software in which content should be distributed and created.
It also reduces data errors.
Artificial intelligence plays a great role to save time and money through automated marketing processes.
AI is ideal when it's about to predict the behaviors of the customers. And when you would be able to predict the customer behavior, then it helps to increase the return on investment of a business.
Artificial intelligence also helps to make an effective plan for the campaign's creation.
It helps to improve the designing of the website and make it more user-friendly.
AI aids to thrive on personalized content.
For the prediction of the customers' behavior and forecasting sales, artificial intelligence is doing such an incredible job.
Hope this blog would make it very clear to you how important AI is in this digital era. It is proofed that without using the concept of artificial intelligence, it would be really tough to beat the high competition in the digital world. In fact, it seems impossible. So, if you are not using this wonderful and latest trend in your business, then it is high time to do it. You would see the positive and impressive impact of the AI in your online business. And your business would touch the height of success that even within a very short period. Apart from this, avail SEO, web development and web design services just to make sure that your website and business is better than your competitors in every way.