Instagram is an incredible social media platform that has become the favorite of millions of people around the world in a very short time. It is a wonderful platform where you can share, edit and capture photos and videos with your friends & family. It is an exciting platform where you can follow your favorite celebrities and know what's going in their life. It's recently launched feature to include music to Instagram stories is gaining high popularity.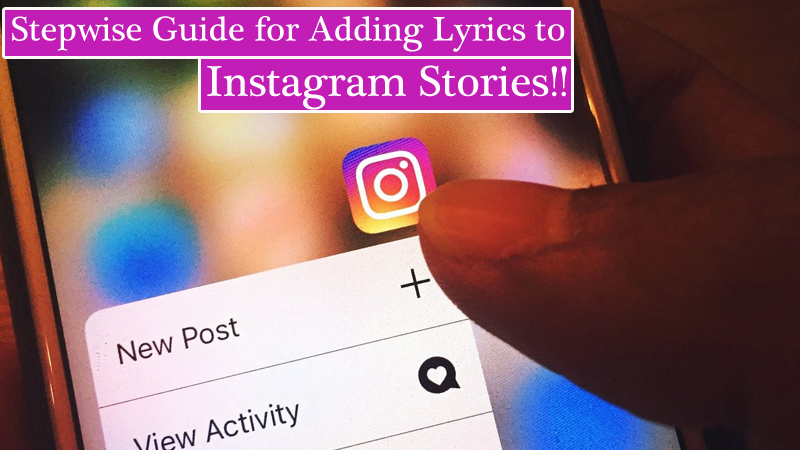 Now, this incredible social app has to dig further and make it easier for the artist and funs to promote the music via Instagram stories. Yes, now users can add the lyrics to the Instagram stories. It is surely an outstanding way and fun way that is equally going to exciting for both fans and artists. Users can now share their music choice with their dear ones via this new Instagram feature. Let's know more about this newly updated wonderful feature.
Step-by-step guide on how to add the lyrics to Instagram stories
Login to the Instagram app
Go to the Music
Select song by scrolling through the list
Add your favorite snippet of the song
Now everybody can listen
Login to the Instagram app 
The very first thing for adding the music to the Insta story, you need to sign in the app.
Go to the Music
After that, you need to go to the sticker called Music. On the right-hand corner of your phone screen, you would see the stories icon.
Select a song by scrolling through a list
Here on the stories icon, you will be able to choose the song by scrolling through the list.
Add your favorite snippet of the song
After scrolling through the list of songs, you need to add your favorite snippet of the song. It is another important step that makes your Instagram story interesting.
Now everybody can listen
It is the final step where your music lyrics have been added to your Instagram story. And, people will be able to listen to the music which you add when they will see your Instagram story.
Tips to select the best snippet of a song-
It is really a wonderful activity to add the song to your Instagram story. It makes you think back and remember your favorite song lyrics. So, try to remember until you get it just right, and then add the song snippet in your Instagram stories.
Hope you have understood how easy this new feature of Instagram is. Let's try this wonderful feature and add more fun to your life. This is an extremely amazing feature, especially for music lovers. So, let your friends and family know what kind of music you love with your Instagram stories. Also, this newly added feature also brings a new opportunity for the artist for promoting their music.