The benefits of the business are obvious but you can't deny the stress that comes along it. Yes, there are several parts such as lack of sales, not enough money to handle things, increasing dept, hiring the high employees, arranging the devices, tools, and other required things can be the reason for your web development business stress. A true businessman is one who has the capability to handle and manage all things effectively and has trust in him/her. Especially, if you are an owner of a web development company, then it is surely difficult for you to make things go smoothly around you.
There is no shortcut to escape from the business stress because, in the end, you have to face it on your own. Don't worry, you are not the only person that is facing lots of stress while running a business. All the business owners meet such conditions once in year or journey of their business. We always talk about how to grow a web development business, which web development services in India are great and other several things. But today's we will discuss the unavoidable part of the business i.e. Stress. Here let's talk about-
Effective Tips To Manage Website Development Business Stress
Whether you are an owner of a web development company in Delhi or a web development company in USA, you can escape from the stress that is created by the creative web development business. Without wasting the time let's move further and have a glance at the vital tips that will help you to reduce the level of stress.
1. Hire professional and experienced employees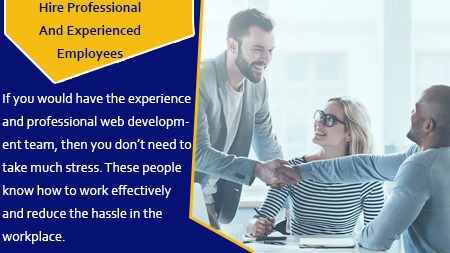 One of the big roles in the success of any business is the role of its employees. If you are running an online web development agency, then you have to hire the experienced web developers. If you would have the experience and professional web development team, then you don't need to take much stress. These people know how to work effectively and reduce the hassle in the workplace. So, you need to be very careful in the selection of the employees of your company.
2. Make pre-plan and follow it strictly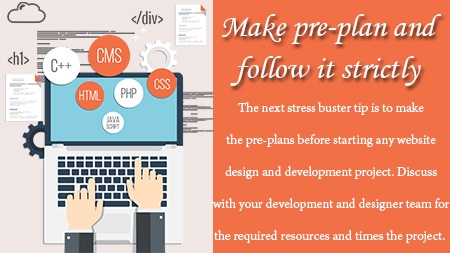 The next stress buster tip is to make the pre-plans before starting any website design and development project. Discuss with your development and designer team for the required resources and times the project. So, first, make the plan and follow it strictly. If you would follow the pre-plan, then you would reduce so much tension during the development process.
3. Testing at each level of development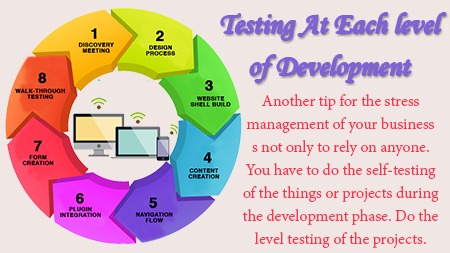 Another tip for the stress management of your business is not only to rely on anyone. You have to do the self-testing of the things or projects during the development phase. Do the level testing of the projects. If things will go smoothly at every level, then the final result would be awesome and according to your expectations. This way you can make your clients satisfy and boost your business. This is one of the most important tips every online website development company should follow if you want to reduce the stress.
4. Take a break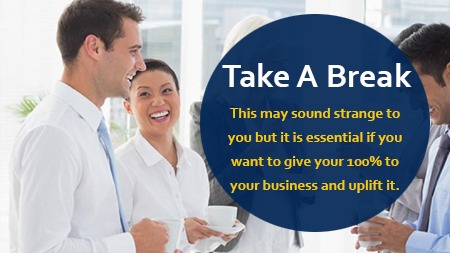 This may sound strange to you but it is essential if you want to give your 100% to your business and uplift it. When you take a break from your business, then it will not only reduce the tension but also increase your efficiency and energy to come back to work and apply innovative ideas for your business.
5. Work hard, dedicated and in right direction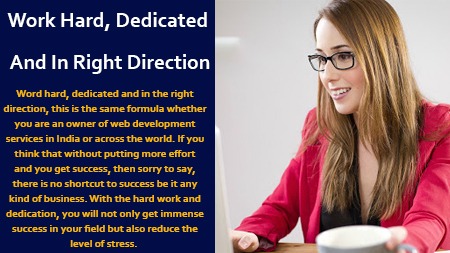 Word hard, dedicated and in the right direction, this is the same formula whether you are an owner of web development services in India or across the world. If you think that without putting in more effort and you get success, then sorry to say, there is no shortcut to success be it any kind of business. With hard work and dedication, you will not only get immense success in your field but also reduce your level of stress. Because when your business flourishes, then the tension automatically reduces and it encourages you to put more effort and take your business to a new height of success.