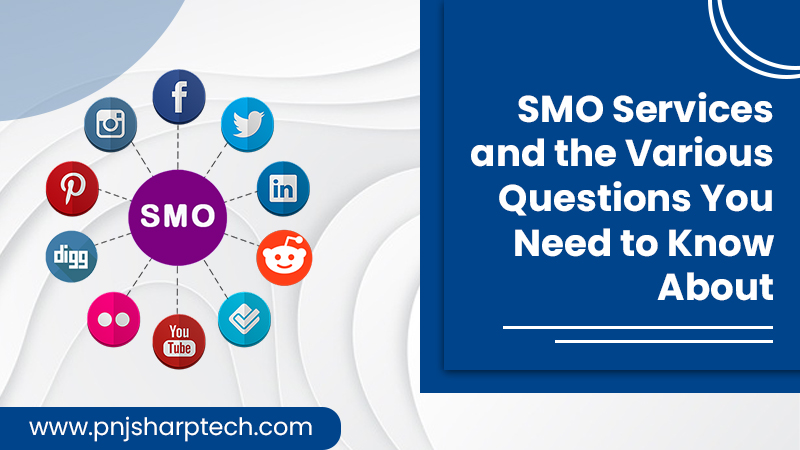 The human race went through a lot in the past couple of years. There was a pandemic, and it went on for two long years. After that came to the war, and it shook the world from its roots. However, one thing did stay. It was the existence of businesses. The online domain especially has seen steady growth. People come up with new techniques to strive for each day. However, this also gave rise to immense competition. However, this blog is not about new businesses. But, it is about an industry that supports new businesses. It is none other than SMO Services.
What are SMO Services?
So we all are on some or the other social media. Even the hardcore professionals are using some (yes you know the Link). So now you must have seen that there are sudden ads that pop up when you scroll through your feed. These are items that you must have searched on any eCommerce website. It can also be something you have searched on Google. Did it ever occur to you how it is possible? Well, it is not a conspiracy, it is just the algorithm at work. These websites study your interests and patterns before displaying the results.
It is extremely efficient and works well to pull customers. This kind of optimization does not need people to put in any extra effort. It is just present there. Let us see what are the factors that make this effective.
Reasons Why SMO Services are Effective
There are many factors that make them the smart option. However, we have to list out a few which play the most decisive role. Let us proceed to the key points;
SMO services are

cost-effective

. They get you maximum returns at a very reasonable expense.

They are

convenient

for the consumer base too. Since it does not need them to put any extra effort.

You do not have to replace anyone else's

advertisement

with your own. Since as per the algorithm, your ad reaches only the relevant audience.

After that, this method involves an aspect of

entertainment

. It might make the audience go through any emotion on the spectrum.

Finally, SMO services help you get better quality

leads. This is because those looking for products similar to you get information about your presence.
We hope now you have an idea as to why people prefer these services. But the next section is the headliner of this blog.
Things to Ask Before You Engage with an SMO Services Provider
These questions are the ones that seem pretty normal. However, you must ask them beforehand. This will help you make a choice
How will it impact my business?
We can say that the answer would be positive. Alas, it is the service provider who can answer it most holistically. When you ask that, follow it up with objective questions. It will help you develop a better idea about your need for the services.
Also, it will help your bond with the provider. Once you get your tuning fix, your work will get done in a jiffy. All you need to do after that is just mention what you need.
What is the level of customization available?
Take it this way, you do not need all the services you get from an SMO. However, luckily most SMOs provide a certain level of customization. If you get one that is more than the rest, you are lucky.
Have a word with the authorities, and understand what they can do for you. We also recommend that you understand what you need from the service provider. This will also save you a large amount of money.
Ask for details about what to expect regarding the availability of the latest services
If you are engaging a service provider, you have to check their adeptness. Also, please remember that the trends expire quickly. But what you should also remember is that technologies expire even faster.
A service provider that uses the latest technology is bliss. You will find out the difference when you see it for yourself. They are able to integrate your social media channels quite deeply into your website. This creates a better impression in the minds of your potential leads.
What would be the frequency of progress reports and dashboards?
So the thing is that it is ultimately your brand. It is you who will be handling the business and who will get the profits. It totally makes sense that you should be in the loop about your progress. How are you gonna get it? It is through regular reports.
Ask the service provider about the frequency of your reports. It can be fortnightly, or weekly, or even monthly. Depends totally upon what frequency you are comfortable with.
Ask them about their expertise in other services available along with SMO services
So finding a service provider is tough. However, getting a reliable service provider is tougher. You need to ask what are the other services they provide along with SMO. If not them, then who are their associates?
Business is all about relationships and having a healthy one with a service provider helps. If they provide you with multiple services, it is much more beneficial. Try to get an all-rounder who solves all your digital marketing needs under one roof.
Enquire about their comfort with a trial period
Once you are convinced about a service provider, you should test their mettle. You can do that only during the trial period. We are in no way saying that you should not ask for samples. What we want to say is that you should not stop at just samples. You have to make sure that you are making the right choice. So don't shy away from tying out for a few days extra.
Whether they have an in-house team or outsource?
Let's get this clear, this has in no way gonna impact your results. What it is gonna impact is the channel of communication. If you have a more direct way of contacting your optimizers, it is gonna help. You won't need to run around if there are any last-minute changes.
Conclusion
SMO Services are the smartest way to market your products. Not only do they provide better quality leads, but it also causes less annoyance. You get better results since only those get the diversion who are already looking for something similar. Also, it is entertaining, so there is no such way by which people can avoid it. Overall, it is the best way to invest.