Social media is no more a discreet option for people. The continuous adaptability has made social media utilization enormous. Businesses along with individuals are also making great use of social media marketing. This is only because it has the capability to drive thousands of unique visitors in just a minute and hence boost social media marketing. 
Builds interaction with the community
With many giants like Twitter, Instagram, Facebook, Koo, Snapchat, and Whatsapp, connecting the community is a simple task for the users. A business willing to expand itself and reach the target customer can easily use social media. Business giants who are using social media can boost social media marketing reach among their end customers.
Encourages brand loyalty
The presence of a firm or a service provider online helps to encourage brand loyalty. For example, the business that posts its service or product, views, and more end up connecting with the customer.
With many advantages, it is important for the business to understand that small businesses need to invest time, and return on investment (ROI) is not instantaneous to benefit from social marketing campaigns. Therefore, it is important to focus on the important segments to convey the message. 
Below are tips for small business owners on how to use social media marketing like youtube marketing and Facebook marketing to grow and grow their businesses.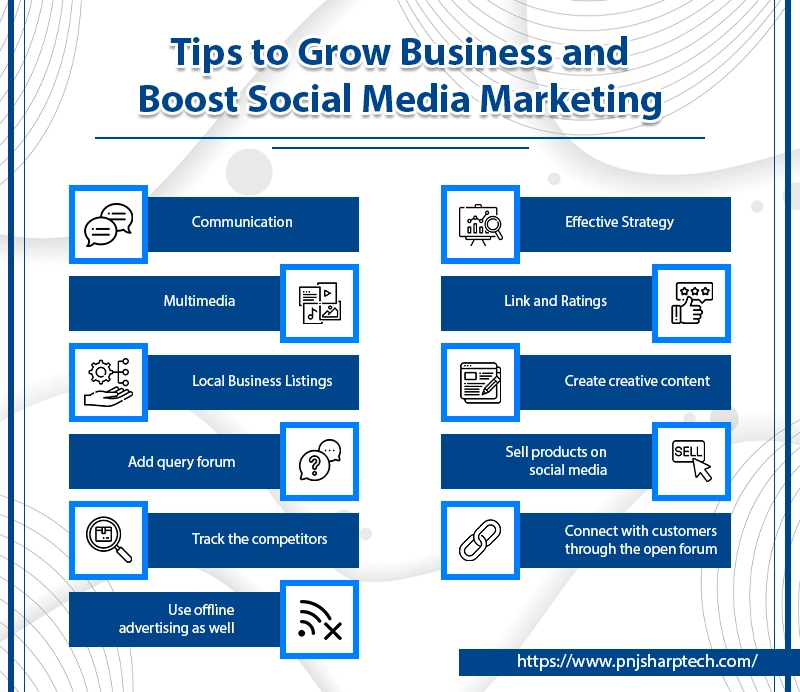 Communication
SMEs can start communicating with their customers by participating in conversations on social networks. When your social media marketing efforts are targeted to the region, you can ensure that your customers stop by and buy your product. Blogs, Facebook, Twitter, etc. make it easier for small businesses and their customers to share media about services and products.
Effective Strategy
Customers should be encouraged to provide feedback on your service or product. Integrate your website with your blog, Facebook, Twitter, and various other social media sites so that your customers can share their views and discuss your services with each other.
Multimedia
Take advantage of sites such as Flickr and YouTube, which have exploded in recent years. Everyone loves to share content on media with friends. Short videos also do more things for companies. Many firms have gained great results through multimedia marketing techniques. The analytics of social media marketing will greatly show the boost of a business.
Link and Ratings
All search engines can review the service and product. You have to participate in local discussions about your business. Customers are encouraged to provide a review and get an incentive. For this purpose, new products and higher products can be selected, contributing to the increase in sales. 
Local Business Listings
Request business listings locally on Google, Yahoo, or Bing. This improves ranking and visibility on the Internet. Hence, you can boost social media marketing and reach the end number of the target customer. 
Create creative content
The content makes your business attractive and hence boosts social media marketing sales. There is only one chance to get the reader's attention, and the headline is important. Make sure your headlines get the reader's attention in a way that makes them click and read more. 
Add query forum
Add a Q & A forum to your social media site. Tell your customers everything you need to know about your product or service so they have a good reason to buy from you. 
If you sell products on your website or blog, why not create a social media shop? There are cheap scripts on social media sites that will turn you into a beautiful and easy-to-use business. This opens up a whole new profit margin for your business and will delight your enthusiastic social media fans. 
Track the competitors
See what your competitors are doing on social networks and create ideas for them to think for themselves and make things better. If the competitors offer 100%, you need to provide 110%. Do you make your social attractions? What can you not do? 
Connect with customers through the open forum
Not only selling your social attractions, please contact your customers, wish, wish and contact your needs. You should be as interactive as you can. Give them something for free. Post news and links related to your industry. They need to hold a contest, ask questions, post videos, and post photos. If you can attract your customers, they will buy your product or service. 
Use offline advertising as well
To boost online social media, you need to use offline advertising. Add social media information to newspaper ads, radio ads, TV ads, business cards, and other spots that you find useful. These strategies will adapt your business to the modern world. 
Summary 
In a nutshell, the query of how to boost social media marketing is simple to answer. However, the simple and precise requirement for the firms is to adhere to a few steps continuously. If a company is willing to spend some time and effort to become an active member of the local community using social media marketing, it will greatly help the business grow. 
Indeed boosting social media marketing is easy but understanding the tricks and keywords for the same is important. If you want to get a good marketing boost through social media, it is suggested to approach a firm that excels in delivering excellence in social media marketing and boost your social media marketing.