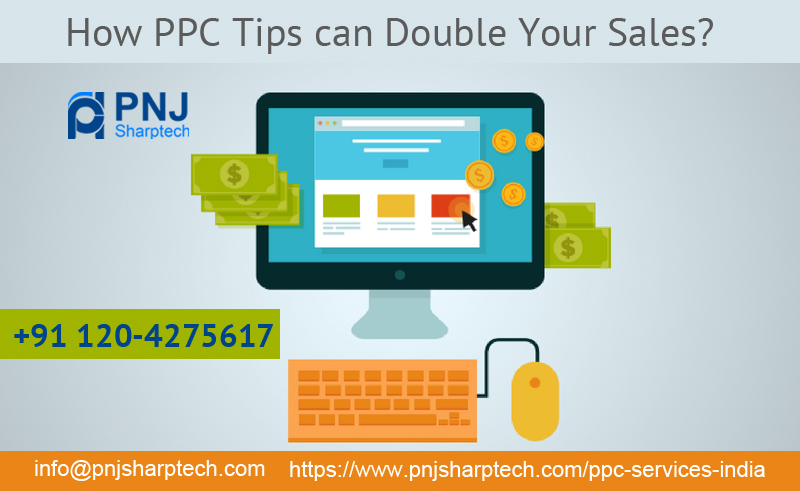 PPC is the most powerful way for businesses to advertise their products or services on the web. PPC advertising is widely used by leading search engines as well as social media platforms as a profit generator. When it is used with other forms of digital marketing like search engine optimization, it can bring a lot of quality leads to your website. It can assist you to start the procedure of converting those leads into the sales. When a potential client does a web search, they are previously looking for something that you can provide them. When a client clicks on your PPC ad, you can collect a lot of details from your client on a landing page in the return for a product. Books, video information, free reports and other goodies in the replacement for contact information can assist you to make a qualified lead list. Top PPC Company in Noida will help you to generate more sales. Let's discuss PPC tips can help to double your sales easily.
Latest PPC Tips To Get Started-
When you're using Google AdWords, Bing Ads or any other PPC ad campaign, you should decide following before enabling ads for your PPC campaign-
1. Decide your objectives.
Do you want to raise awareness of your brand or boost sales? Have an obvious objective in the mind before starting your campaign.
What is the maximum amount of money that you are willing to spend to make a lead that turns into a sale? You will be paying for every click, so keep some important things in the mind that you are willing to spend $1.50 or $10.00 for every click. Keep in the mind that the whole amount of a sale in order to decide a suitable ROI. Decide your budget before and stick to it.
Create an account with your selected service and log in to begin building your PPC campaign. Google, Yahoo, and Bing all have same dashboards for making PPC campaigns. Using more than one search engine for your PPC campaigns is the best idea and will assist to increase the number of conversions and ensuring more potential customers are observing your ads.
2. Create a campaign.
Create a list of keywords that will associate with your product. PPC campaigns concentrate on 4 to 5 keywords. Putting them to narrow parameters makes them highly targeted and more cost- effective. Google and Bing can provide recommended keywords. Make a convincing copy and attractive ads. Provide extra details, reports, and videos that will inspire visitors to click on your ad.
3. Choose how long you will run the campaign.
It is the best idea to begin small firstly with a lower rate per impression. It will assist you to decide while or not the ads are working and which keywords are the most effective in your PPC campaign.
Make a URL through the dashboard, which will redirect to your website's landing page. Text every of your ad campaigns to make sure they are going to the right landing pages.
Review your landing page correctly and make the call to action, or CTA, direct and particular. Keep all the details above the fold. Provide contact details for prospects to call directly or type location, email and contact detail. You should have a link to your terms and conditions and privacy policy statements or your ad may be eliminated.
4. Target the areas where your ad will be observed.
If you list a phone number on your site, mobile users can make quick click on call on their phone or desktop computer users can use their Internet phone efficiently. You can track these calls, you obtain from there and these can be typed directly into a CRM manager or forward them to a call center where skilled and educated representatives can qualify, answer questions and oppositions and turn prospects into solid leads.
Nearly 50% of website traffic comes from mobile devices. Optimize your landing pages not for desktop users, but also for mobile devices.
Monitor and audit your PPC campaigns or ask pros on a regular basis for activity. In addition, be sure to follow the rules and regulations laid out by the search engine that you're using and be honest about the products and services that you offer.
Thereby all these PPC tips will help you to double your sales. In addition, by selecting the top PPC Company in Noida, you can generate more sales easily. PPC experts are very knowledgeable and experienced in guiding you to make more sales.
Conclusion- Using PPC is a quick and profitable way to generate leads. If you make a good ad and a convincing offer on your landing page, surely you will get the leads. As long as you target the right audience with your ads, you will allure highly qualified leads into your mailing list.