WordPress is an open-source platform to create amazing websites for blogs and online businesses. Most of the developers and businessmen choose this platform for building the best online store for their business. The reason for the immense popularity and usability of this free platform is that it has an outstanding interface and user-friendly design.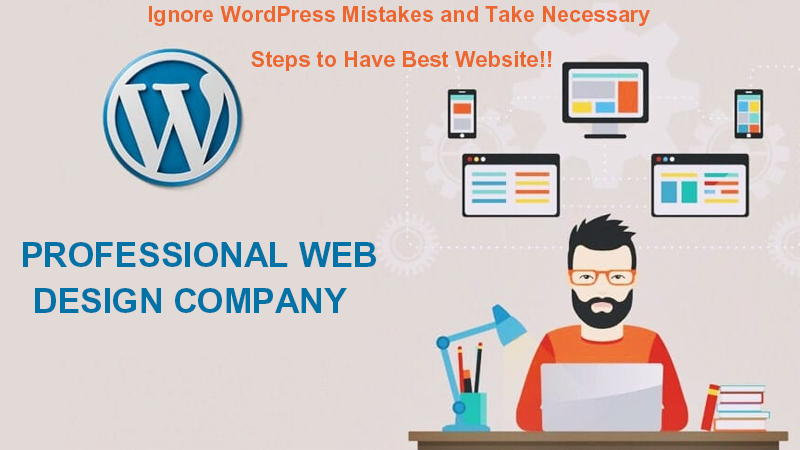 Most of the famous websites are built on this platform. For those who are running the WordPress website, there is some advised i.e. please avoid common WordPress mistakes. Here are some steps are mentioned which would help you to avoid the mistakes and build the best WordPress website. Let's have a look at those steps and try to include all on your website if it is developed on the WordPress platform and boost your business.
Update WordPress Plugins and Version
This is the most common mistake that users usually made. Whenever a new update of the WordPress version and its plugins come, they don't update their website.
But it is a big mistake that can cause a serious issue on your website. Especially, the security issue is the prime factor.
Most of the update released by WordPress comes to protect the site or system from the external thread.
So, it is essential to update WordPress and its plugins for maintenance and security reasons.
If you are doing the same mistake and ignoring the updates of WordPress, then just stop it. Update the website with the latest version of WordPress. Update plugins and version of WordPress is essential because they can settle the bugs that your previous version has.
1.Mobile-friendly WordPress site
In the last few years, the increment in mobile phones is drastic. Most people use mobile phones instead of desktops for making an online purchase. You can't underestimate the power of a mobile-friendly website for your business.
If your website is not mobile-friendly, then it's high time to update your website into a mobile-friendly site with the help of experienced website developers.
It is advised to you hire the trusted web design and development company for this vital work. When your website will be accessible on mobile phones and desktops smoothly, then your business will boost. Apart from this, hire a professional web design company so that your website is responsive and attractive.
2.Invest in your website
Few businessmen don't spend much money on their website to make it according to the industry standard. Apart from this, they don't give much attention to the maintenance of the website. If it is the case with you as well, then it's time to invest on your website.
Make your website eye-catchy, fast, smooth navigation, and other amazing features that make it stand out of the crowd. For it, you have to hire a website design and development company.
3.Search engine optimization
Search engine optimization is a very important and vital process for achieving success in the online marketing world. It is the process that makes your website visible on the top position in the search engine result pages.
SEO friendly website is a deal because it grabs the attention of the search engines. From the optimized images to, Google XML sitemaps and other features that support the SEO, make your website SEO friendly. An SEO friendly website has features that provide good customer experience. If your website is not updated with the features that support the SEO, then avail the SEO services from the reliable SEO agency.
4.Take a backup of your WordPress website
It is of utmost importance to take a frequent backup of your website to be on the safe side. Hacks, mischances, accidents may lose your significant date and valuable substance of your website, so keep the backup of your website to avoid such incidents. Take the step by step back so that nothing missing in your backup.