After so many updates, 5G technology is going to knock the door in 2019. In the previous years, Internet had launched in the world, nobody guessed that it will surprise the mobile app development industry and now whole world had shocked. The combination of up-and-coming technologies such as AI, Cloud, and IOT is offering new golden opportunities for mobile app development and will leave good impact within companies in the future.  After all these factors, 5G technology is modernizing the mobile app industry with the boom. This powerful technology is on the edge of varying mobile app development, which we are discussing in much detail in this blog.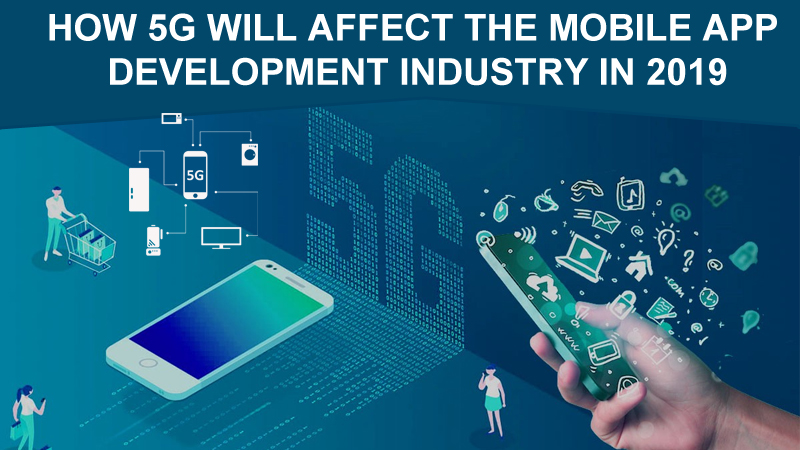 The Future of 5G Technology for Mobile App development Industry-
After seeing the potentials of 5G technology, it will not right to call it just a network. In the coming years, 5G will be the primary factor for a complete ecology that is made of fully linked devices and is capable of boosting your online business and mobile app development. Now, telecom providers are focusing on 5G operation. What does 5G mean for mobile developers and millions of end-users who could avail from new mobile experience? Faster mobile internet is safely expected, but it is the major game-changing profits.
Higher Prediction of 5G mobile applications in upcoming years-
 The model shift in 5G technology has brought long term impacts on different industries, which are going to open the doors of innovation and renovation. This 2018 was the year in which 5G Technology found their legs, but in 2019, we are going to observe 5G technology is going to establish fully. It will become the first choice of users in 2020.
How fast is 5G?
The speed of 5G technology will depend upon the infrastructure. Here are some factors about speed-
3G technology can hit heavily 2Mbps
4G technology averages 20 Mbps worldwide
5G could run at 10 to 50Gbps
How 5G technology is better than 4G?
Quicker string similar sped minus wires
Lower Latency
Big Wireless power to connect a big IOT Network
A regular experience with a wide variety of coverage options
Higher possibilities for wireless connectivity
 How 5G will affect the mobile app development industry in 2019?
In 2019, 5G technology is going to revolutionize mobile app development industry. Here are some important factors to make mobile app sector advanced.
High Speed-
It was very tough for employees to work remotely as the speed of Internet obtains changed at a great distance. But now the, 5G technology has made it very easy. It also permits users to download mobile apps within a few seconds, no matter of what MB size your mobile app is. The speed of 5G mobile applications is very higher as compared with previous versions.
Great User Experience-
This mobile application helps to boost user experience more than expectations. Clearness is the amazing profit of this mobile app development network.
Faster File Transfer-
With the assistance of quicker speed, this is extremely easy to transfer files, money or anything transferable. The potential of this network is very clear about browsing speed and downloading speed because it brings new and amazing features for transferring files via mobile applications. 490 MBPS browsing speed and 100 MBPS Downloading quicker file transfer procedure will resolve the issue of mobile app developers.
Low Zero Latency
This 5G technology has the capacity of handling billions of network traffic and can similarly process and manage the data truly promises to create fresh opportunities in the improved reality and virtual reality.
Conclusion- It is true that 5G technology has modernized the mobile app development industry in 2019. Its new and amazing features attract millions of users per day.