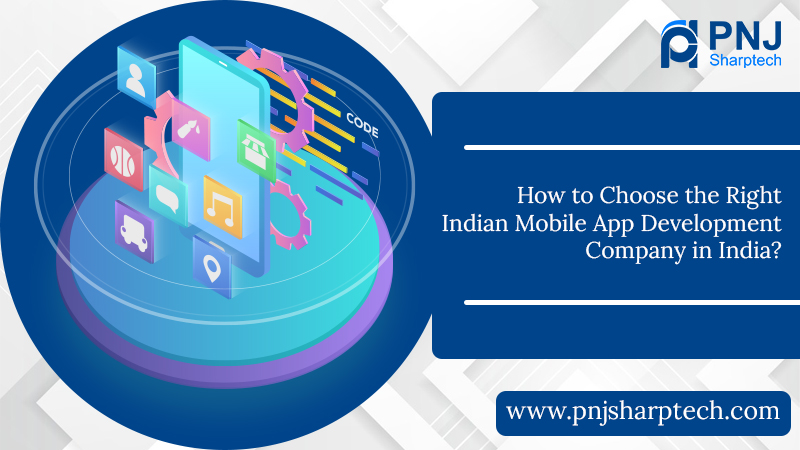 Your most important clients' lives are made easier by your mobile app. Because the company app is the best way to turn leads and inquiries into sales.
It needs to get better in how it looks, how it works, and how it uses technology. This leads to generating a large number of sales. So, if you want to make sure your customers don't run into any problems, you need to work with the best mobile app developers in India. You can have a strong online presence with the help of a company that specializes in making apps for startups. Using mobile apps to promote your business is now the best way to do it. People all over the world use their cell phones to find new opportunities, hobbies, and ways to have fun. Because of this, mobile applications have become an important part of the growth of modern businesses. Making it possible for millions of people to use your services at the same time is, therefore, the best way to make a lot of money. Because of this, you should take your time when choosing the best app development companies in India. Because Mobile App Development is a key part of putting your products and services online.
Using a Checklist to Choose the Right Mobile App Development Company in India
You will need this mobile app development list in order to get your business off the ground:
Check out what the Mobile App Development Company has done in the past
Before you hire Mobile App Development services, you need to look at the portfolio. You can also ask the developer for a portfolio. Also, look at samples of their past work so you can figure out how knowledgeable and experienced they are.
You should also check out the names of the software programs that the company makes. Also, ask them about the links in the app store they made. It helps to know about the technology they use.
Prepare a Budget
Creating a mobile app on a budget is an expensive thing to do. And not everyone has investors who believe in them and have money in the bank. Because of this, businesses need to be careful when making their budgets and make the most of the resources they have.
Talk to both current and past customers
You now have a list of things to do before hiring a mobile app developer. The next step is to talk to people who have already worked with the developer. You can understand what it was like for them to work with the developer.
Know the Used Technologies
You could talk to the people who made the software platform that they use. When making mobile apps, the agency must use tools like iterative development approaches.
The use of Mobile App Development is a very important part. It helps to speed up the process of making apps for mobile devices. This also means that the apps will be sent out faster.
Dates and times for submitting work
Find out if they already have enough developers working for them before you give them the project. This is important because the company is working on a lot of projects at once. You are in charge of setting the schedule for making and releasing the mobile app.
Conditions for Coding
Before you start writing code, you need to know exactly what kinds of mobile apps you want to make. It could be a natural species or a hybrid species. Since you are spending money on Mobile App Development, you should make sure that the top app firms in India use unique codes and the best mobile development framework.
You will also have to sign the agreement about copyright. This is done to make sure that the codes, information, and images will only be used by you.
No one wants to make a mobile app that is very similar to one that a competitor in your field already has. If you sign a non-disclosure agreement with the company, you can feel safe and sure that the service is real.
Designing
The look and feel of a mobile app are one of the most important parts of making it. So, working with the best app development companies in India can help you get the best design possible that fits your needs. Top app developers in India are the ones to go to for world-class Mobile App Development because they make custom mobile apps with carefully designed user interfaces and user experience designs.
You can also look at the carefully put-together package that the Mobile App Development company offers. This package has information about designing, developing, and releasing the app.
Testing and Getting Started
Before putting their products on the market, the best companies put them through several rounds of testing. Also, they get rid of any problems that might be in the application by inspecting it several times.
The project team also tests the app's stability and performance on different devices to make sure you get a great mobile app that can bring in sales and win the hearts of your customers. When it comes to making mobile apps, a strong team from a company that does Mobile App Development can do amazing things.
Review and rating
When choosing the best business for Mobile App Development, it's important to look at the ratings and reviews that other customers of app development firms in India have left. On the other hand, the firm's design collection gives a good idea of its delivery standards and the overall quality of its work.
So, it's important to look at the Google ratings and make sure the reviews are accurate by looking at the mobile app's history. You could also ask the company's former clients what they thought about the quality of the help they got.
So, make sure your plan for making mobile apps is foolproof since you can't afford to skimp on the app's graphics or technology.
What the law says about the contract
An NDA, which stands for "non-disclosure agreement," is a very important thing to do. It is a legal document that says you own the software, including the content and the source code. The application will be sure to be reliable if a contract is signed. Also, the current provider can't take any kind of legal action against the possible new provider.
Domain Expertise
The company that is making the mobile app must have the right qualifications and experience in the field. He must have the right level of expertise in the field. They have to be able to test how well mobile applications work.
Do the developers know how to plan for the future?
Before you hire a company, you have to make sure you know how they get apps into stores. The successful supplier will give you the application and clear instructions on how to send it in.
You need to make sure you choose the right company to work with on the Mobile App Development process. Also, when the work is done, they will have to give out the code.
Software from a third party is put in
The company that makes mobile apps offers a wide range of services and features, and all of them must be built into the app. Integration with third-party services is an important part of the software that must build.
Trustworthiness
Getting people to trust your business is important but often overlooked. It is the single most important thing that determines whether a business does well or not. Before working with a company or developer on a project, it's important to make sure you can trust them. Reading client reviews of B2B application development platforms and LinkedIn suggestions.
You can add to this information by going to the app stores and reading reviews and comments from users about the apps in question. Recommendations from people you know and the general consensus in the field are taken into account.
Keep your app safe
With so many new local stores opening online, it's more important than ever to keep your app safe.
When you sell things on the internet, you will need to work with a number of different payment gateways to protect your customers' private information and make it easy for them to make purchases.
Because of this, the software you use must be completely safe.
Conclusion
How well mobile apps work for your business will depend on whether you work with a Mobile App Development company or not. With more and more mobile apps, life is getting easier. If you want to make a good mobile app, you'll need to find and put together the best Mobile App Development team you can. The best business would include both the clients and the staff and keep everyone up to date on how the business is growing.