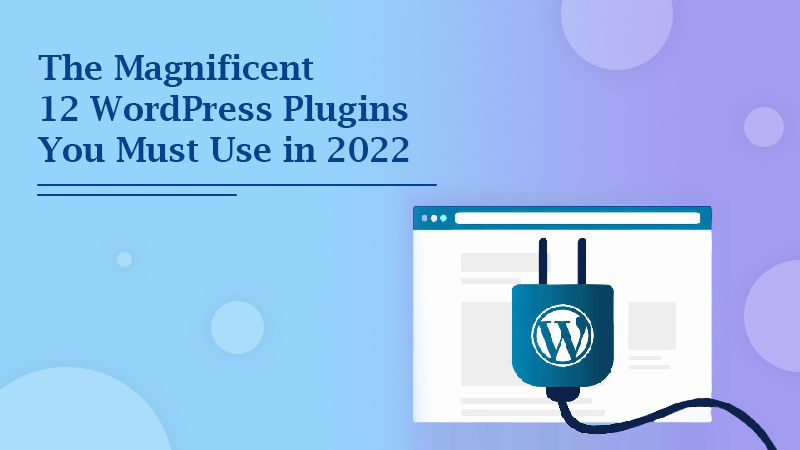 WordPress is synonymous with the task of website development. It is responsible for handling an extremely booming industry. Yes, it generates high revenue, yet we still refer to it as booming. Why do we say that? Well, the answer is simple, since businesses are growing. With a large number of businesses, the number of sites increases. This demands more domains, better services, and more associated industries. WordPress is that one tool that handles this responsibility quite well. In this blog, we specifically cover the powerful tool WordPress and the highly useful WordPress plugins.
Benefits of Using WordPress
The most preferred tool of a web developer is WordPress. We think that you have already heard about it. We will not be surprised, because ultimately it is so popular. This tool is responsible for creating a majority of the websites you see. The statement stands especially true for the new websites. Let us see why it is so popular.
This tool is

free

to use. However, we should not be telling this out loud.

Its working is

open source

in nature. Due to this, it offers unmatched customizability.

No other tool is as friendly to

SEOs

as this. It is a boon for SEO Services.

There is a vast

user base

, which makes it possible for more development and growth.

Content management

is easy to handle.

It is not very demanding when it comes to

technical expertise

.

Finally, there are a large number of

plugins

to use. Making it virtually possible to create anything.
The WordPress plugins are hands down the best feature of the tool. It makes work easier for the developer. In the next section, we cover the basic definition of the plugins and the points to keep in mind for using them.
What are Plugins and Their Role in WordPress?
To make it easy for you, these are pre-coded features that you just need to apply. You do not need to write the complex codes, rather you just have to put them in the system.
To use a plugin, you need to find it in the WordPress directory. There are multiple options available so you need to be careful while you choose.
Now we will proceed to the next section. Here we cover the most famous plugins that make work easier for you.
Let's Look at the Magnificent 12 WordPress Plugins
This section is for those hard-working web developers at a web development company. We cover the most trending and useful plugins of 2022. Use these to create an instant impression on the upper echelon.
1- WP Super Cache
Like its namesake, this plugin adds a utility file called "super cache" to the website. It is responsible for enhancing the speed of the WordPress website. And, it also does so significantly by turning it into static HTML to put it in plain English, this plugin allows you to serve cached pages on your web server to reduce the loading times.
We all know how impatient the current audience is, so a few seconds might become a turning point. Moreover, you can activate this with a single click, with no extra effort. We will also like to remind you that the website speed increases ranking. This makes the work of SEO Services easy.
2- MonsterInsights
So you want a website, and you also want it to be popular. That's great, but what is the plan for handling traffic? Well, here it is. This plugin helps bring more traffic and then analyzes the content as per user behavior. This is an ultra-powerful tool that has Google Analytics integration. It majorly can help you to gain analytical data on how website visitors are engaging with your content.
We should also inform you that this plugin gets frequent updates. These include eCommerce support and ad network tools. This just adds up to its utility.
3- Akismet
Spam is a huge issue in today's browsing. Just visit any website that has a ton of spammers who make sure they leave an impact. So here is the plugin that acts as spam police.
Akismet is a powerful tool that detects spam quickly by analyzing its contents against a database of around 3 million unique phrases. It also improves over time by expanding its database. However, this plugin requires a fee. It does make sure you get the best benefit out of it though.
4- WP Smush
Any website, especially eCommerce and real estate, requires a large number of images. This is because the customers need an idea of what they are stepping into. Now if the images are of higher fidelity, it will equate to longer load times. Here is a plugin that resolves that issue. You have WP Smush that compresses large images without losing quality.
There are definitely alternatives to this, but this here is the most advanced and effective. With lesser load times, the risk of losing customers gets less.
5- All in One SEO
We all know that the most common way of reaching a website is through a website. So now, you obviously want the website to appear as close to the top as possible. For once, there is the possibility of engaging the SEO Services. However, there is this plugin to assist them.
This is one of the old but effective WordPress Plugins that help your website stay on top of the game (literally). It has also become more effective with continuous development.
6- SeedProd
When you own a website, you might want to make it seem lively. Just imagine the capability of changing the website at your wish, to adjust to the time of the year. There are endless possibilities. You can change the website as per festivals, as per the latest event, partner with movies for promotions, and many more.
This plugin here is a drag-and-drop page builder, with multiple options to choose from. There are so many templates that it's easy to get lost. Moreover, there are blocks, widgets, and features that you expect from a powerful page builder.
7- Sucuri
Last but not the least, is the security feature of a website. This plugin offers complete protection against blacklisting and malware attacks on your WordPress website. It offers a firewall scan of all the posts and pages before you publish them. Also, you need to check if any malware or spam-like links are present in it.
Its functioning is similar to most antivirus software. The only difference is it is specific to the website. There is also the provision of server-level backups to keep your data safe in case things go wrong.
8- Honorable Mentions
We chose the top servant without a personal opinion. However, there are some which deserve a mention. do take a look at their features and then act according to your need.
9- Social Media Auto Publish 
We all know that social media is where the current generation spends the most time. This makes it essential to be regular while posting on social media platforms. Hence here is a plugin that will automatically publish new posts at specific time intervals. Also, you do not have to put in any extra effort.
10- MemberPress
This WordPress plugin is perfect for those who are looking forward to monetizing their content. what it does is it allows you to create a membership base access point. also so it helps you in filtering out your audience.
11- Constant Contact
With this plugin, you save the effort of sending in extra emails. However, please be careful. Why we say this is that many people do not like constant email reminders. Use this only if you have a consumer base that you are sure would prefer email notifications.
12- Live Chat
Here we have a plugin that works exactly as it sounds. If you want a website that deals with customer support this is a must-have. Also, it saves your employees from the burden of being ever-present. 
Conclusion-
WordPress is a highly reliable website builder. But what makes it better is the existence of WordPress plugins. We have listed the most useful plugins for your help. But please remember that you should not overdo it. Loading your website with unnecessary plugins would just slow it down. Also, please be careful that your website does not crumble under its own weight.