Looking forward to growing your business by practicing good SEO techniques but don't know which SEO tools to rely on? Well, when it's about SEO tools, there are three options to choose from, Ahrefs vs SEMrush vs Moz.
A good SEO tool helps you get deep into your website, search engines, and learn about your weak points, analyze, and work on them.
Each of these tools has its own benefits as well as cons. To find out which SEO tool will best suit your needs, you must go through this Ahrefs vs SEMrush vs Moz comparison guide. 
To be clear, we are not going to tell you what SEO tool is the best or what you should choose among Ahrefs vs SEMrush vs Moz because it depends on your requirements only.
Through this guide, Seo services team will learn everything you need to know about these SEO tools so that you can easily decide which one will benefit your business more and which should you choose.
1. Ahrefs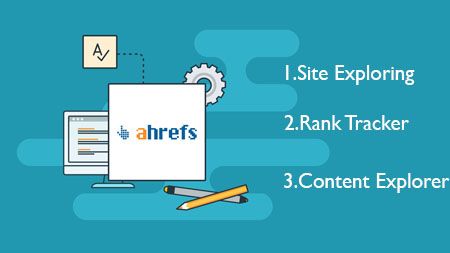 Ahrefs is a premium all-in-one SEO tool. It has a bunch of features that will help your business to grow through promising and enhanced methodologies. Everyone in the internet industry like SaaS, Bloggers, Content Writers, E-commerce, and agencies uses it to grow up consistently. It provides detailed and in-depth processed data which is quite important to make up proper strategies further.
Semrush provides large community support for their users since it is used as an effective SEO tool by various reputed organizations. It has the world's largest index of live backlinks. The company has invested a lot in data harvesting and hence the tool is the most accurate and trustworthy third-party SEOs.
Enabling us to get multiple information with the help of features like analyzing competitors' sites, and downloading backlink reports, providing keyword rankings and search engine rankings, Ahrefs proves it's worth among all SEO tools.
Site Exploring

–

It integrates all the three powerful options of SEO in a single interface. With the organic traffic checker, you can see what keywords your competitors are ranking for and which page brings the most organic traffic. The Backlink checker allows you to see website links of your rival's site and judge the quality of their backlink profile. You can even check the paid campaign done by competitors.
Ahrefs has the fastest backlink crawler and boasts the world's biggest index of live backlinks. It aggressively flexes the power of the tool.
Rank Tracker

– Rank Tracker feature helps you to find your rankings across search engines across the globe. It charts up the data against 10 prominent competitors and reports automatically the ranking progress, Search traffic  & SERP Features.

Content Explorer

– The Content Explorer feature allows us to see how frequently competitors are publishing and updating their content. It highlights the unliked domains to show up the non-linked websites which is a potential opportunity.

Most comprehensive keyword research tool

Powerful Data Explorer
2. SEMrush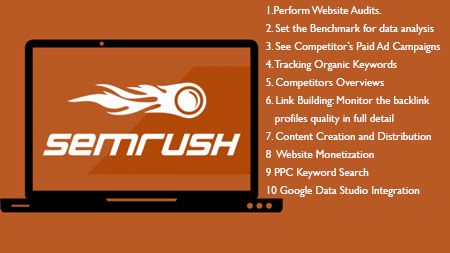 SEMrush is a suite of digital marketing tools that helps you analyze the rival sites and get a better understanding of their performance and how they are working.
You can see the exact keyword a site rank for and get the estimated organic and paid traffic by simply typing the URL. They also help you by getting the capability to explore paid ad campaigns, social media followers, ads, and so on.
You can see the data in graphical form for better analysis and understanding, run reports till you get the desired results. You might use your competitors' methodology to attain success.
It has focused on saving time, capital, and showing you the perfect marketing tactics by analysis of traffic. You can see the moves your competitors are making and play your games to combat them.
Features of SEMrush
Perform Website Audits.

Set the Benchmark for data analysis

See Competitor's Paid Ad Campaigns

Tracking Organic Keywords

Competitors Overviews

Link Building: Monitor the backlink profiles quality in full detail

Content Creation and Distribution

Website Monetization

PPC Keyword Search

Google Data Studio Integration
3. MOZ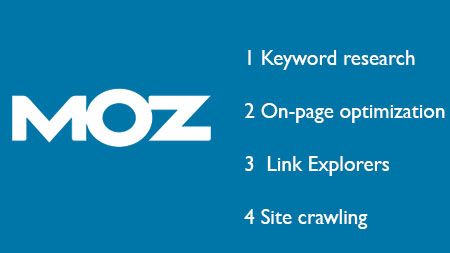 MOZ is one of the original SaaS Companies that excel in developing SEO tools. It was founded in 2004, their domain authority metric has been used as industry standard for many years. Their authenticity and credibility are reflected by their premium clients who are market leaders in their segment such as Trivago, Zillow, etc.
Moz Pro is considered one of the best marketing research and competitive analysis tools. It enables the analysis of keywords that drive organic traffic to competitors' websites. That gives you an idea of ongoing marketing strategies.
Keyword research

On-page optimization

Link Explorers

Site crawling
Ahrefs vs SEMrush vs Moz Detailed Comparison
Now let's compare these three SEO tools according to the four most important features/tools necessary for good SEO.
Keyword Research

Site Auditing

Pricing
Keywords Research
You might have been familiar with the term "Keyword". These Keywords help customers find exactly what they are looking for. Ranking Keywords are important for the website's success as they play an important role to deliver internet traffic to your website.
All these tools are pretty good at keyword research except Ahrefs that should be called excellent due to the extra keyword research data it provides.
Ahrefs:
Ahrefs has the most compelling keyword research tool in the market with numerous Unique Keywords Suggestions (approx 7 Billion). It uses clickstream data to refine the search volumes each month, to keep it updated. It is the only tool that shows the estimated no. of clicks for your keywords.
When you enter your keyword on Ahrefs keyword research tool, you will see the stats in below four sections:
Keyword Difficulty

Average monthly search volume

Clicks & PPC Data

Global search volume
Features that make Ahrefs stand out from other SEO tools include the ability to view the SERP search history, top 100+ ranking of the competitors, their domain ranking, Ahrefs rank, etc.
Ahrefs provides both keyword and competitor data in one place which makes it even more helpful for bloggers who are not much familiar with SEO.
SEMrush:
Using SEMrush's "Keyword Magic Tool" you can instantly find the list of master keywords as per your requirements. All you need is to enter the main keyword in the field and select the geography. Once you hit the Search button, you will see millions of keywords related to your topic within a few seconds. These keywords are arranged in types, groups, and questions that help you identify the long-tail keywords easily.
Researching keywords and competitive data using SEMrush are comparatively simple. The Keyword Magic Tool helps you:
Find the right keywords for your campaigns.

Attain long-tail keywords easily

Research keywords in up to 16 languages

Find the list of related keywords that will help you rank higher on the search engines.
The SEMrush Keyword Magic Tool allows you to analyze, search volume, CPC estimates, and competitive density of keywords.  Another decent feature of this tool is that you can analyze trends and search volume of your keywords for the previous 10 months. All your keywords are saved in one place on the keyword manager so you can always check your previous searches here.
Moz:
Moz has a reliable database of high-quality databases that provides you latest SERP data and multiple keyword suggestions. It enables you to create, add and manage keywords that include comparing, categorizing, and prioritizing them all in one place. You can check and compare the keyword difficulty and pick the best keywords by comparing their estimated CTR and competitiveness.
Another advanced feature of MOZ includes estimating the performance of keywords using Search volume. You are allowed to assign your own custom score in case you find any keyword important.
Winner
In terms of keyword research, we find Ahrefs to be the clear winner of the race because of its database of more than 7 billion keywords based on 175+ countries. Ahrefs Keyword research tool has everything you can ever need. Not to mention it is easy to understand and use.
Site Auditing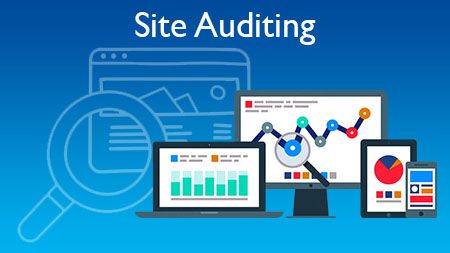 If you are thinking that having a well-structured and properly implemented website is not enough to boost your rankings then you are right. But not having it can definitely decrease your rankings on SERPs. This is the reason an error-free technical SEO is a must. And for that, you need to conduct site audits regularly to find any issues in your website and fix them as soon as possible.
Website Audit or site crawling is an important aspect of SEO. It helps in fixing common technical SEO issues that obstruct the website's capabilities of receiving good organic traffic, altering the site rank.
Ahrefs vs SEMrush vs Moz, all offer a different approach towards technical SEO. typically, you will have to enter your website URL in their audit tool and you will see all the issues with your website like missing alt text in the image, slow loading of the page, duplicate meta description, 404 errors, etc.
Ahrefs:
With Ahrefs you can find out all the faults and problems that are preventing your website from being the best. 
Ahrefs site audit tool crawls your webpages and provides all the necessary details including:
The health score of your SEO

Issues with SEO

Key data analytics

Recommendations for improving on-page SEO.
In case you have a huge website, you can do the fast SEO checks in no time. All you need is to verify your domain and run the fast SEO checks. The audit tool also allows you to skip irrelevant pages for crawling so that you can save yourself time.
Ahrefs provide solutions for more than 100 pre-defined SEO issues that include flagging slow pages, large CSS or HTML, length, duplicity, or missing H1 and title tags and meta descriptions, Low word count or duplicate content, orphan pages, broken redirects, issues with external pages, and many more.
Not only that, but it also goes deep and gives you control over multiple data points on your webpage with help of powerful Data Explorer.  With the data explorer feature, you are just one click away to see every detail of each specific URL. (This includes incoming and outgoing links, pagination, duplicates, and resources).
SEMrush:
SEO Checker by SEMrush is so far the best site auditing tool we have seen. Semrush helps you get the best results out of your website and web pages by evaluating the factors that are affecting the ranking of your website. It compares your website with the best performers and gives you an actionable report based on your site audit data.
It also helps you find out if your website complies with the On-page as well as Off-page elements.
Besides evaluating the quality of the content on your website, it also checks the authenticity of the backlinks, H1, page titles, meta description, and more. 
At the end of the auditing, the audit tool will suggest the improvements you need in your site.
By comparing your website with the top websites, SEMrush provides you the most reliable data to fix your technical SEO. The tool helps you to:
Use keywords smartly to outsmart your competitors

Build backlinks for more referral opportunities

Enhance your content using semantically related keywords

Content length optimization
Moz:
Moz Pro crawls large sites fast and keeps track of new and repeating issues over time.
The colorful charts show the breakdown of issue categories, new issues, and total issues allows easy discovery of trends, opportunities, and informs the site's overall SEO performance.
Salient Features
Get content suggestions from the top-ranking sites

Send you alerts for new site crawl issues

Allows you to track as well as monitor the ranking potential of your web pages.

The graphical representation gives a clear picture of the analyzed data.

Moz's Chat portal allows getting an insightful response to every question asked.

Provides you with a step by step guide to improve your on-page optimization score.
Winner
In the case of a site audit, we find SEMrush SEO Checker to be the best among all as it helps you correct all the issues that need to be fixed on your website.
Pricing
Ahrefs: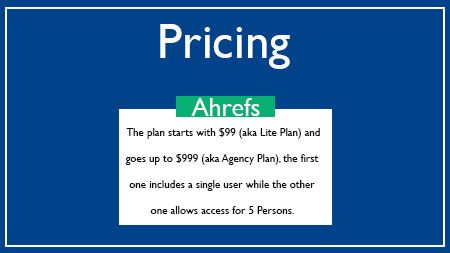 Ahrefs provides a trial period of 7 days for  $7 which is an amazing way to try out the tool without any commitment. The plan starts with $99 (aka Lite Plan) and goes up to $999 (aka Agency Plan), the first one includes a single user while the other one allows access for 5 Persons. 
If you are willing to pay annually, you will get two months free.
SEMrush: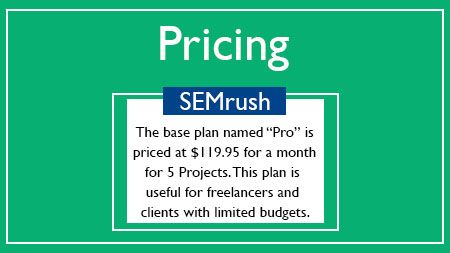 They offer a range of pricing adequate to user's usages. The base plan named "Pro" is priced at $119.95 for a month for 5 Projects. This plan is useful for freelancers and clients with limited budgets.
The second plan offers all the benefits of the Pro Plan with 15 Projects with a price tag of $229.95/month. The most premium plans come with a whopping price tag of $449.95 as a Business Plan. This can accommodate a total of 40 projects.
All the plans come with add on features with some additional fee.
Moz: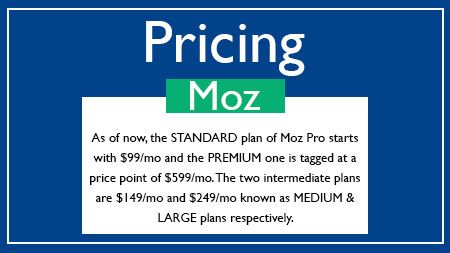 As of now, the STANDARD plan of Moz Pro starts with $99/mo and the PREMIUM one is tagged at a price point of $599/mo. The two intermediate plans are $149/mo and $249/mo known as MEDIUM & LARGE plans respectively. They offer a free trial month that is quite generous.
You can save up to 20% on annual billing.
Winner
Undoubtedly Ahrefs is the leader in SEO tools. It comprises unmatched features., 
Though it provides a lot of extraordinary options, for an individual or small agency, the $99 price tag might not be worth it.
However, for a company with a good budget that is taking SEO seriously, it is the best option available in the market.
You can try its free seven-day trial anytime, and decide for yourself if you find it worthy or not.
Final Thoughts
There are plenty of  SEO tools available in the market. Each one has its own advantages and disadvantages. All three Ahrefs vs SEMrush vs Moz are designed for considering various enterprise or individual needs.
Besides referring to our guide to find the best SEO tool, we suggest you also focus on your requirements. 
For instance, you can use Moz if you are an individual user or a small business because of its ease of use, pricing, and user-friendly options.
Whether you are a digital marketing agency or blogger, both SEMrush and Ahrefs are great. They provide a much more detailed analysis in multiple dimensions and have great community support.
SEMrush has some edge over Ahrefs as it provides social marketing/digital marketing as well instead of focusing on SEO only.