SEO stands for search engine optimization which is essential to the uplift rank of the websites in SERP. Getting a high rank is vital to beat your competitor and grow your business. See, there are several ways/methods for the optimization of the website but there are 3 most popular SEO strategies use by services agencies to boost the website rank.
Three main site optimization strategies are white, black, and grey hat SEO. If you have heard about the term white, black, and grey hats SEO but don't have enough understanding of each strategy, then widen your knowledge just have a quick look at this guide. If you are new to SEO and want to know more about these terms and how they are different from each other, then this is the best guide for you.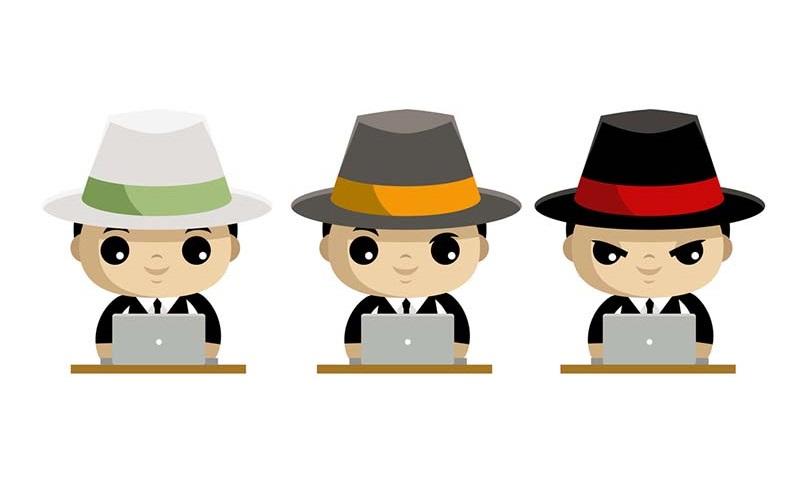 This guide will also help you to select the best SEO services provider for your business if you are thinking to hire the one. Let's explore prime differences in white, black, and grey hat SEO and also explore strategies involved in each of them.
What is white hat SEO?
White Hat SEO is an ethical and right way for optimizing your website. In this kind of SEO strategy, search engine guidelines and rules are followed.
White hat strategy meets the below-given criteria-
Proper keyword analysis
White hat strategy is based on Google and other search engines guidelines. In this kind of website optimization strategy, proper keyword analysis is done by the SEO companies. It includes a strategy that adds the right and relevant keywords in the content which are found after proper and ethical research. Apart from this, keywords are analyzed properly to drive the best results and boost ranking in SERP.
Link building is another strategy that falls under the white hat strategy. If you would avail the SEO Services from the trusted SEO agency, then they would focus more on the link building to increase the rank of your site in search result pages.
Attention is Given on Human Audience
White hat SEO focuses more to provide better experience to the people. Instead of working for the search engines, in this type of site optimization techniques, SEO experts give more attention to the human. When a visitor on your website has a good experience, then it will stay long on it and will return to it. All these activities are noticed by the search engines and it rewards the site with the high ranking. Why Google boost the ranking of such a website? It is because Google itself wants to provide the best customer experience.
Follows search engine guidelines
White hat SEO is known for following the search engine guidelines exactly. it follows all the search engine guidelines without any manipulation of its strategies.
White hat SEO focuses more to provide the long-term benefits to the website in the ranking. If all these Google guidelines are followed exactly and links are built with ethical means, then the site gets higher ranking and that even for the longer-time. It doesn't change even after the update of Google.
Write free and high-quality content to human readers
In the white hat SEO, industry experts more emphasis on free and high-quality content on the site for human readers. They don't encourage the practice of copying content and bad-quality content.
What is black hat SEO?
Black hat SEO is just the opposite of the white hat SEO and it is a risky practice. It goes against the guidelines of search engines and other dangerous activities. If someone gets caught doing nefarious SEO tactics or activities, he/she may face legal issues. This SEO practice is mainly done to get the high rank of a website in search result pages by the mean of unethical ways.
Black hat strategy meets the below-given criteria-
Violate Search Engines Guidelines
Black hat SEO strategy violates the search engine guidelines and this is why it is not a good practice.
It is a practice when different content or URLs to search engines and human users. Cloaking is an illegal practice.
It aims to gain an instant win
Black hat SEO mainly concentrate to get the quick win that even in an unethical way. That's why it violates the search engine guidelines and finds ways to get a high rank.
In this practice, all the activities that white hat SEO follows are manipulated just to gain a high position in the search engine result pages.
Black hat SEO strategy includes the keyword stuffing. This is the wrong practice according to the search engines
Also, in black hat SEO, a private link network is used just to increase the rank of the website and increases the traffic on the website. This is the reason website ranks get down when businessmen stop availing the SEO services from the company which uses the black hat strategy. All the links become inactive when a business owner cuts the tie with an SEO agency. But in case of the white hat SO, it doesn't happen.
What is Grey hat SEO?
These are the SEO strategies that fall in between the black hat and white hat SEO. Grey hat tactics is a less famous term. These SEO tactics are less risky but can be manipulative sometimes.
Grey hat strategy meets the below-given criteria-
Use private blogging network
Creating doorway pages
Add length to old content
Submitting to link directories
Cautiously use social bookmarking sites
Building microsites
These are the main activities that are included in the Grey hat SEO strategies. These are some ethical activities and few come under black hat SEO.
Hope you have understood it well what the main differences between the white hat, black hat, and grey hat SEO Strategies and what are the primary activities involved.
Conclusion:
It is advised to all of you that don't get attracted to instant success. Black hat SEO strategies are not good for surviving your business in the long-term. Just look for permanent solutions and use the white hat SEO strategies and rock your business. It will help you to stay long on the top position in the search engine result pages even when the new updates and guidelines will be released by search engines. Hire the professional SEO services company for your business that uses the white hat SEO approach to boost your website rank.