It is not wrong to say that predicting the cost of any website is a tough task. Even though it may be a chance you can tell the accurate cost of the website development. To build a website, there are several resources and services are required. Also, the cost may vary from the type of website you want. If you avail of the responsive web design services or simple website development services, then the cost will differ in both cases.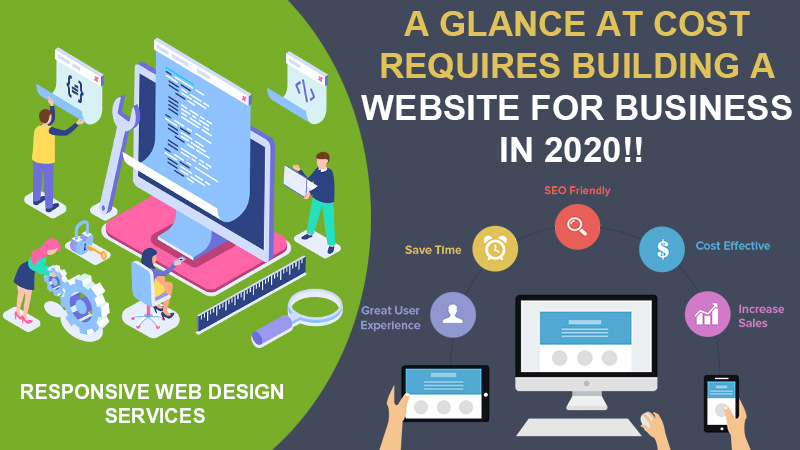 Like this, there are several reasons that can't make us predict the accurate cost of the development website. But we can tell you in detail about the things which are essential and important for the website building. Here is the list of the things you would need for building a functional website. Let's have a glance at the basic things where you have to spend money on the development of a wonderful website for your business or personal uses in 2020.
Estimate cost based on goals-
Let's don't take much pressure about the budget. You can decide your website building budget because website creation costs can be controlled in some ways. You can make your website more attractive and professionals as your business grow. For example, firstly you can develop an average looking website but when your business start growing, then you can purchase a professional WordPress theme for it and upgrade its functionalities.
Here are some effective tips which would help you to avoid overspending of website development. Ask some questions to yourself and spend money on website building according to that-
Make sure and set the exact budget for website building. 

What features will be required for your business? 

Have you required a custom-build website? 
So, let's move further and know the website creation cost and major things where you require spending your hard-earned money. 
Hire professional website development company for-
Front-end development

Back-end development

Admin panel development
Tools required building website
Domain name

Web hosting

Website builder
Domain name: 
This is the address of the website on the internet. This is the address by typing in the URL of a browser customer reach to your website. If you register a domain name, then you are able or have the right to use that name for your website for one year. After that, you need to renew your domain name next year. This is the thing that you can't do it by yourself and have to spend money on it.
Web hosting:
Web hosting is something where you store the data i.e. your website content and files. When a visitor visits your website by typing your domain name, then he/she will be directed to the web hosting server where your website files are stored. Web hosting providers are the companies that rent out servers to host your website and provide the smooth connectivity to the internet for ensuring your site availability online.
Also, the cost of your website creation may depend on the type of hosting you want to avail for your website. There are various kinds of hosting such as VPS hosting, blog hosting, dedicated hosting, cheap hosting, WordPress hosting and others.
Website builder-
If you are not a technical person, then you would surely require using a website builder for making your website. It helps to build an outstanding website and enables you to include features such as plugins, SEO tags, and others on your website. For website development, most of the people use the WordPress platform. It is available in both paid and non-paid version. You can choose any of your choices according to the features you needed on your website.
Now it can be said that it depends on the need of your business, a website building cost may be between $100 and $500 or more or less. If you want a feature-rich, custom-built and responsive website, then it maybe goes as high as $25,000 or more. For hiring the Responsive Web Design Services or expert website designing and development company. You can hire the professionals for the development of your website according to your budget because the prices of the web development company may vary. You have to choose the web designing agency or development company that will match your budget.