At this stage where all the people globally are fighting with the Coronavirus and there is an outbreak globally, how you are managing to handle your social media? As we know that all most every country, is affected by this deadly virus, and has been lockdown. In this situation, your social media team is also at their homes in quarantine but Digital marketing services have to do their work to bring back or keep your business on top. Fear, stress, and uncertainty are a universal tax on all of us.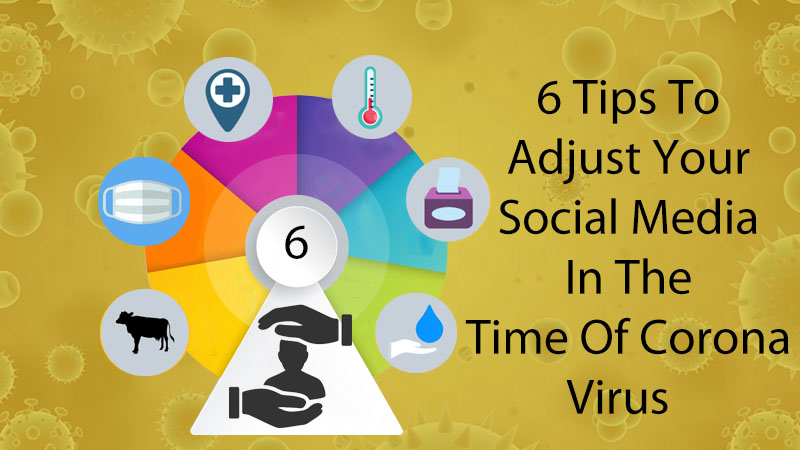 In such a situation, not only people are affecting, but the economy and businesses are also getting affected. And this is not the story of one place, but the situation is globally the same. But yet, work has to go on. However, marketers and businesses are in a big dilemma of- how do we adjust in such an outbreak?
For the online business, there is only one way to get the success, that is- maintain your social presence. If you have a good online reputation and catching customers' attention then your business is going to shine. But, in the current situation globally, maintaining an online reputation is not the only thing to balance, there are more situations that are cutting off the audience.
Currently, there are additional thee challenges that every business and marketers are facing right now- or will face it very soon.
Business – All the businesses are going down, lesser people are flying, no shopping and even no going out of the home. This has brought a fall in the economy, but today the most important thing is to come out of this situation.

Messaging: currently customers' attention is only focused on the Coronavirus and not on the brand. And this is not going to stop any soon, after analyzing the situation. So, you have to go with the flow and make your products useful in this situation.

Mental health: Because a lot of things are going on currently, and people are also staying at homes, this is making them just drained. So, in such a situation, you need to take care that people at least should get some motivation, smile or anything that can reduce their stress at least for some time.
So, here is the list of amazing 6 tips that you can do for the customers and for your business' social media pages to adjust to this Coronavirus outbreak.
6 Functional Tips To Bring Best Out Of Your Products In Corona Time
You might have the least control, but don't worry, that's ok, everyone is going through this phase. Despite getting negative or completely shutting down the work, we advise you to focus on what you can bring out of this situation, and stay creative.
Let us know the beneficial tips to work in today's time:
Stay Calm, be practical
Use all the Digital marketing services to make a plan that can work. In such a situation, being in the quarantine don't be panic, instead, stay calm and work practically. You need to be safe and extract best out of your mind to make a plan that can work and your customers have an alternative for them.
Focus on brand
As we know that currently, no one is giving focus to any other thing, rather than coronavirus, so you need to pull up your socks to be as creative as you can. Many social ad folks are seeing a decline in performance metrics. Being in the quarantine, people are spending more time on social media, but not buying anything. Therefore, you need to pull back on some of your ads spend right now. Especially on the ads that focus on conversion and you can focus your brand's products or services towards the corona outbreak to show people how they can be helpful for you.
Pivot your product
As in today's time where Digital marketing services and online shopping are increasing, retail services are decreasing. And retails clients sale is seeing 70% slump, therefore in the response think of a technique that can work for your retail shop or offline store clients as well. Maybe they have an online presence, but offline work is also completely equal for them.
What you can do with your products to be used in this unique time? Think…
Pick a Lane
Imagine news of coronavirus on the top search page is sitting right next to your post focusing your brand. Will it get the same value? Don't you think it will look like an alien? Therefore, in such a case you need to think and use your sources and bring some creative ideas out that can utilize the situation and your business can also shine among the potential customers.
A good social media content action right now could be the brainstorming post.
Scale Back and Keep a list
Adjusting the volume and type a social media content you post is almost certainly a good instinct at the moment. Design the tone and language of your content in the support of today's time, it should show empathy and supportive tone.
As there is less focus on the businesses, so don't worry to post less content, but maintain the continuity. Don't stop your mind from coming up with new ideas, and wait soon the things will come back to normal.
Adjust your Social Listening
Everyone is in quarantine, so the social media spent time is likely to increase, which means this is the right time to show your creative ideas and stand out from others. You can utilize the time by talking to your customers, employees, and community about the crisis online.
You can organize the small online webinar to teach your employees and customers something new. The idea is- stay connected with people around you as it will automatically build a high trust level in your customers' hearts.
With social media never decide your boundary, because boundaries can stop. And at this time you don't have to stop! Yes, you have to get it this time!