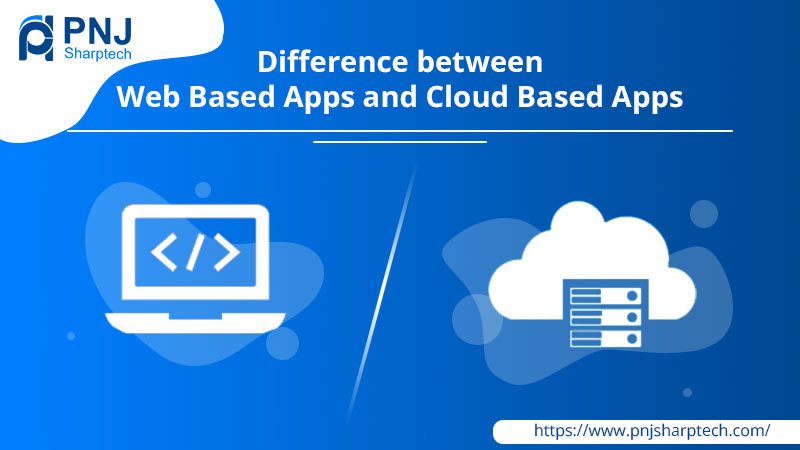 The Business arena has become quite competitive nowadays. There are so many companies coming up, and all assure the best. This is valid for both product and service-based brands. One thing however has become pretty popular. That is the existence of applications. Every business wants to make it easy for its consumers to access them. This in turn gave rise to two categories. One is web-based apps. And the other is a cloud-based development service. Let us understand the difference before you engage in mobile app development services.
In this blog, we cover the difference between the two. We will not pass any verdict as to which one is better. However, we will cover every aspect so that you can decide what is best for you.
Let Us Understand the Concept of Cloud-Based Applications
The technology of cloud computing is pretty attractive. It has a huge scope for growth in the future. However, it is too complex and needs coding of a much higher level of complexity. Also, there is an aspect of privacy involved. This ensures that your data does not mix with others.
A cloud-based application needs connectivity to process data in the cloud. Also, this kind of application uses the internet for accessing online services. The plus point is that there is no reliance on internet browsers. They are able to function properly by themselves. Moreover, these applications allow a wide range of customization options. This is because they are not limited by the hardware of the device. Rather, they can function as per need be. This is another reason why many mobile app development services prefer these.
Benefits of Cloud Applications
There is an option to store data of cloud-based applications offline. This kind of gives the benefits of both worlds.

There is an added layer of user-friendliness. This comes from features like backup scheduling, data compression, and even additional security.

Moreover, they can be used even with web-based apps. This can be done through devices like a smartphone or systems.

Finally, this is the latest in the field of technology. There is a huge scope of growth at later stages.
Examples of Cloud-Based Applications
Think about any application that needs you to just log in to get your data back. Whether it be Gmail, Google Docs, Google Sheets, etc. All you need to do is log in and you can have your data. This is now present even in applications like WhatsApp, where you can seamlessly get back to your past conversations.
After that, come applications like DropBox, and Google Drive, which allows you to use them as a storage device. You can use them to keep a backup of your data and access them on any device. There are also applications like Zoho, and Salesforce which make work easier for corporations.
We now have enough information on cloud-based applications. We can now proceed to the next section of the blog. It is time to enter the domain of web-based applications.
Let Us Explore Web-Based Applications
To define it clearly, these are the applications that need a browser to function. 
Also, we can say that it is generally a combination of server-side scripting and client-side scripting. This is where the client depends on the web server components. It is needed to communicate with the infrastructure. Also, this is responsible for providing core functional services.
The best way to explain this would be by using examples of financial applications. They do not store the data anywhere.. They are just present on secure servers. The only way to get information from there is by using the procedure which is prescribed by the owner. Moreover, there is also a lack of consumer customization. They have stringent rules in place. Even many eCommerce websites have this functionality. This is to protect confidential data or purchase data. Moreover, there is also the aspect of multi-tenancy present.
The key point of difference is that of access. These applications take access almost exclusively through web browsers. Therefore if a web app wants to convert into a cloud app, it has to be accessible from anywhere. This must be even without the web interface. However, there are also those who feel that it is high time for web apps to evolve to cloud apps. This is kind of controversial since it would prevent exclusivity. Moreover, it will also mean that every cloud should be a cloud application. This might lead to security issues. Also, the factor is security is a major reason mobile app development services recommend this category.
Examples of Web-Based Application
The most famous examples of this are AppFrog, Microsoft Azure, and even the Google Apps Engine. These are the ones that defy the use of the older technique. There are also certain reasons why they do not shift their access points.
Head On Comparison of the Web-Based Apps and Cloud-Based Apps
The bottom line here is that there is nothing better between the two. Both have their own benefits and shortcomings. Also, where one trumps, the other falters, and this is valid for both of them.
However, we can say that cloud-based apps have a higher preference in today's world. This is because most people like flexibility. Also, there is more frequency when it comes to changing a device. People generally shift their phones yearly, and systems a bit less frequently. But that is it. So it becomes tough to transfer data multiple times. Rather, people prefer to get their data with just a few simple steps.
Alas, web-based apps have their own use. Since it is an already set technology, it is much more secure. This is why major organizations prefer this technique when they are dealing with sensitive data. However, this is one department where cloud-based applications will catch up soon as well. For more details, you should ring up a mobile app development services provider. They will provide you with the best suggestion after understanding your needs.
To sum it all up, the rise of applications is hard to ignore. If you own a business, you might have to jump on this ship. You can do it sooner or later, but it is a must. What kind of app you need, however, depends on what your preferences are. But either way, you need to have a reliable mobile app development services provider by your side. These are the individuals that will help reach maximum screens. So choose wisely before you take the final call.