What is the Google ad words extension?
Google ad extension is additional information that gives ads more prominence on the search result page. It expends your ads to make it more helpful and useful for the users. This mainly consists additional links to your websites, seller reviews, telephone numbers, and others.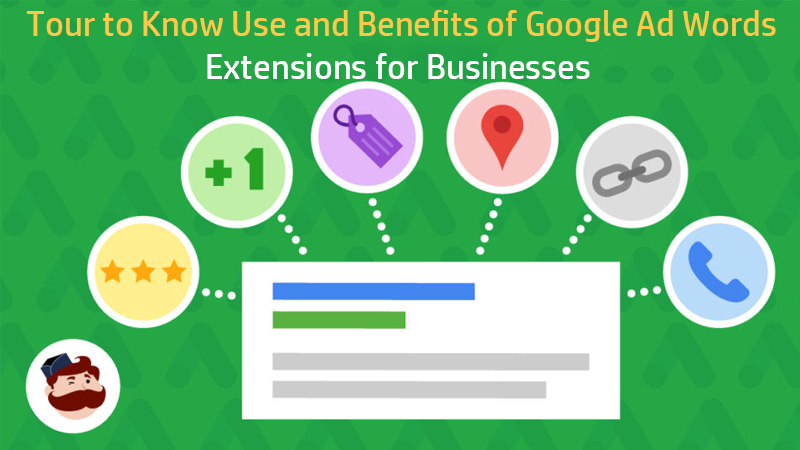 You can say that Google ad extension is helpful for increasing your ad's visibility that results in better click-through-rate. Ad extensions make the advertisement more attractive and grab the attention of potential customers.
Google ad word extensions are mainly ideal to optimize a PPC campaign about products or services. Note: It is possible to run the PPC campaign to promote your products or services but with extensions results are more favourable. There are several advantages to using Google ad words extensions. Let's have a look at-
Benefits of the Google ad words extension-
There are several advantages of the Google ad words extension but here are 3 prime benefits are mentioned. From the website designing company to professional website development to other agencies such as SEO services, digital marketing, or others, these extensions are great.
Improve visibility
One of the big advantages of the Google ad words extension for a business campaign is that it helps to make a brand visible to large and potential clients. Customers are the main resource for any business online or offline. If a business has a large customer base that means it is a successful one.
So, it is the prime advantage of the extensions is that they boost the visibility of a business and introduce your online business to specific and global customers.
Boost click-through rates
Another benefit of the Google ad words extensions is that it increases the click-through rate. The reason for boost click-through rates in your advertisement due to extensions is because these extensions make Google ads more appealing and encourage the customers to click on that and know more. This is a great advantage of the Google ad words extensions because when a user would know about your products/services, then they would make a purchase.
Get more clicks at the same cost
The next advantage of the Google ad words extensions is that you would get more clicks at the same cost.
How to Use Below-Suggested Five Prime Extensions-
Review extensions

Site links extensions

Callout extensions

Location extensions

Call extensions
Review extension
You can use the review extension for driving the huge visits and clicks on your website. Review extension is another important way for promoting business and it provides quick authority and trust to your business.
It is the example of instapage ad that uses a review from third-party sites such as Trust Pilot, G2 crowd, Trust Radius, and others. Other trusted websites would recommend your website via reviews to the users and users trust such kind of reviews instantly.
Also, there is no simple way of verifying the validity of those claims. Also, don't use your own website for such kind of work. Apart from this, if you are using your own website for the review extension purpose, then it is advised to you that if you are planning to use your website for an extension, first you need to read Google's guideline for it.
Site links extensions
Adding the extra important links to your ad is possible with the help of site links extensions. These extensions make you able to include other links such as URL, headline, copy site links, and other related links and make your ad more appealing.
For the eCommerce business, it is great to add more relevant categories. These extensions are also great for the companies that offer the services because, with the aid of these extensions, you can represent more services to your customers and motivate them to click on your ad.
Callout extensions
This is one of the wonderful extensions that allow you to add more text to your ad. More text in your ad helps to know your customers about you in detail that ultimately attracts the customers.
Callout extension is the short phrase that describes the specialist of your products or services in an attractive way. Example of the callout extension is:
Worldwide delivery

No advance deposit

7-day delivery

4 years
Location extensions
For the local ads, you must use the location extensions. Location extensions are great because they would make your ad stand out from the crowd and it would be easy for your local customers to reach your store in person. It is easy to add the phone number, a map marker, business address, and other related things in an ad via these outstanding extensions. Apart from this, it will make customers know that your business is local.
Call extensions
Through call extensions, it is easy to show your business phone number in the ad. This is a special feature for the business that takes phone orders and fixes the queries via phone. For inquiries purposes, an expert website designing company can add these extensions in your business.
Hope you found this guide interesting and useful. If you are a business owner and thinking to run an ad for your business, then don't forget to add these extensions for desired results i.e huge traffic, visits, and sales on your website.