Want to relaunch your business with a new identity? Then a brand new and killer logo is the need of your business. Partner with the best logo design company to establish a brand identity like never before.
A classic brand logo can uplift the visual branding of your business, attracting new potential customers on board, and create a strong customer base. The benefits of a professional logo design are fathomless and companies have understood this. Therefore, they never neglect Logo design services to kickstart their business and turn it into a money-making venture.
So, the next question that comes to their mind is "How much does a logo cost?". Considering numerous variable factors that can affect the costing, a logo can cost companies anywhere in between $2 –  $2500+. For instance, companies that hire a freelance graphic designer for logo making have to pay an individual but on the other hand, if they hire an agency for logo design services then they will charge a lot more. Therefore, the way you choose to get your company a logo directly impacts the pricing and the timeline. 
Here are a few ways that can help you to get your logo created.
Option 1: Do it yourself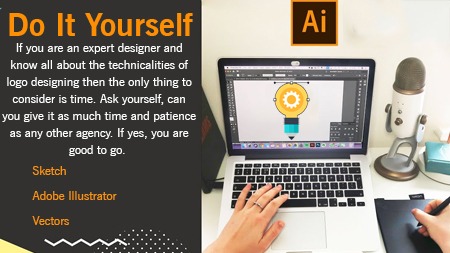 If you consider yourself a creative designer and have a lot of time to invest in logo designing then it is not a hard nut to crack for you. Logo designing seems easy but when it comes to creating a versatile logo that can be used on various different platforms, that is the real challenge.
If you are an expert designer and know all about the technicalities of logo designing then the only thing to consider is time. Ask yourself, can you give it as much time and patience as any other agency. If yes, you are good to go. Here is a few computer software that will help you out in creating a Logo that clearly depicts the values of your company and colors that will boost its visual appearance. Some of the tools that can make the whole job way more easier for you are-
Sketch
A USD 100 platform that is operational only on Mac OS X systems. This software is specially designed for designers and gives them the freedom to work on different file formats. Including PDF, SVG, PNG, JPG, and EPS. Despite all the facilities it gives, there is one drawback of this popular tool. The tool used by numerous designers around the world has one limitation that it can not be used for print design as the files can not be downloaded in CMYK colors.
Adobe Illustrator
Adobe offers a complete package of tools for creative designers and visualizers enabling them to make 2D or 3D creatives. Illustrator is the top choice for designers as it is overloaded with interesting features and gives an easy export facility for both digital and print use. Users can easily get a licence of Adobe creative suite with an annual membership for USD 20.99 per month on an annual plan or USD 31.49 for month-to-month use.
Vectr
A very basic tool for designers that gives all the basic features required for a font-based logo. This tool is freely available across all platforms. It also carries in-app lessons that help the designers to learn the software on their own. Another benefit of this tool is that files created in this tool can be exported in both raster and vector formats which include AI, PNG, JPG, and SVG file format.
Option 2: Use an online logo maker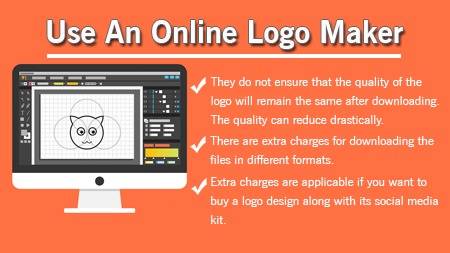 Another cheapest option to get your company a good logo design is by using an online logo maker. These tools are absolutely free to use and they ask you to pay only after you are ready to download the final logo you created. Until then you can use the tool free and make the modifications in the logo file as and when needed. 
Unlike other tools, these do not require a leaning or tutorial video because they are too easy to use. These online logo makers also help you to create a logo as per the given specifications and then you can modify the result to make it perfect according to you.
Drawbacks of using online logo maker services
They do not ensure that the quality of the logo will remain the same after downloading. The quality can reduce drastically.

Because the tool is helping you create the logo, it is possible that your logo is not entirely unique which can cause trouble for you later.

There are extra charges for downloading the files in different formats.

Extra charges are applicable if you want to buy a logo design along with its social media kit.
Option 3: Crowdsource the design
Remember those quirky contest ads in newspapers and magazines where winners will get cash prizes and much more. Similar to that works the concept of crowdsourcing. For this, you have to post your logo requirement along with a brief description in a group, social media or a few websites having a large community of designers. 
If the contest interests the designers, they will work on it and submit their designs which if picked by you will get rewarded by the decided prize money.
Once the logo design is finalised, the designer will share all types of files with you and give you the copyright of the logo and permission to use it anywhere.
Option 4: Hire a freelancer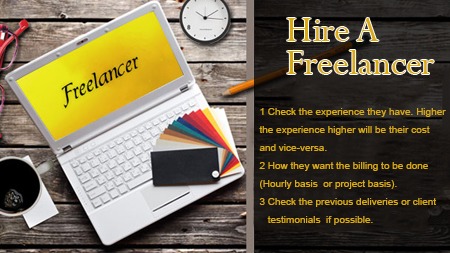 Hiring a freelancer can cost you anywhere in between $250- $2500 depending on the quality and experience of the professional. Because freelancers work for different clients having different requirements, you will see innovation and uniqueness in their work. 
Here are few things to much check while hiring a freelancer for logo design services-
Check the experience they have. Higher the experience higher will be their cost and vice-versa.

How they want the billing to be done (Hourly basis or project basis).

Check the previous deliveries or client testimonials if possible.
Option 5: Hire a logo design agency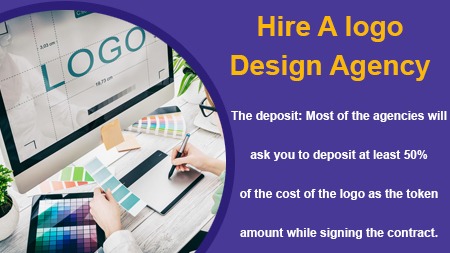 Perfection comes with money. Avail logo design services India is a smart option if you want nothing but the best. Although the only drawback is it is one of the costliest options among all. Agencies can charge more than USD 2500 for a logo design or more depending on their policy and reputation in the market.
If you have finalised that you are going to search for an agency to avail their logo design services, here is what you must know before.
The deposit:

Most of the agencies will ask you to deposit at least 50% of the cost of the logo as the token amount while signing the contract.

The contract:

Make sure you read all the terms and conditions while signing the contract. Some agencies do charge for the time they invested in your work. So even if they don't deliver you the logo on time you'll be asked for a small amount to pay for their services. So a contract will bind you legally to pay them.

The time:

A design agency usually takes less time to complete a project. However, they are backed up by various graphic designers with innovative minds so they might take a week to come up with a few mockups initially.
Extra costs to consider 
Once you have selected the logo, ask the agency to help you with the placement of the logo on various backgrounds for print as well as social media. They might charge extra for this service. So, don't miss talking to them about this while budgeting.
Choosing the right option
Logo design services help in re-establishing a brand identity by enhancing its visual presence. Once you decide to get a logo for your company, also decide the platforms where you will be promoting your brand as well. Decide whether it will include online promotions only or offline as well in the form of pamphlets, brochures etc. These decisions will give you an idea about how much you can spend on a logo design. 
If you want to get a cheaper logo and have a lot of time to invest, you can hire a freelancer or try to do it yourself.
If you don't have time and do not want to compromise with the design and budget is not a constraint for you, choose to crowdsource your logo or hire an agency to do it for you.
In case you need any help during your logo making journey, feel free to connect with our creative team with expertise in Logo design services.