The vital first step of the local SEO strategy is claiming and verifying Google my business listing for any particular business. It is helpful for the business to grow by making it visible on Google Maps, Google's local pack, local finder, and others. Google my business listing is also ideal for driving the organic traffic for the Top web development company and another kind of business agency.
Google my business listing includes information such as company name, phone number, address, types of payment, business hours, and other important information regarding the business.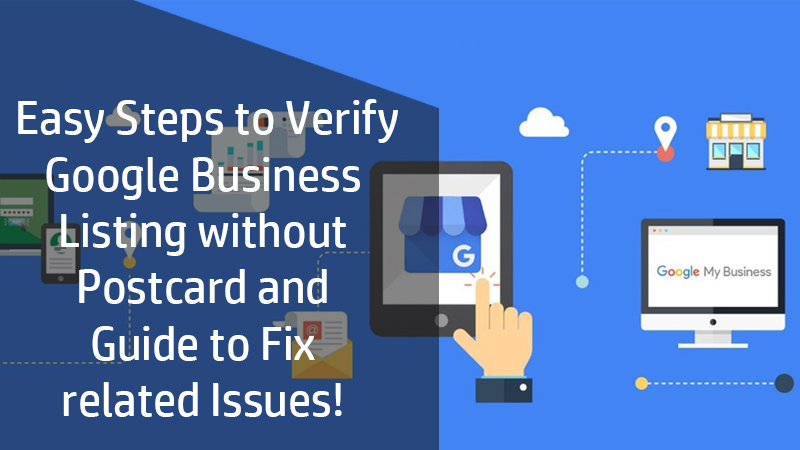 What Is Google My Business?
Google business is a free tool that is supportive for businesses to manage their presence across the Google platform.
What is Google business listing?
Google listing is not a website instead it is like a hub that permits people to find your contact information in place instantly. This is a listing on Google that will show when specific customers search for your business service or name.
Google listing is free of cost and for claiming your Google my business listing, you have to create it first. Google business listing is a combination of social media profile and online directory listing. This allows the businessman to manage small to big enterprises on Google and aid in knowing the story of any business to customers.
Also, it is ideal to create a small business to edit and verify information related to a particular business.
Steps to create a Google business listing-
For adding or claiming business on Google my Business, first, you have to create a Google business listing.
Here are vital yet quick steps that are mentioned to create this listing.
Step 1– Visit Google My Business and tab on "Get on Google"
Step 2- Enter both name and address of the business in the search box
Step 3- Click on the business listing if it is visible on the suggested matches or add your business
Step 4- Now it's time to verify your business
Step 5- Confirm your business and be the part of the Google business listing
Vital steps for verification of Google Business Listing without Postcard
It may be a chance that users face certain issues verifying the Google business listing without a postcard. For resolving certain issues, users have to contact the experts for asking assistance regarding the issues.
So, without directly contacting the well-qualified experts, one can follow the given-bellow instructions. These instructions would surely help to fix the issues. Let's have look at how to verify Google business listing without using a postcard.
First of all, you must be log in to Google my business.

If you have various Google my business account, then switch to one particular account that you want to verify.

Now from the menu option, you have to click on verify the location.

Or you can click on the "verify now" button for further processing.

To complete the verification process, you need to follow the on-screen instructions.

Enter the phone number for verifying the Google business and Google business listing.

The phone number is the best replacement for the postcard.

Generally, people verify the Google business with the aid of Postcard but if you don't wish to use the postcard for verification purposes, then enter the correct phone number.

These are effective yet very simple steps can be followed by you to fix the issues. Whether you are running the 

web development company

 or any other kind of business, it is extremely important to be visible on Google in this digital time that's when you would attract potential customers for your business.
Apart from this, if you are facing any trouble while doing so for your professional website design company, then just contact to the technical experts. With the help of technical professionals, it is easy to resolve the issue because they suggest step by step solutions.
Note: Don't be confused with the Google maps and Google business listing because both are a different thing.
Know the difference between Google Maps and Google business listing
For the best development company owner or any other kind of businessman, it is vital to create the Google business listing to show up in searches.
Google my business listing aids to gain insights into the customers. On the other hand, Google maps are public online direct as well as a navigation tool. It is good for the customers to know and get directions to the products/services they are searching for. Also, one can directly search Google Maps for any particular location.