From small to large, all businesses are facing the big hit owing to this corona pandemic. Challenges are big for every businessman in this time because it has caused economic uncertainties. So, it has become vital to give more attention to the right marketing strategies and other things that can be helpful to survive the business during the corona outbreak.
Here are some effective tips are mentioned which would not only help to survive the digital businesses but accelerate the growth of businesses. Additionally, if you would follow these tips strictly, then they would provide you long-lasting success ever after this pandemic. Let's move on and have a close glance at these wonderful tips-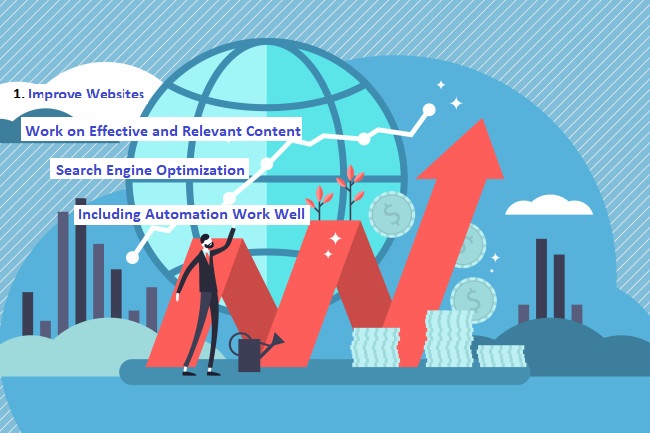 1. Improve Websites
As the spread of the COVID19 pandemic continues to grow worldwide, then in this time surviving the business has become a tough challenge for any kind of offline and online business. For growing your business during the global pandemic, you have to update and improve your website.
Just check out where is the room of improvement in your website. Is it the design of your business website or addition of the new trendy features/ whatever it is just to improve your website with the help of the expert web development and Design Company in Delhi or wherever you want!
2. Work on effective and relevant content
Whether it is the time of global pandemic or before or after the time of the pandemic, the importance of the content can't be underestimated. High-quality and relevant content on the website plays a big positive impact on the growth of the business.
With the aid of the best content writers in Delhi or other places, just develop the perfect content for your website and grab the attention of the new and old customers.
If you want to make your business successful, then you have to work hard to improve it and make it relevant according to your industry standard.
3. Search Engine Optimization
One thing that is working as a blessing during the coronavirus pandemic is search engine optimization services. Yes, it is the best and must-do thing in this time to boost your business growth by bringing online business in the notice of your potential customers. You can hire us for the best SEO services in Delhi. We are a renowned company that is working dedicatedly to make our customers business thrives in this difficult time of the coronavirus.
4. Including Automation Work Well
For better and personalized customer experiences, one of the vital things is marketing automation. It is a simple yet very effective method that will boost the efficiencies of your business once the pandemic is behind us.
Apart from this, it is helpful during the Coronavirus because when a visitor land on your website, it will assist him/her in an outstanding manner and provide the required information to the customers. This thing will create a good impression of your business site that will be great to grow the business.
5. Work on to Build Strong Customer Relationship
Another way to boost the business during this critical time of the coronavirus pandemic is to build a strong customer relationship. Now you are thinking about how to build the strong and long-lasting customer experience, let' s have a look at special tips-
Delivery the best and timely content that can answer the queries of the customers'' immediate
Offer a wide range of the products as well as services
Be responsive to all customers and make them feel highly precious for you.
Know the channel preference of the customers and engage with them according to that
6. Identify and Implement Optimized Sales Channels
The next tip to improve the business at this time is to identify and implement optimized sales channels. It is an important step that will take you ahead of your business even after the coronavirus has finished. Most of the intelligent and smart people do it for boosting their business. They spend the time and money to optimized sales channels and enjoy the long-lasting success of their business.
7. Search for Best Marketing Strategy and Apply it
If you are interested to take your business to the next, then you have to put your best efforts because there is no gain without pain. One key tip that will help you to grow your business at a faster rate is to search the best marketing strategy and applies it to your website.
For it, either you can search on the internet or keep an eye on your competitors. Check out by which marketing strategy they are leading and how and when they are using it. Apart from this, you can take help from the marketing expert for it. Hire the experienced marketing expert and grow your business.
8. Don't Invest Blindly but Continue to Invest Smartly
In the aim to win the title of the top company in your domain, don't forget that you have to invest the money to boost your business but not blindly. For taking your business new heights, just invest smartly. There is no doubt that everyone is putting more effort and money to make their business survive during the lockdown but you have to play very smartly here.
9.Just Invest in the Things Right now Which have High Priority.
These are some very effective tips that would guarantee help to uplift your business during the lockdown period and after it. But like a famous saying 'consistency is the key to success', you have to be consistent with the changes on your website according to the demand of the industry and time.
For making your business successful and popular, you can hire the top SEO Services Delhi that can boost your website ranking. When your site is on the first position in the search engine result pages, then your business automatically boosts because more visitors will come to your website.
Apart from this, you can take avail the web development services from a trusted company. By doing the little changes and right strategy, your business will flourish even during the time of the global pandemic.
Wanna increase traffic n leads on your business website, let's show you how?

SEO – Drives organic traffic on your website.

Content Marketing – Shares valuable free content to attract customers.

Pay Per Click – Google paid marketing strategy with a clear ROI.