Do you feel attractive or get magnetized when seeing a great visual effect on a website? Well, this is what your viewers also feel like. The right image can make or break your site. So you should have the mastery to play with the images and visual effects to increase the traffic of your website. Hence, the increase in traffic on the website will automatically increase your conversion rate.
Do you know even that- people remember more than 2,000 pictures with at least 90% of the accuracy? This means that it takes only one picture to cement your brand name in the mind of your customers forever. And this is your task pick the pictures that can unforgettable, it will boost your website's conversation rate. This can be tricky for the new people and will be easy for a professional creative team of a reputed development company. Hence, if you find the task difficult you can take the asp.net web development services, to fill your website with amazing images.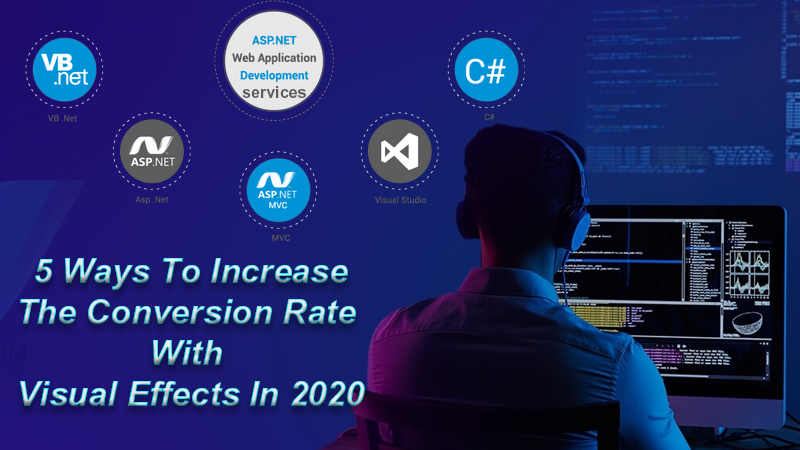 How To Use Images To Increase Conversion Rate?
Right!
This must be the question that is juggling in your head right now, isn't it? However, first, you need to understand the conversion rate of the website and then we will show you how you can use the power of visual effects on your website.
Visitor roams over the internet and explores websites and more websites to complete its desired goals. People who browse online can have different desires and goals for doing such. Some look for the platforms where they could search for the knowledge, can shop online, look for some inspiration, get make-up or fashion tips, study online, share their memories on social media and more. This list of online tasks is ended less. Hence, it is the duty of the websites that are representing a business, should be able to fulfill the search desire of the viewers.
This also includes the ways to hold them on the site and make them avail of the benefit of the services that the website is providing. Since it depends on many things, but the visual effects as well. So here in this blog, we are going to talk about the visual effects benefits that your website can get.
The other ways for giving the best user experience include- seamless navigation, fast loading pages, compelling buttons, and images. And all these techniques are strategy-based, if you don't have strategy nothing will work.
Magnetizing a visitor to buy your products, increase the conversion rate. However, it is not achieved through one-two, instead, you have to attract a large audience and make them buy your product or avail the benefits of your business service.
We understand that it could be difficult, but it is not impossible. Since with the expert help you can turn your visitor into your potential customers.
Now let us, take a U-turn from this point and go back to- how images or visual effects can increase the conversion rate. To understand this you have to read below mentioned 5 ways.
Effective Ways To Boost Website Conversion Rate Using Images
1.Picking the Image
Picking up the images and shortlisting them is not a difficult task, once you know what your target is, then you easily do it. You can even take your team advice and ask the young minds for their suggestions. However, here the tricky part is research, that you have to do before choosing it.
For this you need to:
Understand the target audience.
Analyze what your business is about and what you want to give them.
Gender, age, and interests of the audience play a major role.
Determine the emotions of the images you will pick.
Make a strategy which should point out all the major factors.
Create the content with the image that can connect your audience emotionally.
2.No Compromise with Quality
Yes, that's right! No compromise with the quality should be your goal.
It is important to understand that the page where the users land, is the first look for them. Therefore, the right balance should be struck when it comes to image size. Size should be correct, gapping between two images or image and content should be correct. Ask your developer to keep this thing in mind as well.
Every picture that you post on your website is not the same, as you post some on the home page, some on blog pages, and som as the banner. Therefore, all these images cannot have the same size. Hence, take care that each picture should have size according to its need.
Never, compromise with the quality, they should be in HD. The image quality plays an important role to impress anyone.
3.Never Lose Context
If your products are not able to take them on a nostalgic or fantasy journey, where he or she could not imagine using the products and having its benefits, then you cannot expect the visitor to buy it.
It is very simple to understand! If only the products can show their magic, then why big brands spend so much money on the models and celebs to promote their products. Therefore, the moral of the story is that- Context is very important, otherwise, your images without it will become like a word without any emotion.
4.Focus. Focus. Focus
This has made the work even more challenging. Our human brains are capable to decipher the whole image just by understanding what a portion of the image is about. Putting it in simpler terms, the human brain focuses on the small things of the image at a time. This gets the hang of the emotion hidden beneath it.
Thus, this is the reason why it is advised not to bombard your landing page with multiple images and focus on a single, effective image. Stick to one idea at a time, then only your message will be delivered most powerfully when you will not confuse the brain by putting so many ideas and images.
5. Responsive Image
Remember to design responsive images, that won't make your page load slowly and can also fit on any screen.
Also by keeping that in mind that 91% of users use social media platforms through their mobile phones. Hence, the images should be optimized and respond according to all the social media pages.
Conclusion
Your website is like a store that is open 24×7. It is the best and cheapest way to have a store that can give your a high conversion rate. Hence, it is also true that over a night you cannot get high conversion rates. Instead, it takes a lot of hard work and a lot of patience. Although, you can take asp.net web development services help for completing your website image improvising work.