PHP has been a widely used server-side programming language and a boon for developers to create complex websites and applications.
Hypertext Preprocessor or commonly called as PHP is considered to be the most secured and a stable language.
Earlier developers had to write complex codes to build a website or design an application. Still, now with the PHP Web development services Frameworks, the task became too easy and quick.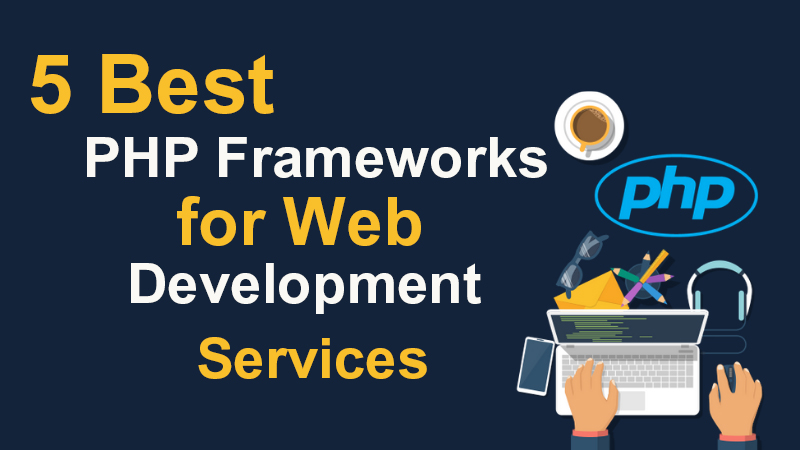 What is PHP Frameworks?
PHP Frameworks is a platform which structures the web development. In simple words, they provide a well organized reusable code that can be used to change the software selectively, and hence the developer needs not to write thousands of lines of codes for website development.
In this article, we are providing the five best PHP Frameworks for Website development services, which can be used by experienced or novice developers.
5 Best PHP Frameworks
1.Laravel
Let's start with the key features of Laravel:
It can easily handle complex applications with additional security.

It has an elegant syntax with extended core functionality.

Laravel can speed up the process by simplifying everyday tasks such as queuing, routing, caching, authentication, sessions, and much more.
Laravel is one of The most reliable and popular PHP frameworks which can help you simplify the complex tasks or web applications.
The USP of this framework lies in the protection it offers and quick operation with which it can handle the tasks. Along with the vast ecosystem that it provides to the developers can also learn about Laravel from its official website through tutorials.
2.Symphony
The key features of Symphony Frameworks are:
Symphony is the most well-documented Framework.

This is one of the oldest Frameworks and still provides high performance as compared to others in the business.

The testing functionality in Symphony is built-in, which gives it a lead from other PHP Frameworks.
Symphony can help the developers to control their codes and end the repetitive tasks to reduce the workload. Also, Symphony can use the reusable PHP components, and developers are provided with an option to choose from 50 elements to complete their PHP web development services and activities.
3.CakePHP
The reason CakePHP is still topping the chart is:
CakePHP offers the feature to protect from cross-site scripting (XSS).

This Framework is updated with a bug fix on every new version.

Once you learn and master the components of CakePHP, you will be able to code faster and easier.
CakePHP was first launched for almost 20 years, and it is still raging the PHP market. The makers of CakePHP keeps on updating and adding components to this Framework. For novice develops, CakePHP can be quickly learned as it only requires the webserver and the Framework copy.
Additionally, this is a fantastic Framework for commercial businesses because of the security and safety it provides against cross-site forgery and other high-end security features.  
4.Yii
Critical features of Yii includes:
This is one of the most efficient and secured Frameworks.

It can be used effectively to design and create websites demanding high security.
Yii programming Framework can be universally used for diverse web applications. Yii has been immensely used to develop highly secured websites.
The performance and easy setup make Yii favorite amongst the web developers, but if you are trying your hands on PHP Frameworks for the first time, then Yii is not recommended.
5.CodeIgniter
Features of CodeIgniter:
CodeIgniter is only 2Mb in size, hence the smallest yet robust PHP Framework.

CodeIgniter makes the coding easy, which results in quick website development services.

Easy installation.
Until now, you would have got to know that the CodeIgniter framework is one of the lightweight and most powerful tool which can be easily installed and very helpful for dynamic website development services.
Additionally, the code igniter is also equipped with the pre-built models, which helps in constructing the strong and are usable components. The other benefits include libraries, a well-explained database, in-built security queries, data abstraction, and plenty more.
Summary
PHP is the best programming language for server-side scripting, as compared to the others, and these 5 PHP Frameworks makes complex tasks a lot easier. Hence developers need not scratch their heads and focus on the PHP web development services.
You just need to choose the best PHP Framework for yourself and remove most of the groundwork and get outright to the development activity.